General Motors Donates SUV for Students to Rebuild as Hybrid, Autonomous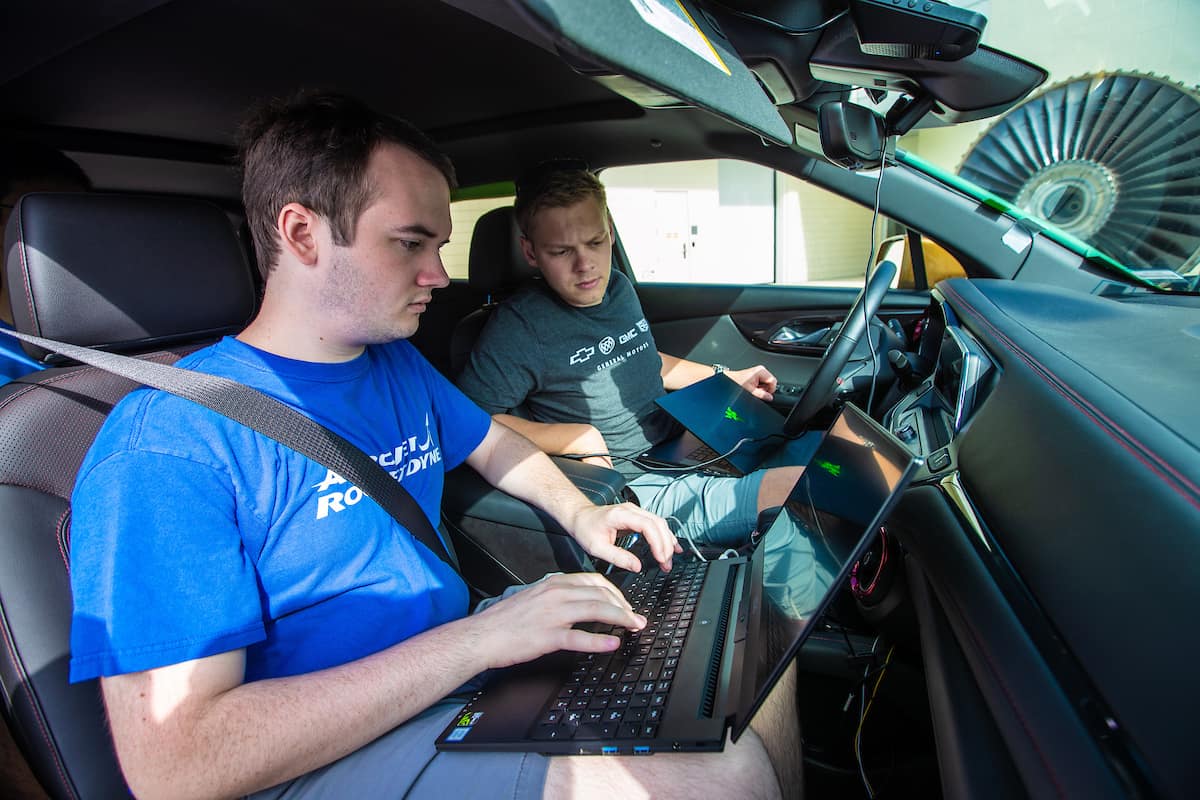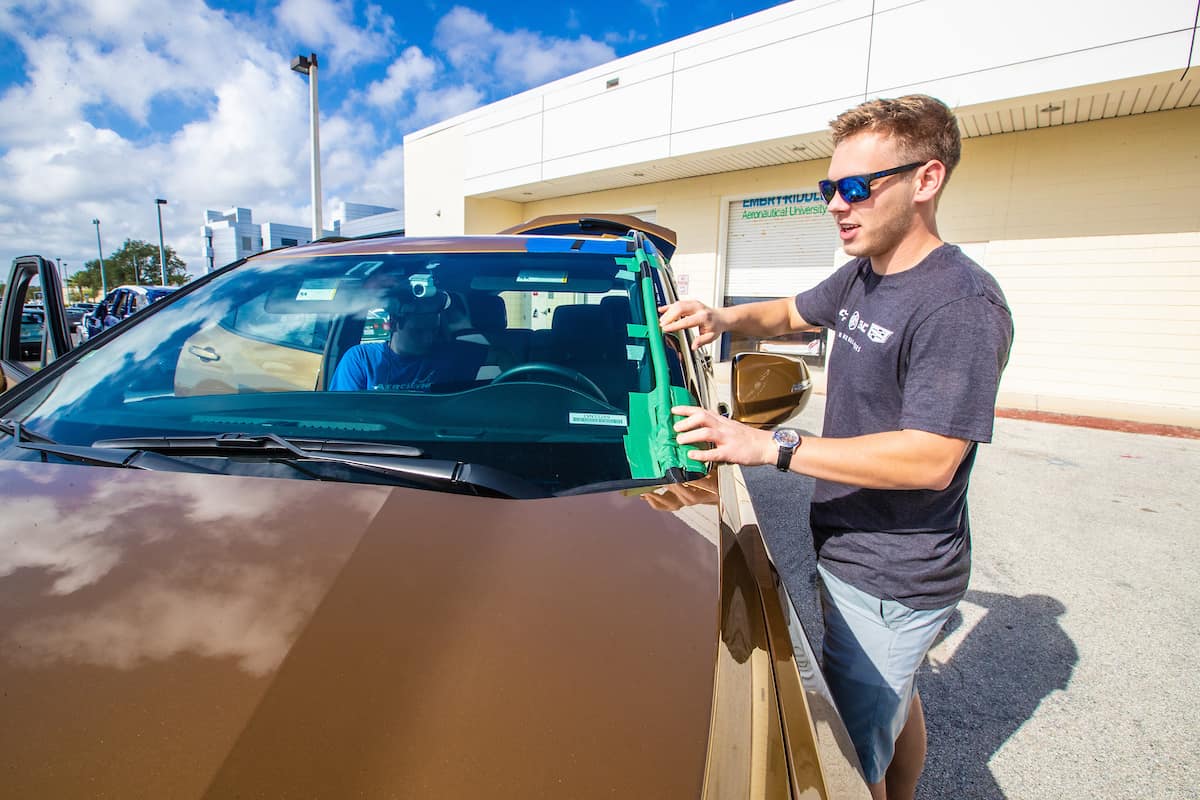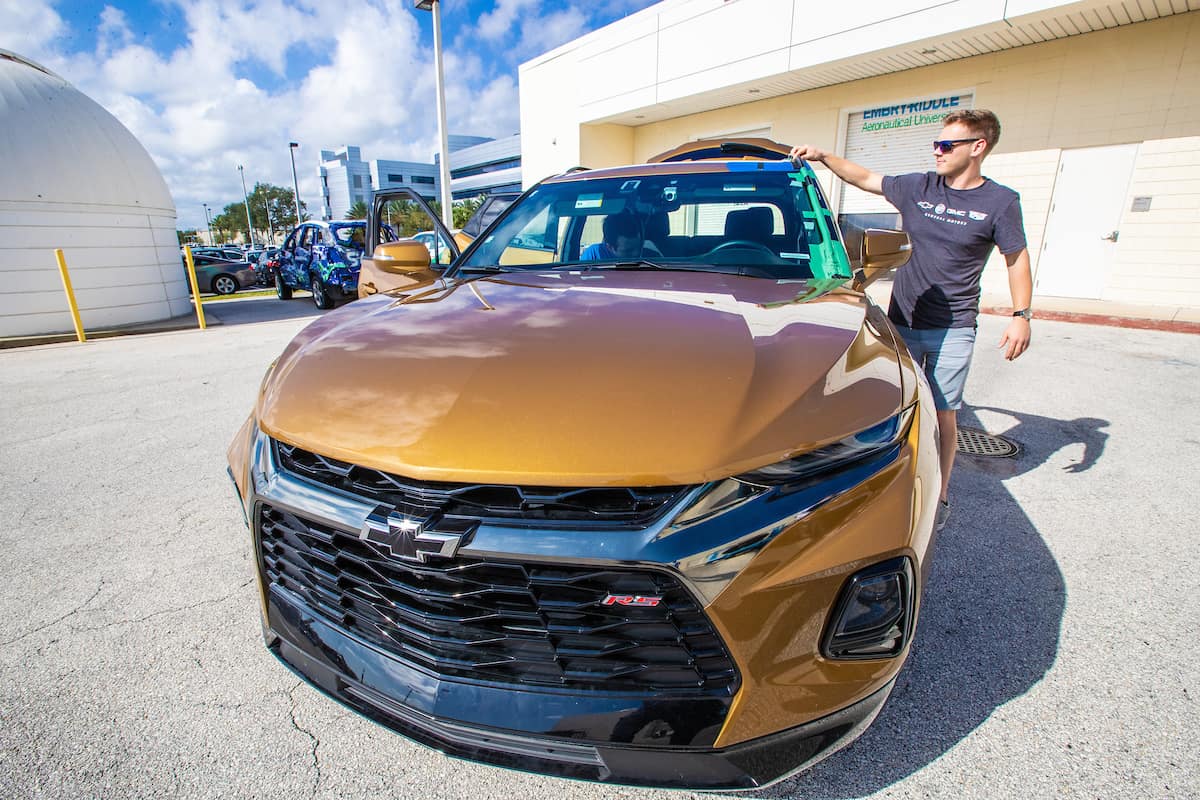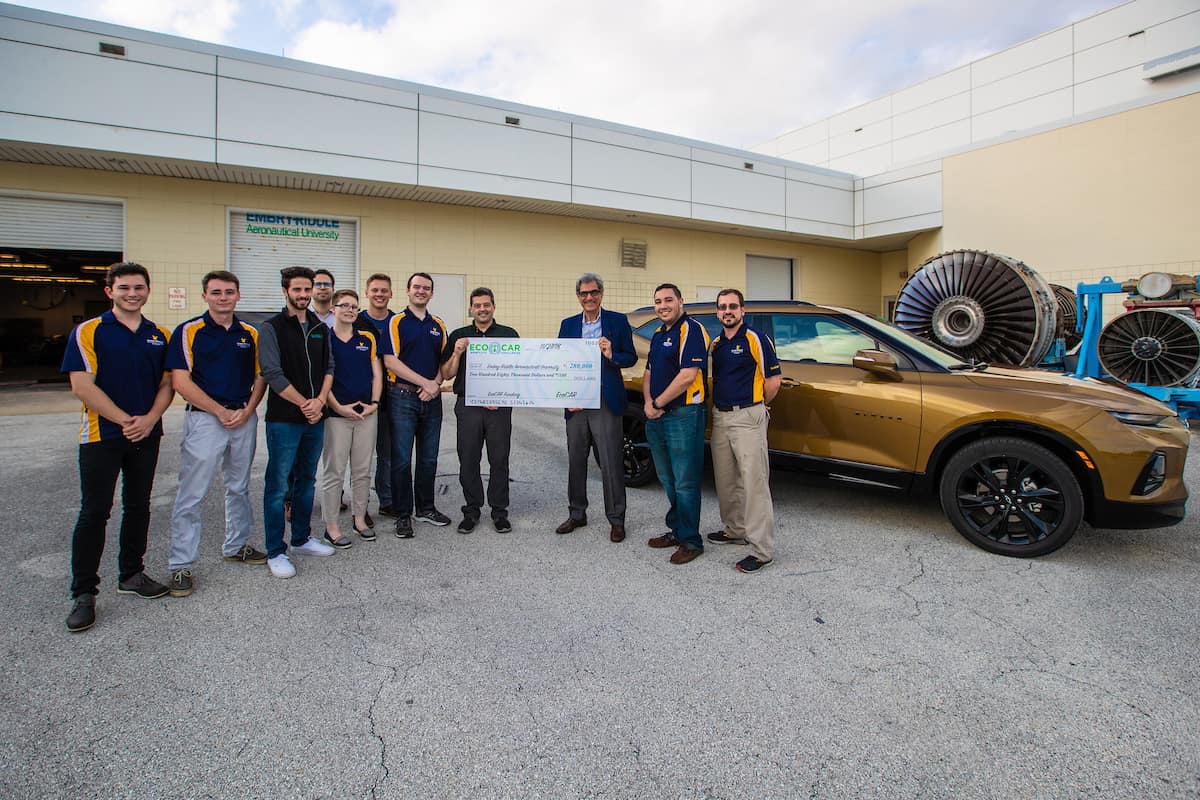 The Embry-Riddle EcoEagles gathered outside of the College of Engineering Oct. 24 to accept a donation from General Motors (GM) of a 2019 Chevrolet Blazer and $280,000 in funding to kick off the second year of the EcoCAR Mobility Challenge.
The Challenge is a collegiate competition aimed at developing the next generation of automotive innovators.
In the project's first year, students designed and analyzed models to transform a powertrain engine to run on hybrid power. This year, they get to test those designs hands-on.

"We have the car and we're about to tear it apart and build it again," said Patrick Currier, associate professor and associate chair of the Mechanical Engineering Department, and the lead advisor of the EcoEagles for the past seven years.
When I got into EcoCAR, things changed. This is what I want to do with my life.
After students build a new hybrid powertrain for the Blazer this year, the system will be refined in year three. In the project's fourth and final year, in 2022, autonomous features will be incorporated that will enable the SUV to be used in app-based vehicle-sharing services.

"We're kind of running a car company within the university," Currier said, citing a staff about 100 students strong who represent various departments: engineering and design, mechanical, business operations, and electrical, computer, software and systems. In all, the project will take the team four years to complete, roughly the same timeline General Motors follows from concept to rollout.
Sponsored by GM, the U.S. Department of Energy and MathWorks, and managed by Argonne National Laboratory, the EcoCAR challenge arms students with valuable experience, teamwork and leadership skills through the development of next-generation solutions to future energy and mobility challenges. The Embry-Riddle team placed second overall in the EcoCAR competition in 2017, marking its fourth consecutive top-five finish. The team received two awards in 2018 during the final year of the challenge involving a Chevrolet Camaro, including top prize for the lowest well-to-wheel greenhouse gas emissions.
The same as every EcoCAR project — this will be the fourth that Embry-Riddle has participated in since 2008 — the current competition emphasizes new challenges, namely a focus on "driverless" features, making the vehicle accessible to disabled passengers and incorporating autonomous elements that will assist in driving on the highway and in other low-pedestrian areas. Because of this, Currier's team will feature more technology workers than mechanics this year for the first time ever. These specialists will design a system of sensors, computers and software modules that will not only be capable of taking the wheel to improve the vehicle's smoothness and safety but can also teach drivers how to drive more efficiently.
"Can we use some of this technology to save fuel, for instance?" Currier asked. "How you drive matters almost as much as what you drive."
Ultimately, though, the EcoCAR project is about developing talent.
"It's an opportunity for us to meet a ton of potential future engineers, and there's no better way to evaluate the capability of engineers than to see them in action," said Chris Trush, GM senior manager who presented the check and Blazer to the group. "When these students come to work for us, they hit the ground running. They're just top-notch."
Incidentally, two EcoEagles have already accepted offers this year to come to work for GM. One of them, Shannon Wiggins, a Mechanical Engineering senior with a specialization in High-Performance Vehicles, will start immediately after graduation.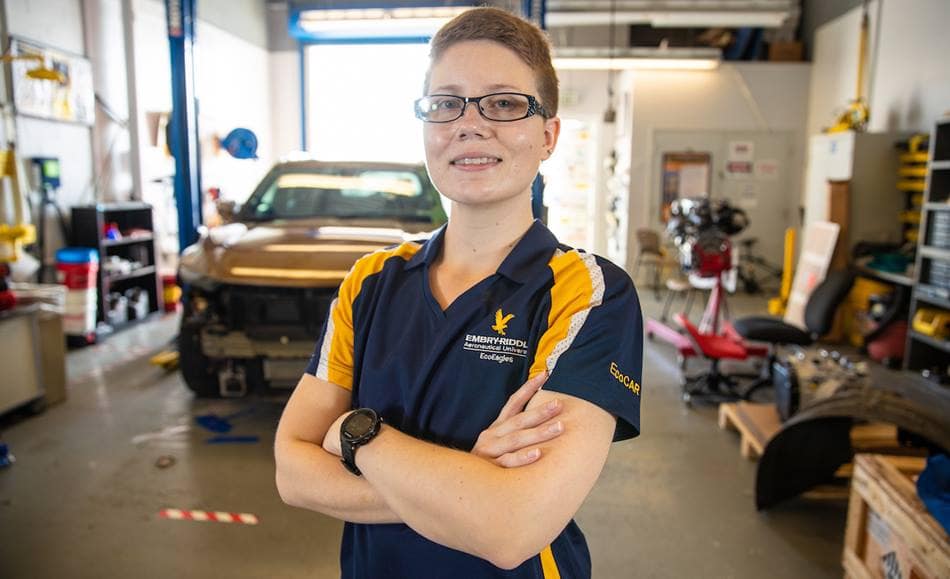 Shannon Wiggins, a Mechanical Engineering senior, has a job lined up at General Motors and is set to start after graduation. (Photo: Embry-Riddle/David Massey)

Career Clarity
As a child, Wiggins always had trouble choosing a career goal. The "What do I want to be when I grow up?" question never had a clear answer — until mom suggested going into STEM.
"I'm analytical-minded," Wiggins said. "I like thinking things through."
In that way, STEM made sense, but no one course or program felt quite like the perfect fit. Then, Mechanical Engineering came along.
"When I got into EcoCAR, things changed," Wiggins said. "This is what I want to do with my life."
Wiggins switched majors in senior year and started a specialization in High-Performance Vehicles. The decision extended what was meant to be a four-year degree plan into a six-year one, but Wiggins had never been afraid of hard work. A full-time job in the Embry-Riddle Admissions office would cover the additional cost of tuition, and that just meant working even harder.
"Time management is key," Wiggins said. "It can be a lot of work, but it's definitely doable."
Now with nearly a full undergraduate program behind and a job at General Motors ahead, Wiggins, finally, has achieved career clarity. The job at GM will be a two-year Technical Rotation and Career Knowledge (TRACK) position that moves participants through four departments of their choosing within the company. At the end of two years, these TRACK workers get to choose which position they like best and want to pursue long-term.
"It's a lot of problem-solving, and things never work the first time," Wiggins said about modeling and engineering. "But you try and try, and then when it clicks —"
Wiggins smiled and admitted that maybe mom was right about STEM all those years ago.
"It's really exciting to be finally working on the physical thing," Wiggins said — about getting started on the next phase of the project, and about getting started on the next phase of life.
Posted In: Engineering