Three Eagles Earn Fellowships to Contribute to NASA's Artemis Mission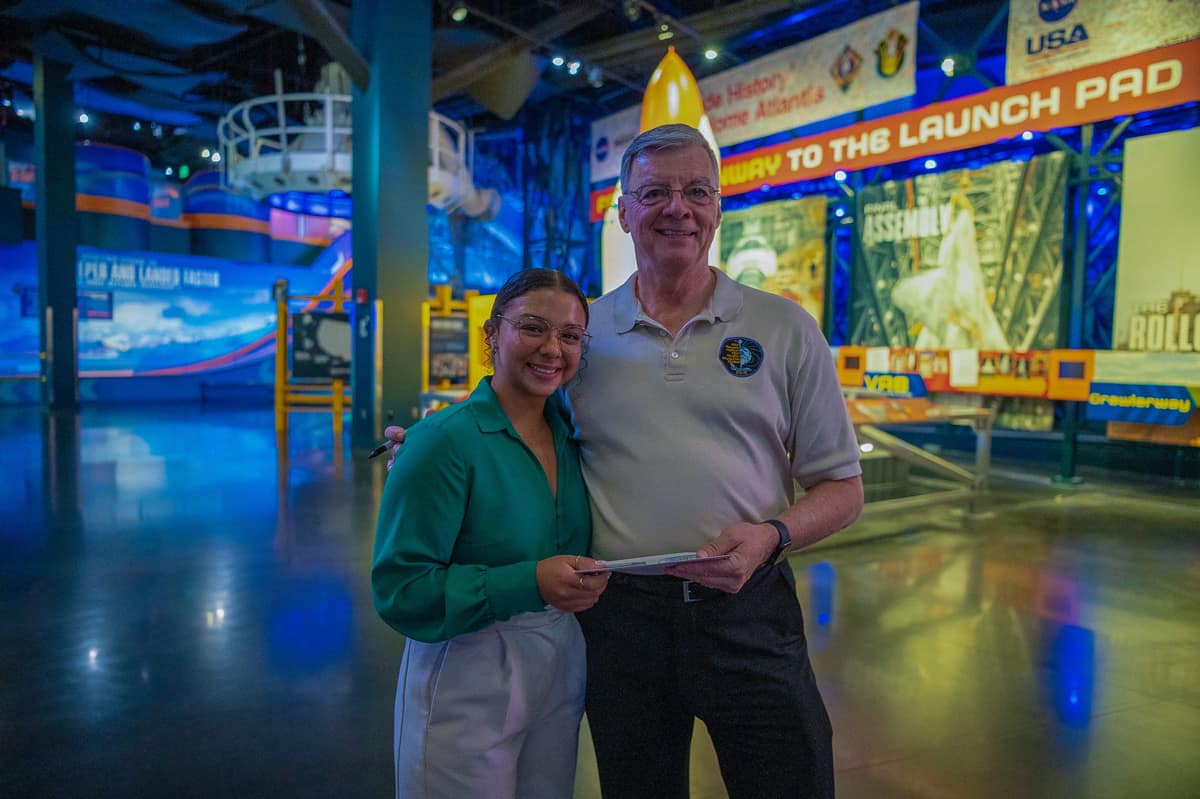 NASA's Artemis program, which will send humans to the moon for the first time since the Apollo days, will land the first woman and the first person of color onto the lunar surface, equipping them with innovative technologies to explore and discover more than any astronaut has before. But NASA won't do it alone.
This summer, three students from Embry-Riddle Aeronautical University will contribute to the mission, conducting Artemis-related research at NASA facilities. They earned this once-in-a-lifetime opportunity as part of being named NASA M-STAR (Minorities in Space Technology Artemis Research) Fellows.
Sticky Space Dust
Born in the Dominican Republic, Aerospace Engineering senior Ashley Tirado Pujols is interning this summer at NASA Langley Research Center, where she is primarily working on ways to mitigate the effects of lunar dust on ceramic-coated materials used by astronauts.
"Lunar dust, or regolith, poses a challenge for aerospace structures on the moon, and even Mars," Pujols said. "Particles adhere to surfaces, and the impacts from micrometeorite showers can affect the safety of landings."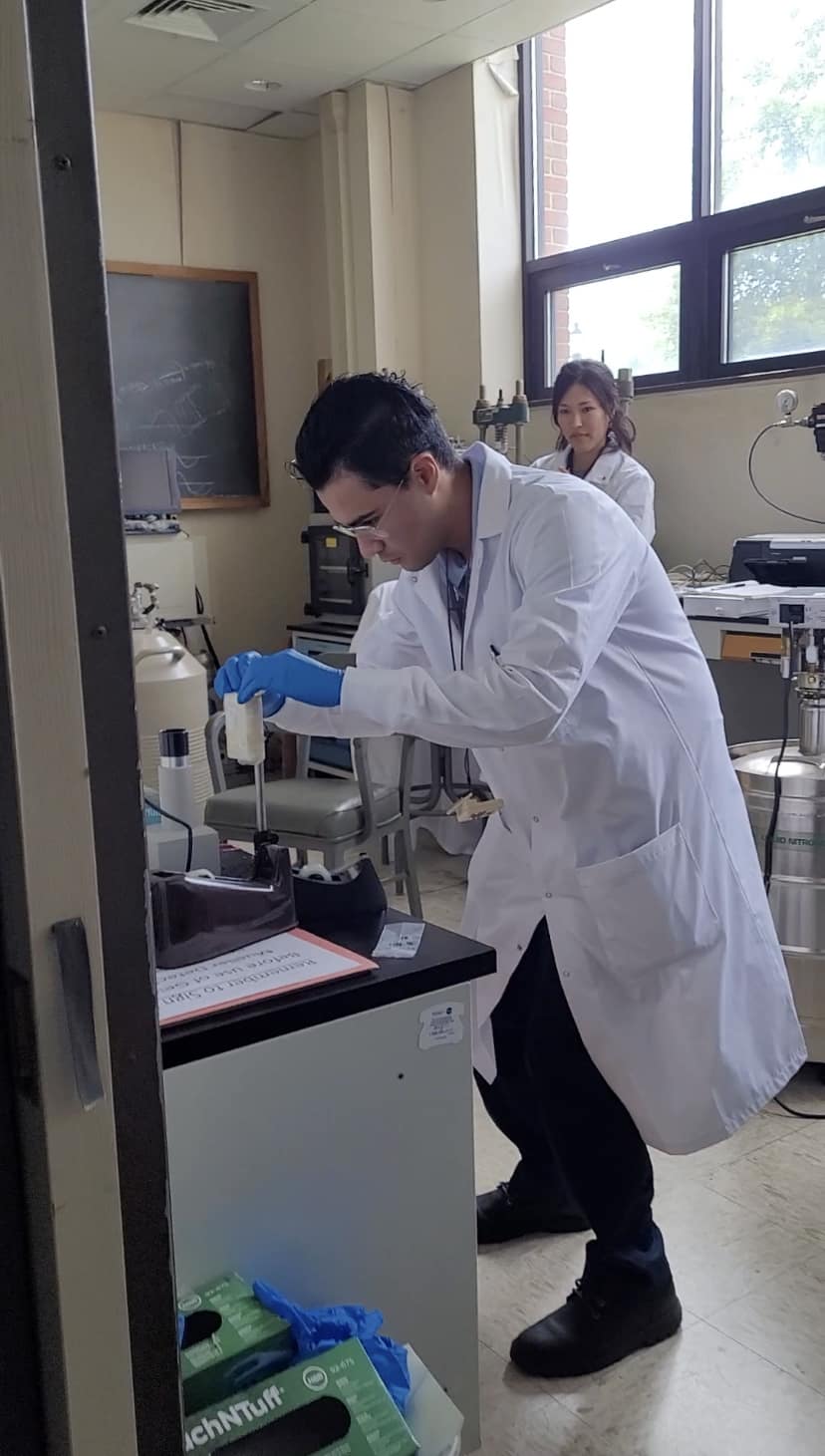 John Yonkauske, an Aerospace Engineering senior at Embry-Riddle, is currently interning at NASA Langley Research Center. (Photo: John Yonkauske)
Pujols plans to highlight the data she collects at the research center in multiple papers, one of which she is scheduled to present at the SciTech Conference in 2024. She's currently working on two projects: the first measures the wear and level of impact-resistance of Yttria-stabilized-zirconia as a ceramic coating; the second focuses on the properties of lunar dust by aerosol-spraying particles through a centrifuge to analyze their patterns of adhesion.
"If we can understand how dust adheres to different surfaces, we are one step closer to developing prominent methods to mitigate its adhesion on aerospace structures and spacesuits," said Pujols.
A record of accomplishments led to Pujols' selection as an M-STAR Fellow. In 2021, she was chosen as Embry-Riddle's only female representative in the NASA RASC-AL research competition, where she oversaw space operations. The team's research made it to the state finals, where it won Best Design Concept and placed third overall. Earlier this year, she also was named Outstanding Undergraduate Researcher in Fundamentals of Engineering, by Embry-Riddle's College of Engineering.
"Never underestimate your capabilities," Pujols noted, adding that she had little experience before starting several undergraduate projects — but her hard work and focus paid off. "You really can thrive in uncomfortable situations."
Materials Testing at NASA
Another Aerospace Engineering senior, John Yonkauske, from Elk Township, New Jersey, is also interning at NASA Langley. He credits the hands-on projects in which he took part at Embry-Riddle for opening the door to even greater opportunities at NASA.
"The materials science research I'm currently doing at NASA has a lot of similarities to the materials testing I was learning about and doing through undergraduate research," Yonkauske said. "I first got involved through an initiative called Project Vestia, which was led by current master's student Jackson Schuler, who deserves a lot of credit for my success. The work involved us designing, prototyping and testing an origami-style foldable carbon fiber-Kevlar floor for an inflatable Martian habitat."
As a research intern at NASA, Yonkauske is investigating the electromechanical properties and space applications of nanotube-polymer composite materials.
"I love having access to every different kind of lab or instrument I need onsite, and being able to observe the other cool facilities onsite that don't necessary apply to my particular project," he added. "My favorite thing so far has been meeting my fellow interns and mentors who have done, are doing and will continue to do so many amazing things and cutting-edge scientific research."
For students interested in landing NASA internships of their own, Yonkauske has a simple piece of advice: Get involved.
"It's about who you know and saying yes to opportunities that will wind up opening doors that you can't even imagine," he said, promoting the power in building one's network and proactively seeking opportunities to grow. "Me saying yes to joining Vestia led me to the M-STAR door."
A 3D-Printed Future
Sam Leblanc, a Ph.D. in Electrical Engineering and Computer Science who has worked in the field of additive manufacturing for the past 10 years, is interning at NASA's Jet Propulsion Laboratory (JPL), in California.
"The goal of the internship is to combine my background and area of research with composite materials: to ultimately create Metasurface Antennas on composites through advanced manufacturing techniques for space missions," said Leblanc, a Pasedena, California, native. "Also, while here, I have presented to multiple groups within JPL to introduce the concept of 3D-printed electronics, as it is still a relatively unknown concept."
Additive manufacturing could play a key role in the Artemis mission, given the adaptability and lightweight nature of 3D-printed materials, and electronics are just one of the things Leblanc has built from 3D-printed parts in his time in the industry. He has also created 3D-printed antennas and transmission lines, and even once set out to manufacture the world's smallest game of tic-tac-toe.
As for his internship, the most surprising aspect so far, he noted, has been the relaxed atmosphere among his colleagues.
"They all love tinkering and enjoy their work," he said. "It's almost like when we'd play with Legos when we were younger. True engineers at heart who love to create and pursue knowledge. Everyone is so excited and eager to share their interests and what they're working on."
For Leblanc's advisor, Dr. Eduardo Rojas, associate professor of Electrical and Computer Engineering, these internships serve as golden opportunities for students to gain hands-on experience working alongside world-class space professionals. They also position students to become possible future employees in the eyes of hosting companies.
"Programs like this, enabled by our College of Engineering Associate Dean [Seetha] Raghavan, are an excellent opportunity to expand the awareness of our high-quality students and the state-of-the-art research Embry-Riddle is performing in the space arena," Rojas said.
Funding for the M-STAR program was earned in partnership with the University of Central Florida, and the students are conducting their research, which started in the spring and will run through summer, under the supervision of NASA scientists as well as faculty from Embry-Riddle — including Dr. Raghavan, associate dean for research and graduate studies and professor of Aerospace Engineering; Dr. Eduardo Rojas; and Dr. Daewon Kim, professor of Aerospace Engineering.
Posted In: Computers and Technology | Engineering | Space