Student-Designed Spacecraft Could Aid in the Exploration of Planets in Our Solar System and Beyond
A self-directed spacecraft rotates on a platform inside a glass enclosed test chamber in the Engineering Physics Propulsion Lab in the College of Arts & Sciences at Embry-Riddle Aeronautical University. Nearby, a student wearing a virtual reality headset maneuvers a 3D digital version of the spacecraft through a simulated Martian atmosphere.
This fully autonomous, early-stage spacecraft prototype is just one of the projects under development in the lab, which is funded by industrial sponsor Jay D'Amico, CEO and owner of several industrial companies in Louisiana and Texas and through grants from the College of Arts & Sciences (COAS) and the College of Engineering at the Daytona Beach Campus. A recent NASA subcontract also has students studying steam-powered propulsion for near–planet spacecraft.
"The interdisciplinary study taking place in the lab has students from different colleges working together. It really shows the breadth of their interests and ability. Most importantly, the students are learning from each other and their mentors," said Dr. Karen Gaines, professor and dean of Embry-Riddle's College of Arts and Sciences, where the lab is part of the Engineering Physics degree program in the Department of Physical Sciences.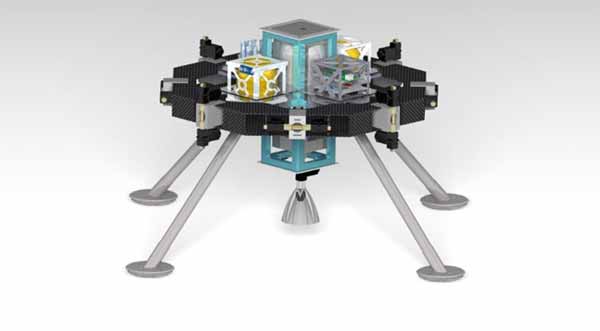 Plans are also underway between the College of Arts & Sciences, the University of Luxembourg, an international research university in Europe, and Embry-Riddle's Worldwide Campus to establish a similar joint Space Research Laboratory in Luxembourg.
The Engineering Physics Propulsion Lab (EPPL) opened in 2016 with just a handful of students under the direction of Dr. Sergey V. Drakunov, professor of Engineering Physics. Today, about 25 undergraduate and graduate students call the lab home. They are supported by Drakunov; mechanical engineering professor Dr. Patrick Currier and benefit from the mentorship of Michael DuPuis, an Embry-Riddle alumnus and doctoral student, who is a principal investigator of Robotics and Autonomous Systems for NASA.
"I'm impressed with the students' work and their technical advancement and knowledge while working in the lab. Everything here is student designed and built," said DuPuis, who is also conducting work in the lab for his aerospace engineering doctorate at Embry-Riddle.
The long-term goal of the current work in the lab is to develop a spacecraft that could be self-sufficient and support research experiments on the Moon, Mars and beyond. Another team is working to develop a robotic arm for the spacecraft that could collect samples from the surface of a planet or asteroid.
"Before we go to other celestial bodies, if we can program autonomous robots to take samples, we can determine whether certain planets can help our species be self-sufficient away from Earth," said freshman Engineering Physics major Catherine Yopp.

The prototype spacecraft will have a modular design, which allows any of the major components to be swapped-out, depending on the mission requirements, including the propulsion and computer systems and sensor arrays. Students are also writing the software control algorithms that allow optimal orbital paths to conserve fuel and to make the spacecraft more efficient.
"It's exciting that a future version of this spacecraft might be used in the exploration of Mars and different planetary bodies in our solar system," said Aerospace Engineering senior Francisco Pastrana, the student leader of the lab and spacecraft project.
Various fuels for the spacecraft are being tested, including the NASA-sponsored project to develop a steam propulsion system that could use ice harvested on a planet or asteroid. The steam propulsion team includes Pastrana, Patrick Serafin, Ankit Rukhaiyar, Collin Topolski, James Cornett and Jonathon Nadeau and doctoral graduate Sam Kitchen-McKinley. Students who have also been instrumental in the spacecraft and simulation design and manufacture include Robert Duke, Alan Moorman and high school student Adam Duke.
Serafin, a senior in Aerospace Engineering, said the shared goal of EPPL students is to make a substantial contribution to the growth of the space industry.
"What we're doing in the laboratory is a stepping stone in turning our vision into reality," said Serafin, who with Pastrana and other students have formed a business to continue working on similar projects with Embry-Riddle when they graduate.
"Research labs at Embry-Riddle like EPPL, where faculty and students are working on government and industry projects, spark our student's passion for aerospace research," said Drakunov. "When they graduate, they keep that enthusiastic attitude and genuine interest as they move into the industry."
Posted In: Computers and Technology | Engineering | Space