'White Hat' Hacking Challenge in Spain Illustrates Aviation Cybersecurity Threats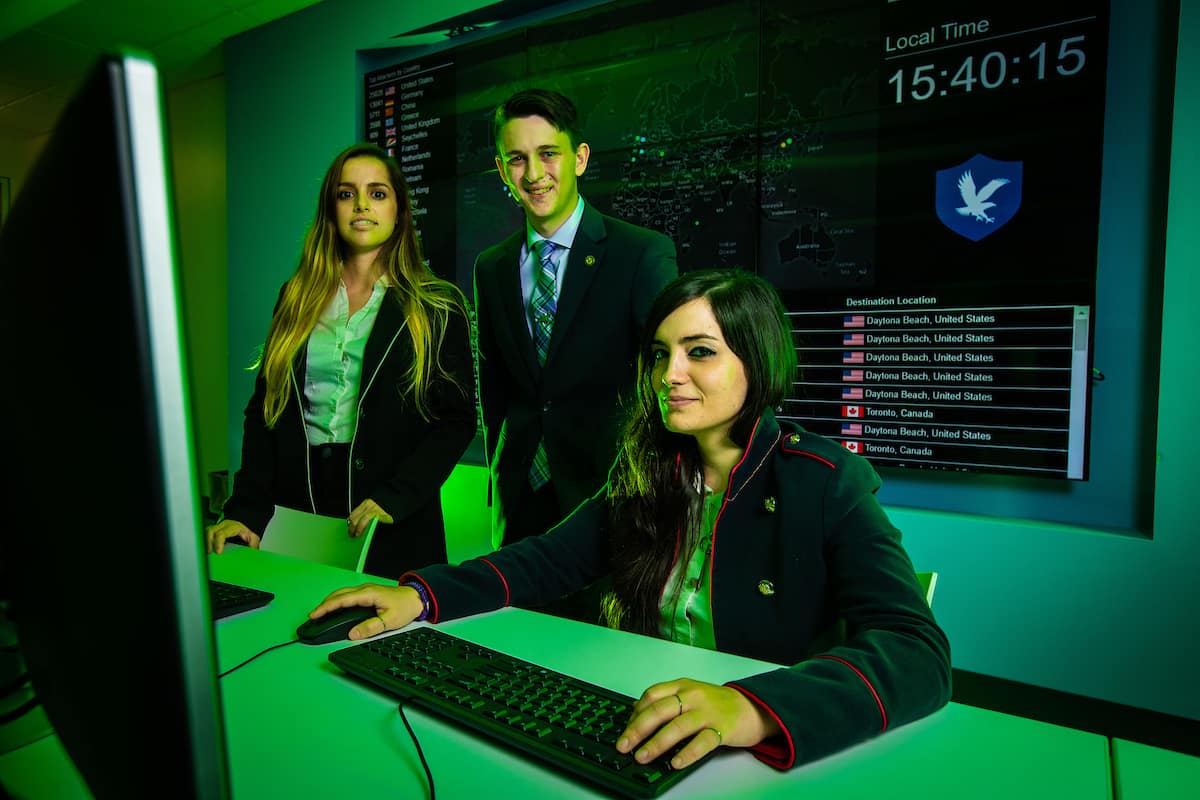 Three aviation cybersecurity students from Embry-Riddle Aeronautical University showed off their expertise, demonstrated their troubleshooting skills and networked with industry professionals while staging a recent hacking competition for the Aviation Information Sharing & Analysis Center (Aviation ISAC) Annual Summit held in Barcelona, Spain.
"The coordinators and mentors were really happy and impressed with our work," said Embry-Riddle graduate student Noemí Miguélez, who will start a Ph.D. in Electrical Engineering and Computer Science in January.
Miguélez, along with current Ph.D. student Anna Baron and undergraduate Joshua Gordon, brought an aviation-focused hacking challenge to Barcelona that required student competitors to identify six simulated hackers located within an airplane seat map. Like a puzzle, the map allowed competitors to click on every seat to discover a different challenge.
The culmination of the challenge was to figure out "exactly which seat on the plane each 'mastermind' hacker was sitting in so they could be arrested when the plane 'landed' at its destination," said Gordon, whose major is Computer Science with an area of concentration in Cybersecurity Engineering.
Baron, who created the challenge, stressed the importance of cybersecurity in aviation safety.
"When we think about aviation safety, we tend to think of mechanical issues or the risk of collision," said Baron. "But today's aircraft are basically flying computer systems. They can be vulnerable to cyber threats."
Five teams, each with three participants, competed. The winning team came from the Polytechnic University of Catalonia, which happens to be Baron's and Miguélez' undergraduate alma mater.
This is the second time that the Embry-Riddle students have organized the hacking challenge portion of the Aviation ISAC summit. Last year, they organized the challenge in Orlando, Fla., and based on the event's success, were invited back — this time to Barcelona for seven days, all expenses paid.
"At these events, our students get to know not only the challenge competitors but also the event organizers and participants from government and the aviation industry," said Dr. Radu Babiceanu, Embry-Riddle professor of Systems Engineering. "It is great exposure of their creativity and technical and communication skills to the big worldwide aviation and aerospace business and organizations. It is also a point of pride for Embry-Riddle to be recognized as a leader in aviation cybersecurity through our students' work."
The team grappled with its share of technical difficulties while in Barcelona, some due to European voltage differences. Because of another issue, their main server shut down repeatedly while they were setting up.
"This was my first international trip," said Gordon. "There were definitely cultural and even logistical differences, but it didn't take long to adapt."
In addition to experiencing real-life problem solving, the students also had the opportunity to network.
Gordon pointed out that the summit in Barcelona attracted "industry leaders who are extremely interested and invested in the hacking competition, the competitors and the results," and who might "offer an interview, career advice, new connections or sometimes an on-the-spot offer."
Babiceanu said students who concentrate on aviation cybersecurity at Embry-Riddle have a distinct advantage over cybersecurity graduates from other universities.
"This is reflected by the constant interest that large aviation and aerospace companies have in recruiting our students," Babiceanu said.
Posted In: Applied Science | Computers and Technology | Engineering | Research | Security Intelligence and Safety