Volleyball Court Violations Won't Fly at Embry-Riddle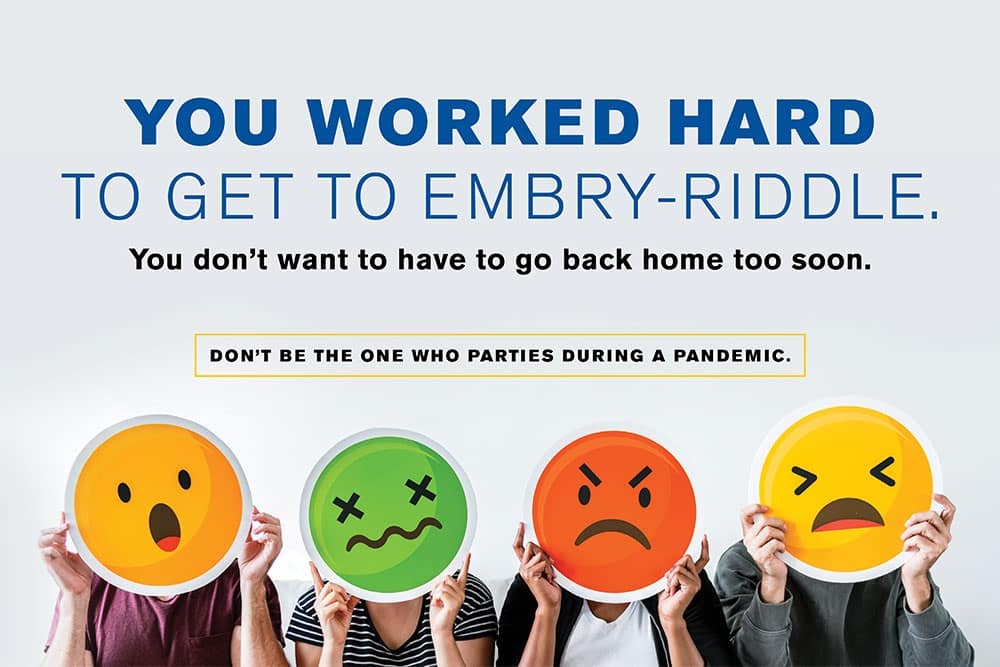 Daytona Beach students:
It has come to our attention that students have been gathering on the sand volleyball courts in large numbers after hours, without face coverings or physical distancing. These gatherings are a selfish, reckless violation of Embry-Riddle's safety rules as well as State of Florida law regarding crowd sizes.
Campus Safety officers will be on site at the volleyball court tonight. Any student engaging in high-risk behaviors that put the university community at risk may be in violation of student Honor Codes or Standards of Conduct. Students who willfully violate Embry-Riddle rules will be subject to disciplinary action, potentially including immediate expulsion without a refund. For Daytona Beach Campus students, refer to the Honor Code, and in particular, the Failure to Comply section. For Prescott Campus students, theStandards of Conduct can be found here; the Failure to Comply section is on page 22.
All of you worked hard to get to Embry-Riddle. The university worked hard to make it possible for you to be here, by putting stringent safeguards in place to help prevent the spread of Covid-19. Many universities across the country have already resumed face-to-face instruction, only to quickly shut down again and migrate all courses back online after students ignored the rules.
Embry-Riddle Eagles are better than that. You know it. We know it. Let's show it.
A Vigil for Remembrance, Safety & Determination, to honor all those who have lost their lives to Covid-19 – including some we knew and loved – is currently being organized. Details will be forthcoming soon.
Review the campus Honor Code, and particularly the section related to Failure to Comply.
Your key responsibilities under the Honor Code are as follows:
You are required to wear a face covering in all common areas, both indoors and outdoors, whenever you are on campus – whether you are walking, skateboarding, jogging or biking. The only exception to this rule will be supervised, organized physical activities (i.e., ROTC or Athletics) in designated areas. We urge you to review the Frequently Asked Question on this topic.
Please note that hanging onto partially consumed food or beverages for extended periods of time so as to "get around" the face covering requirement will not be tolerated.
Practice physical distancing – remain six feet apart at all times. Never congregate in large groups.
Students must carry and display their EagleCard at all times while on campus (lanyard or clip).
Everyone must have a daily wellness/temperature check.
You cannot enter classes until you have had your wellness check. Plan accordingly to ensure an on-time arrival at class.
There will be no eating or drinking in classrooms.
Everyone must clean their desk and/or table at the start of class.
Wash your hands and/or use hand sanitizer frequently throughout the day.
Stay home if you are sick.
President Butler has repeatedly said that it's up to all of us to keep our campus as safe as possible and to care for each other. We're leveraging Embry-Riddle's strong safety culture to buck the national trend. While our faculty members are prepared to rapidly pivot to online instruction if necessary, we strongly prefer having you here with us, on campus.
The volleyball net has been temporarily removed. New safety signage is being put in place.
Be smart. Do your part. Don't get sent back home too soon.