The Daytona Beach Campus Welcomes Students Back — Safely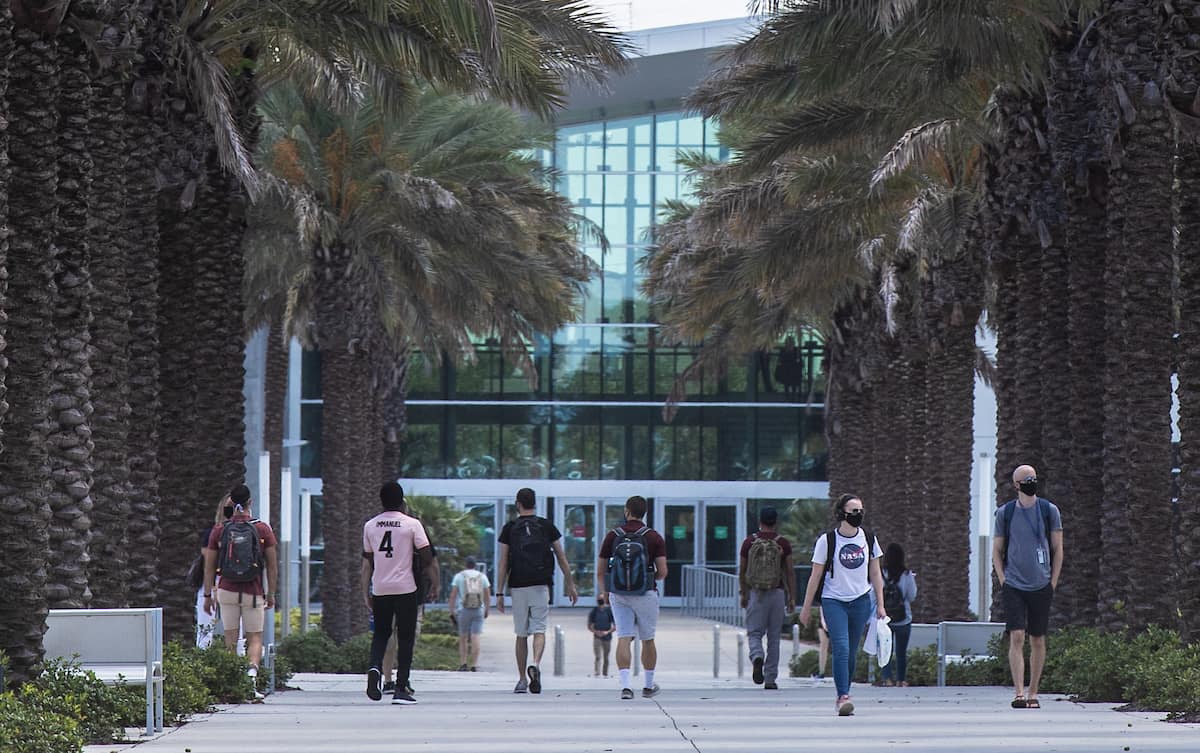 In preparing for Embry-Riddle's fall semester, all incoming students and their guests must receive a non-invasive wellness check and wear cloth face coverings while on campus. They should then proceed to the check-in area at the ICI Center at their appointed time. In order to maintain social distancing, early arrivals will not be permitted. For check-in at the ICI Center, students will not leave their vehicles. All students and guests should go to the check-in area first before proceeding to the residence halls.
Due to physical distancing requirements, once a student has moved all of their belongings into their room and unpacked, guests are asked not congregate in rooms or common spaces. Students are permitted to bring no more than three guests with them to assist in the move-in process.
Face coverings must be worn at all times, whenever walking, running, skateboarding or biking on campus. Taking part in organized, supervised, required group activities (such as cross-country or physical training) is the only exception to this rule. These activities will take place on the perimeter of campus or within an approved Outdoor Recreation Area, with physical distancing in place.
Outdoor Recreation Areas
Although cloth face coverings are required for all students, staff, faculty and guests at all times, certain designated areas have been approved for mask-less physical training (PT), with social distancing maintained. A list of those approved areas is as follows:
The ROTC outdoor obstacle course — 50 cadets at a time, while social distancing
The PT area outside of the obstacle course, with sit-up bars — 10 cadets at a time, while social distancing
The jogging routes on the east side of Clyde Morris Blvd.
Cadets using these facilities are required to wear masks going to and from the recreation areas. Hand sanitizer is encouraged before and after each use.
No eating or drinking will be permitted in classrooms.
What to expect
We know you have questions. For additional information, health reminders, safety requirements, a review of frequently asked questions and more, see Embry-Riddle's Fall Semester Overview. Every Covid-19 announcement published by the university since February can also be found on the Coronavirus Updates page. More can be found on Embry-Riddle's various social media sites.