Virtual Internships Take Off at Embry-Riddle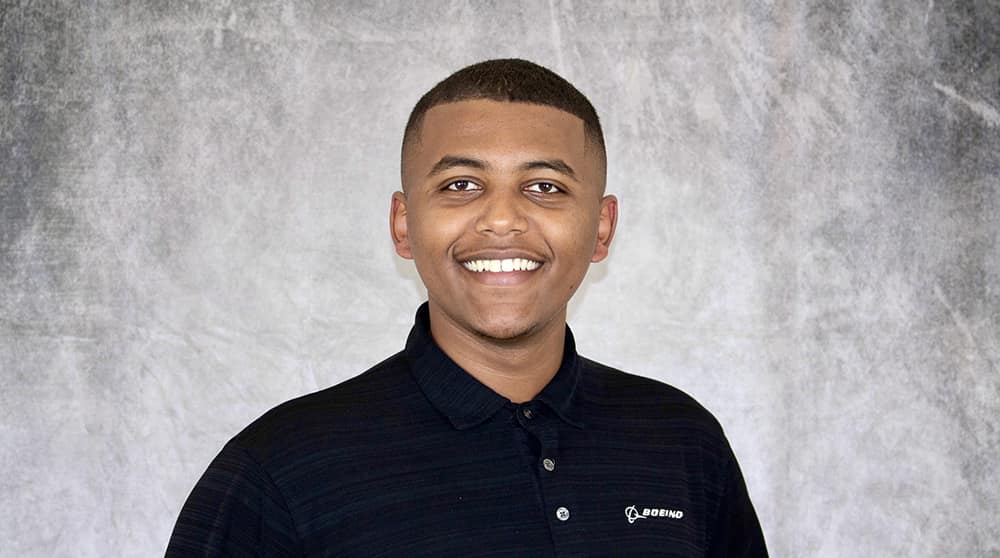 Mahteme Desta, a senior at Embry-Riddle Aeronautical University, was sprinting toward graduation when the pandemic struck. With stay-at-home orders and strict social distancing guidelines in place, his career quest could have been derailed, but Embry-Riddle has been working with industry partners to launch virtual internships, especially for seniors like Desta.
On May 22, Desta will begin his virtual internship with a leading aircraft manufacturer. The company is shipping equipment to him so that he can take part in virtual meetings, presentations and other business activities. Through the internship, he hopes to deepen his engineering and business skills. "My long-term goal is to help advance the aerospace industry in Africa," said Desta, a native of Ethiopia who currently lives in Daytona Beach.
The virtual internship opportunity sprang from Desta's service as a flight engineering intern for the same company last summer.
Embry-Riddle President P. Barry Butler said the university is actively seeking industry partners to support as many virtual career opportunities for students as possible. "As businesses and individuals work to find their new normal, we're seeing a number of innovative, technology-based solutions for maintaining a robust talent pool across the aviation and aerospace industries," Butler said. "At Embry-Riddle, we want to help our students build meaningful careers and promote workforce capacity for our industry partners."
Virtual Career Solutions
As the novel 2019 coronavirus (Covid-19) crisis erupted, Embry-Riddle's residential campuses in Florida and Arizona quickly shifted classes as well as a wide array of student services online. In addition to virtual tutoring, counseling and fitness offered by various departments, "Embry-Riddle's Career Services team has been offering online panels, webinars, competitions and programs with top employers – from manufacturers and airlines, to government agencies," said Alicia M. Smyth, executive director of Career Services on the Daytona Beach Campus.
The Student Affairs team at Embry-Riddle is promoting a competition for prizes for students who take part in Eagle Elevate, a digital career development program that gamifies career skill-building to help students stand out in a competitive job market, she noted. A new weekly Instagram video was launched, featuring career tips, and Embry-Riddle is offering virtual one-on-one career advising, resumé reviews, mock interviews, LinkedIn profile reviews, internship and job search assistance as well as help with salary negotiation, Smyth reported. Students have access to online resources such as Handshake, GoinGlobal, CareerShift, Big Interview and CareerSpots videos for students at all of Embry-Riddle's campuses.
"We are having live virtual seminars for individual degree areas on such topics as internship for credit and hot job leads coinciding with our one on one outreach to every May graduate," said
Kevin L. Hewerdine, executive director of Career Services & Corporate Relations on Embry-Riddle's campus in Prescott, Ariz.
Most recently, the deans of Embry-Riddle's three Colleges of Aviation at Prescott, Daytona Beach and the Worldwide Campus have teamed up to organize a virtual panel for students, focusing on the resiliency of aviation and featuring industry executives.
Zooming Along
To date, 814 students have taken advantage of virtual tutoring services on Tutor.com since April 17, with the most popular subject being Calculus 1. Some 95 percent of survey respondents said they were happy that Embry-Riddle made the Tutor.com service available to them, reported Terry Dallas, executive director of IT Services.
In addition, during the same timeframe, nearly 6,000 Embry-Riddle Zoom classes and other sessions serving more than 61,000 participants have happened, she added.
Faculty have been leveraging Zoom's interactive features such as instant polling and virtual breakout rooms to enliven online classes and keep students engaged. Amid the health crisis, faculty have used Zoom and other platforms to communicate across all three campuses and with university leadership, who recently took part in an EagleVision Faculty Senate meeting. (View the archived recording.)
"Embry-Riddle's Zoom service was carefully configured to prevent commonly reported security issues," said Vice President and Chief Information Officer Becky Vasquez. "For added security, best practices are in place for all users. Those guidelines call on all Embry-Riddle Zoom users to avoid publishing meeting links on public sites, require passwords for meetings and use the waiting room feature."