Virtual Interns at Boeing Adapt to a New Reality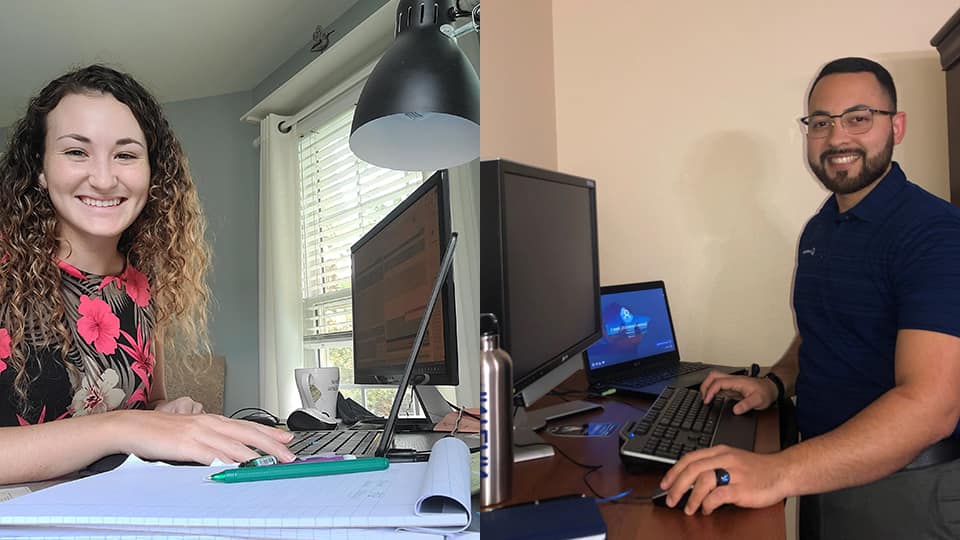 Working remotely during the Covid-19 pandemic presents unique challenges, especially to students embarking on their first internships. Those who can rise above those challenges to become valuable team players, though, have an opportunity to truly distinguish themselves from the rest, said Sarah Newcomer, senior finance manager at The Boeing Company.
"The ones that can excel despite the challenges are the ones we want to have come join our team," Newcomer said. "Can they ask questions, deliver a product, add value?"
The David B. O'Maley College of Business at Embry-Riddle Aeronautical University sent six students to Boeing this summer. The company, the world's largest aerospace firm and leading aircraft manufacturer, hosts some 1,400 interns each year, of which about 200 work in finance. In March, when the Covid-19 pandemic first prompted shelter-in-place orders, Boeing organized a plan to transition those jobs online and began shipping company-issued computers to get the interns connected.
"It was a big deal," said Newcomer, "because we were still getting used to working remotely ourselves."
After about a week of orientation, the Eagle interns were thrilled to get started in a program known for the real-world work experience it offers, as well as compensation and benefits.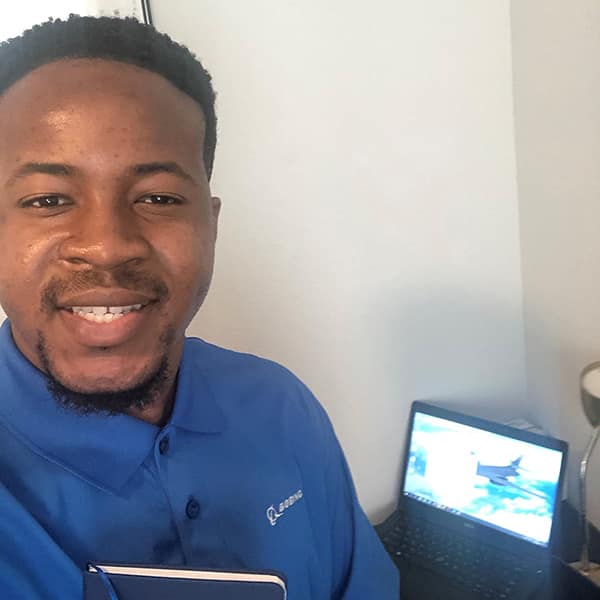 Senior Oko Nelson, a student in Embry-Riddle's accelerated bachelor's-to-master's degree program in the College of Business, has been a part of both virtual and in-person internships at The Boeing Company. (Photo: Oko Nelson)
A Boeing internship is not the kind of thing where your job is to get coffee for everyone," said Oko Nelson, who will be a senior in the accelerated bachelor's-to-master's degree program in the College of Business and also did an in-person internship at Boeing last year. "The training is like if you were an employee. Within a month, you could do proposals on your own."
Nelson is working on contracts involving B52s for Boeing's defense operations.
Intern Jodie Harmon, a third year undergraduate in Embry-Riddle's Aviation Business Administration major, said Boeing treats its interns "as valued employees who can innovate and change their current products and processes for the betterment of the company."
Newcomer added that Boeing developed programming for the virtual interns to compensate for the more extensive mentoring they may have experienced in a face-to-face scenario. For interns scheduled to work 40 hours each week, ten hours of their schedule includes programming for them to get to know Boeing better, to learn about the operations of the finance department or to hear leadership talks, among other activities.
"Boeing has many programs and tools designed for networking and also to compensate for the all-virtual environment," said Jim Myers, an Aviation Business Administration junior. "Although everything is virtual, I am still meeting people."
The interns were also asked to evaluate a fictitious business case, a practice challenge, then present their results.
"We were trying to see if they can think critically, be curious and ask questions," said Newcomer.
Intern Madison Patrick, an Aviation Business Management major set to graduate in December, said Boeing was "doing a great job of having multiple events for us to 'meet' people. We have 'tag ups' with other interns at our original designated location that start with ice breakers and then go to free-flowing conversations among all the interns."
Alexis Guerrero, also a senior in Aviation Business Administration and on his second internship at Boeing, said that he has found it relatively easy to connect with others virtually, although he does admit missing the face-to-face interaction, in-person training and company tours he experienced through the program when he took it for the first time last year.
Still, each Eagle agrees that working remotely helped them develop an important skill.
"The virtual cat is out of the bag," said Newcomer, adding that companies will be looking at the cost savings and flexibility for remote employees, even after the pandemic.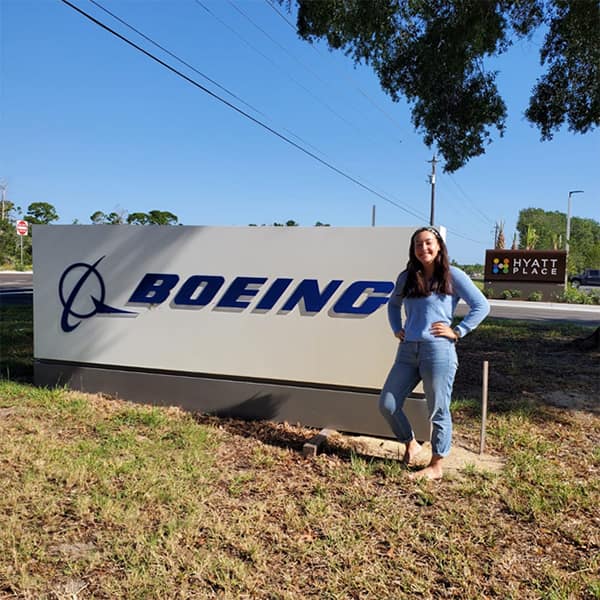 Aviation Business Administration junior Rosseana Morales (Photo: Rosseana Morales)
What advice would this group of interns give to future students embarking on virtual internships?
"Be prepared to do a lot of research and reaching out," said Aviation Business Administration junior Rosseana Morales. "Ask for ongoing feedback, and don't be afraid to ask for help."
Because of another program offered at Embry-Riddle Aeronautical University by The Boeing Company, 13 outstanding high-school graduates will receive scholarships from Boeing ranging from $5,000 to $7,500 annually for two years to pursue degrees at Embry-Riddle. The scholarships are supported by a $3 million endowment from Boeing, the world's largest aerospace company and leading aircraft manufacturer.
The Boeing Scholars at Embry-Riddle Aeronautical University initiative is directed toward students interested in pursuing degrees in aeronautical science, aircraft maintenance and other fields at Embry-Riddle — the premier aviation and aerospace institution. The scholarships – which will fund a portion of each scholar's annual tuition – are part of an ongoing effort to expand and diversify the aviation workforce.
This is the second year of the scholarship program. Exceptional academic achievement, being a member of an underrepresented population and demonstrated financial need determine which students are chosen annually.
Posted In: Business