U.S. News & World Report Ranks Embry-Riddle Worldwide a No. 1 Online Educator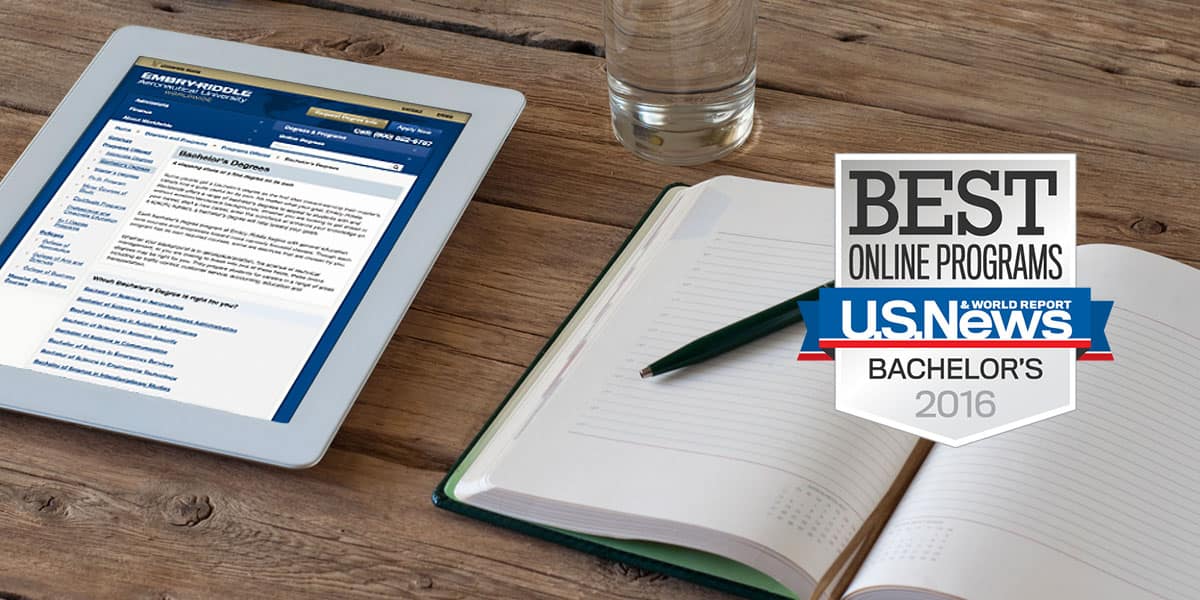 A commitment to high-quality education focused on student engagement and outstanding faculty has earned Embry-Riddle Aeronautical University – Worldwide a No. 1 spot on the 2016 U.S. News & World Report list for online bachelor's degrees. For the third consecutive year, Embry-Riddle Worldwide (online.erau.edu) has been named one of the nation's top online educators, according to the U.S. News & World Report listing released today.
Embry-Riddle Worldwide had previously been ranked No. 5. In addition to its No. 1 ranking for online bachelor's degree programs, Worldwide also ranked in the top 50 for its online, non-MBA graduate business programs.
To publish its annual lists, U.S. News & World Report ranked online bachelor's degree programs and graduate business programs in the following categories: student engagement, admissions selectivity (graduate business programs), faculty credentials and training, peer reputation, student services and technology. Other schools joining Embry-Riddle at the top of the 2016 online bachelor's degree list include Penn State World Campus (tied for No. 1), University of Illinois – Chicago, Temple University and The Ohio State University.
"What defines Embry-Riddle's online education is our attention to student support," said Dr. Jason Ruckert, Embry-Riddle Worldwide's vice chancellor for online education. "With decades of experience in distance learning, we are setting the standard for world-class online education by focusing on engagement and services critical to student success. Technology has given our faculty and advisors the ability to interact with students in new and exciting ways, and we're constantly looking to improve the overall student experience."
Embry-Riddle's residential campuses in Florida and Arizona also have consistently earned top honors by the publication as reflected in the 2016 Best Colleges guidebook. In the specialty category of "Best Undergraduate Aerospace/Aeronautical/Astronautical Engineering Programs," the Daytona Beach, Fla., campus was named No. 1 for the 16th year in a row, and the Prescott, Ariz., campus is No. 3 for the 13th straight year.
"Acknowledgment of the innovative, quality education that Embry-Riddle provides, whether it is online or in a traditional classroom setting, serves as affirmation and a source of pride, but it also motivates us to do even more," said Embry-Riddle Interim President Dr. John R. Watret. "As we celebrate 90 years as the world's largest and oldest university educating the future leaders of aviation, aerospace and beyond – we will never stop evolving."
Widely known for its aviation and aeronautics programs, degrees in non-aviation disciplines such as engineering, project management and information security are delivered through its colleges of Business, Arts and Sciences and Aeronautics. Embry-Riddle Worldwide serves more than 22,000 students online and at 130 campuses in the United States and globally.
---
About U.S. News & World Report
U.S. News & World Report is a global digital news and information company that empowers people to make better, more informed decisions about important issues affecting their lives. Focusing on Education, Health, Personal Finance, Travel, Cars and News & Opinion, www.usnews.com provides consumer advice, rankings, news and analysis to serve people making complex decisions throughout all stages of life. 30 million people visit www.usnews.com each month for research and guidance. Founded in 1933, U.S. News is headquartered in Washington, D.C.