Female Athletes at Embry-Riddle Top National Ranks for Scholarships, Opportunities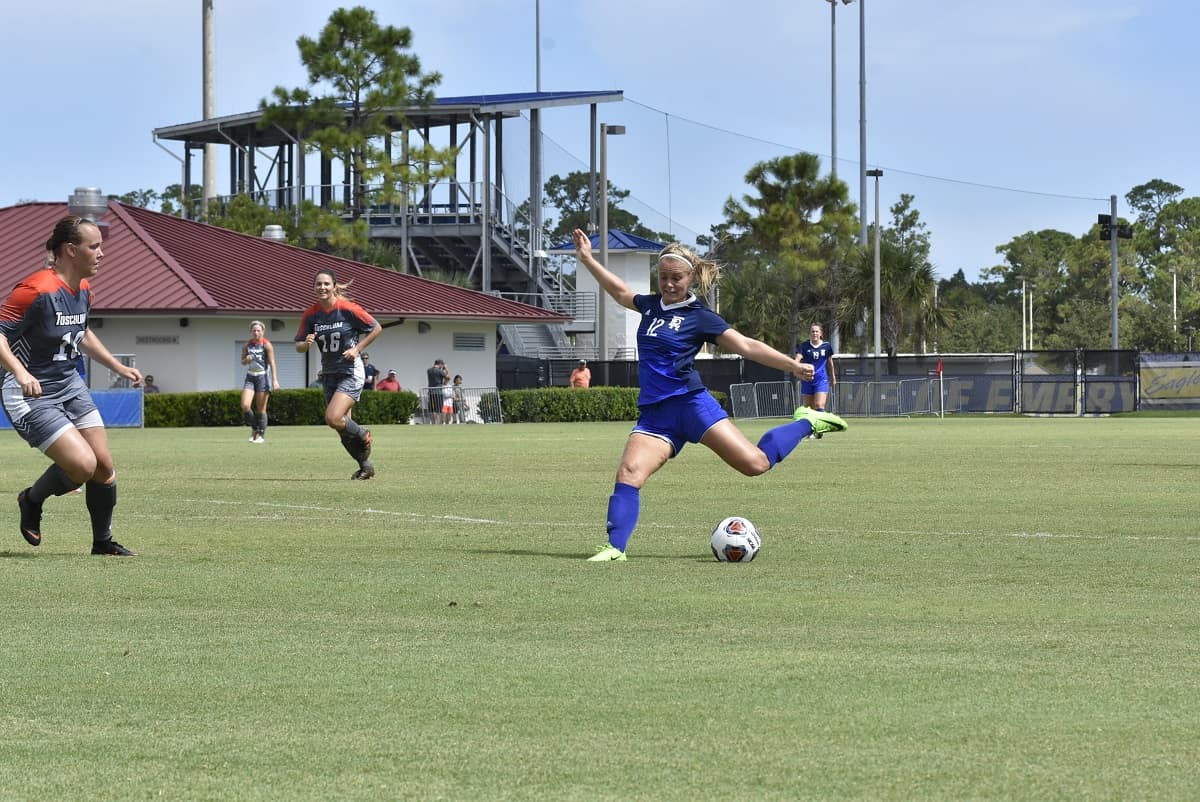 In a recent study of Florida public and private four-year colleges, Embry-Riddle Aeronautical University was the only school where women athletes benefit from the same privileges as their male counterparts in terms of opportunities to play, scholarships and treatment.
Maria Schmiedhofer, a soccer player who will graduate in May with a B.S. in Business Administration and an MBA in Aviation Management, is one such female athlete who has benefited from Embry-Riddle's athletics program.
"The five years I've been a part of the Embry-Riddle Women's Soccer program have been so rewarding and, at the same time, challenging," Schmiedhofer said. "I have received two world-class aviation degrees and met some incredible friends from all over the world."
Schmiedhofer added that being a part of Embry-Riddle women's athletics has given her skills that set her apart as a job candidate.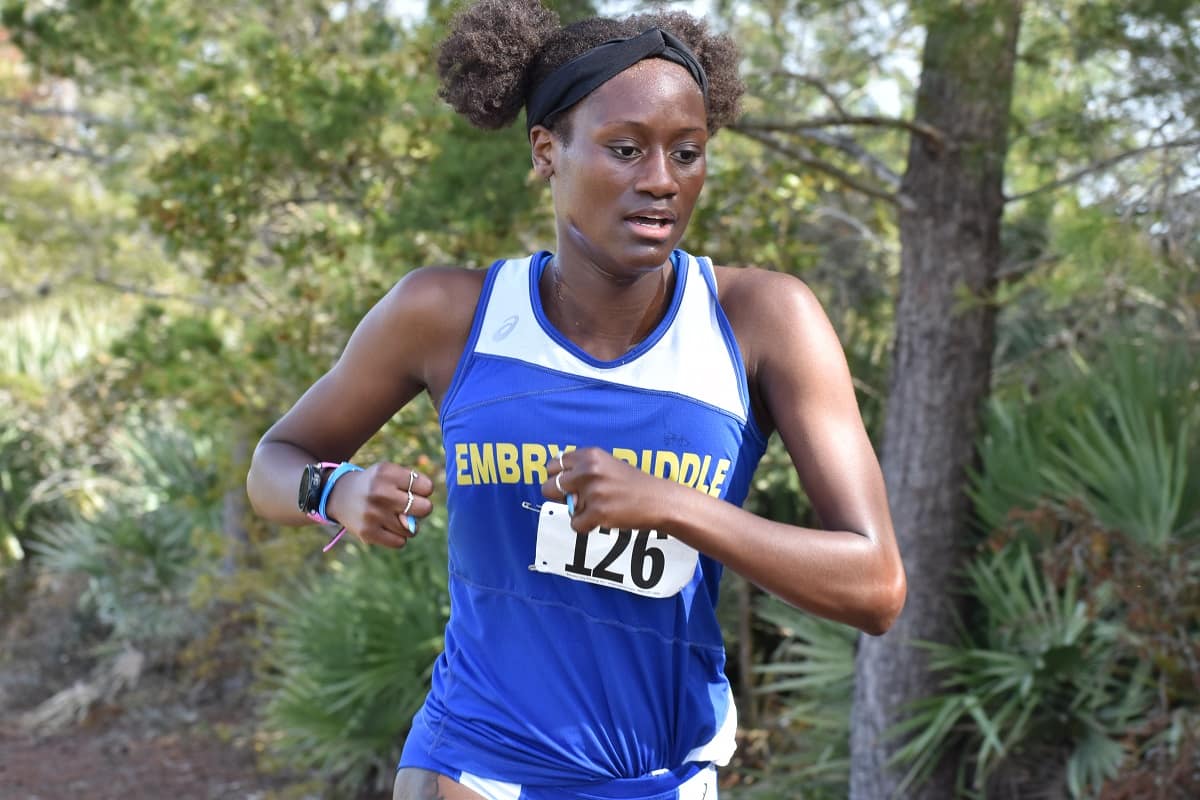 Ukeyvia Beckwith competes on the women's cross country team.
"Adapting to and working together with other people in new scenarios, groups and environments comes naturally to me after playing a team sport with different personality types," she said. "This is something most employers look for in a candidate, and so it has been beneficial for me to bring those experiences up during job interviews."
Asked how much athletics can contribute to a young woman's overall success in life, Samantha Bohon, who is Schmiedhofer's coach, cited a 2020 Ernst & Young study which found that 94% of women with C-suite positions played sports in college.
"There's little doubt that participating in sport can positively impact a woman's overall success in life," said Bohon. "I've been fortunate enough to watch former players excel in so many various paths after graduation while reflecting back on the lessons learned while playing at Embry-Riddle."
Kelsi Dunne, head coach of the Eagles Softball team, called the university's women's athletics "a very special opportunity" for the participants.
"In softball, there are limited opportunities to play beyond college, so the priority is a top-tier education. Our university offers educational opportunities that give our student-athletes a high chance of getting a job within the career field of their choice," Dunne said.
Women's Head Basketball Coach Lisa Nuxol-Wilson said a main reason she came to Embry-Riddle to build a women's basketball program was the school's commitment to equality.
"I was impressed and excited to see how much the administration supported the opportunity to not only build a women's basketball program, but to resource the startup program at a level to be successful and on par with the men's program," Nuxol-Wilson said. "From locker room size to facility and equipment and other aspects, we had the same level of support as the men's team. That was important to me as a coach. When I recruit a young lady to come here and be a student athlete, I want to know she will be treated as well as any male student athlete and have the same opportunity to grow as a student, person and player and win a championship."
"Student-person-player" is the motto of athletics at Embry-Riddle, a philosophy developed by Men's Basketball Head Coach Steve Ridder.
"We as coaches prioritize developing all three aspects of our student-athletes," said Bohon. "We are still very competitive and strive to win on the field as that is still a key aspect to our positive experience here. But it also means we place value on personal and academic growth."
In fall 2020, four of the five best Embry-Riddle teams in terms of grade point average (GPA) were women's teams: tennis (3.87 GPA), soccer (3.85 GPA), basketball (3.80 GPA) and lacrosse (3.62 GPA).
"The culture of being a student-athlete at Embry-Riddle has helped me develop so many long-term skills that I'll use daily in my future schooling and career," said basketball player Nicole Tucker. "My female coaches have done an amazing job of encouraging my teammates and me as young women headed into the workforce. Coach Wilson is a successful woman and surrounds herself with successful women. She passes these important qualities on to her female athletes and encourages us to work for what we want."
The study in which Embry-Riddle was named the one Florida four-year university with equal athletic opportunities for women was conducted by the firm Champion Women, which was founded by Nancy Hogshead-Makar, a civil rights attorney and 1984 Olympic swimming gold and silver medalist.
"We have always taken great pride in offering equitable opportunities for both men and women in our athletic programs," said Embry-Riddle Director of Athletics John Phillips. "So it's nice to be recognized."
Posted In: Business | Institutional News