Brazilian Student Survives Harrowing Covid Experience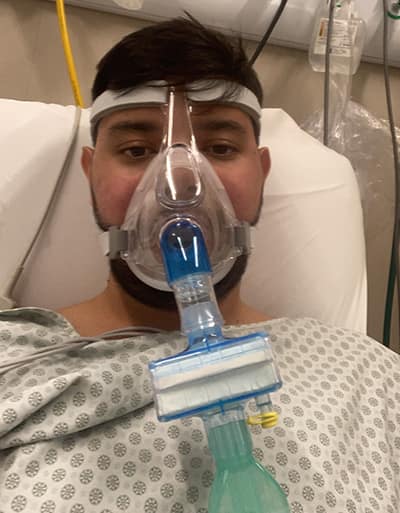 João Ricardo de Oliveira, undergraduate student in Embry-Riddle's Aviation Business Administration program, contracted Covid-19 last year and had to be hospitalized. He is now recovered. (Photo: João Ricardo de Oliveira)
Toward the end of 2020, João Ricardo de Oliveira thought he would soon be leaving Brazil and heading back to Daytona Beach to finish his bachelor's degree in Aviation Business Administration at Embry-Riddle Aeronautical University.
Instead, on Jan. 1 of the new year, the 21-year-old was fighting to breathe, 80 percent of his lung capacity compromised, because he had contracted the Covid-19 coronavirus.
With raging pain in his chest and head, shivering with a high fever and unable to move without being overtaken with coughing and vomiting, de Oliveira went to a hospital in his native city of Manaus.
"I couldn't breathe," he said. "I was right on the threshold of having seizures."
Unfortunately, the hospital, like many throughout the world that have been confronted with huge surges of the virus, was completely overwhelmed. Patients lay unattended in hallways, de Oliveira said.
De Oliveira sat on a plastic chair in a nurses station to receive oxygen, which was running out.
"I saw the nurses intubate someone right next to me because there were no beds," he said. "It was very hard to see how things were. I was worried I would die."
De Oliveira was transferred by medical plane to a hospital in São Paulo, where he spent five days in an intensive care unit. Luckily, after another six days in the less-crowded hospital, he was well enough to be released.
He said his doctor told him that he had a genetic susceptibility to such a severe case of the virus, despite his being only 21.
"You can get really bad symptoms even if you are young," de Oliveira said. "No one is safe."
Now a bit prone to fatigue but mostly recovered, de Oliveira is taking his Embry-Riddle classes remotely. He is disappointed he wasn't able to attend this semester in person.
"I wanted to enjoy my college experience," he said.
Directing his comments to people who are frustrated with mask-wearing and social distancing, de Oliveira said, "You've got to be patient. You should do whatever you can to protect yourself."
Posted In: Business | Institutional News