U.S. News & World Report Names Embry-Riddle Aeronautical University the Top U.S. Online Undergraduate Educator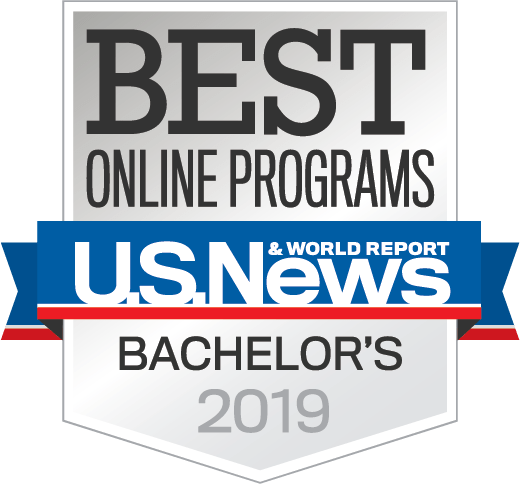 The world's premier aviation and aerospace institution, Embry-Riddle Aeronautical University, earned the No.1 spot on U.S. News & World Report's 2019 ranking of the United States' best online bachelor's degree programs, affirming the school's focus on academic excellence, affordability and promising career opportunities for graduates.
U.S. News & World Report identified Embry-Riddle's Worldwide Campus as the No. 1 online undergraduate educator among 348 schools ranked on the 2019 list. It was the sixth consecutive year that Embry-Riddle's online bachelor's degree programs ranked within the Top 5 on the list.
This year's list placed Embry-Riddle among outstanding company: The university successfully competed with many of the country's most distinguished research institutions, and it was the only private university among the top schools. Also ranking within the Top 5 were Arizona State University, Ohio State University-Columbus, Oregon State University and Pennsylvania State University's World Campus.
Embry-Riddle President Dr. P. Barry Butler said: "We are honored to be named No.1 among so many exceptional online educators. The latest U.S. News & World Report ranking will inspire us to sustain and advance all of our award-winning educational programs in service to students."
Embry-Riddle Worldwide Chancellor Dr. John R. Watret added, "Embry-Riddle's online programs meet the highest standards of academic excellence, and they are also remarkably accessible to all students – from first-generation university students to military members transitioning back into civilian life. Because Embry-Riddle is No. 1, our students are exceptionally well-positioned to secure rewarding, meaningful jobs, particularly because the aviation industry is rapidly growing, yet it faces a global shortage of highly qualified pilots and other personnel."
According to Dr. Jason M. Ruckert, Vice Chancellor & Chief Digital Learning Officer at Embry-Riddle Worldwide, "Advancing technology-enhanced education with affordability, academic quality and student success at the forefront is what sets Embry-Riddle apart."
The 2019 U.S. News & World Report ranking involved an analysis of some 1,500 online bachelor's degree programs, encompassing four general categories: student engagement (which counted for 35% of each institution's score); faculty credentials and training (20%); peer reputation (20%); and student services and technology (25%).
Award-Winning Programs
The ranking was only the most recent distinction earned by Embry-Riddle's Worldwide Campus, which includes fully online programs as well as more than 135 locations in the United States, Europe and Asia.
In 2018, Embry-Riddle Worldwide's unique virtual crash laboratory and aerial robotics virtual lab received a CIO 100 award for innovative and transformative digital educational technology. In addition, a high-tech effort to help students feel connected with Embry-Riddle and persist with their studies earned a top honor for excellence in education from the Western Interstate Commission for Higher Education Cooperative for Educational Technologies.
While emphasizing effective technologies to enhance student learning, retention and persistence, Embry-Riddle has also remained steadfastly supportive of military service members and veterans. Among 97 institutions offering online bachelor's programs for veterans, Embry-Riddle ranked #1 on a U.S. News & World Report list in 2019. In 2018, Embry-Riddle became the first institution of higher learning to successfully complete and excel in all categories of The University of Professional and Continuing Education's National Council for Online Education Hallmarks of Excellence in Online Leadership Review.
Moreover, according to Embry-Riddle's annual alumni survey, 97% of graduates are employed or are in graduate school within a year of graduation. The 2017-2018 PayScale College Salary Report found that Embry-Riddle graduates have a higher salary than 82% of graduates from 1,531 other ranked institutions.
Offering bachelor's, master's and doctoral degree programs for some 23,000 students online and at its 135-plus locations in the United States and globally, Embry-Riddle Worldwide in 2018 was named by U.S. News & World Report as offering the No. 1 online bachelor's program for veterans. It was also named one of the best online colleges in the nation by the Center for Online Education. Its online graduate degree programs have earned numerous accolades from independent online ranking providers.
Posted In: Institutional News