Undersecretary of the Navy Speaks at President's Forum on Research and Innovation Focused on Aero-cybersecurity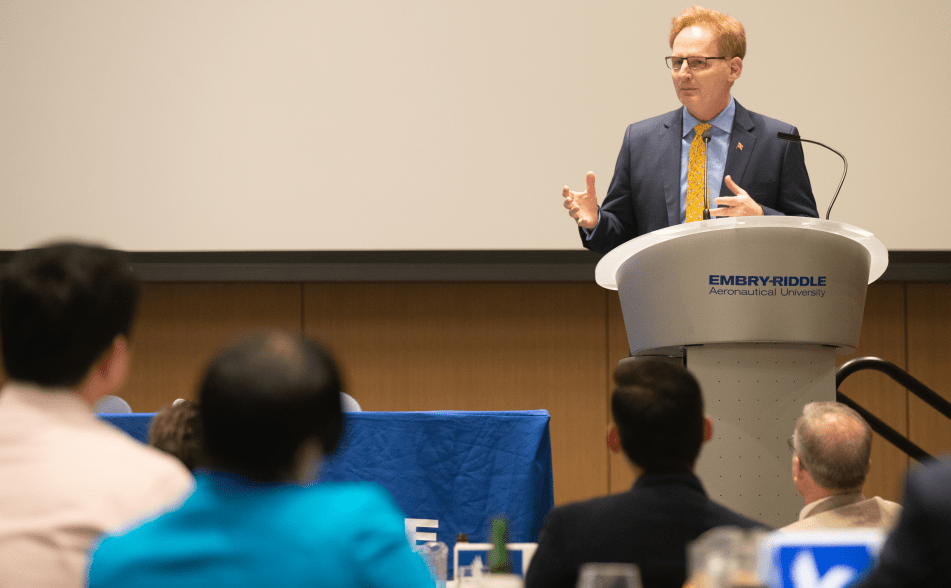 As Embry-Riddle President Dr. P Barry Butler welcomed Undersecretary of the Navy Thomas B. Modly as the keynote speaker of the just concluded President's Forum on Research and Innovation, he noted that the symposium's focus on aero-cybersecurity was a signature area for Embry-Riddle because of its critical importance to national interests, the industry and public safety.
Modly, chief management and information officer for the U.S. Navy, echoed the importance of the topic in speaking about the unique challenges of preparing the largest naval force in the world for rapid technological advances while rebuilding a maritime force that must be adaptable and trained to anticipate new threats, even as existing threats evolve. He said cyber espionage is of significant concern and everything from ships and aircraft to weapon systems must be protected from ever increasing and ever more sophisticated cyber attacks.
"This symposium brought together over two days world-renowned experts who define the aero-cybersecurity sector of business and government," said Dr. Remzi Seker, university research fellow and founder of Embry-Riddle's Cybersecurity and Assured Systems Engineering (CyBASE) Center.
Symposium participants included industry experts from leading aviation and aerospace companies, the International Civil Aviation Organization, the Aviation Information Sharing & Analysis Center, government and military representatives from the Department of Defense, Department of Homeland Security, NASA and the FAA.
In discussing the symposium's focus on the unique challenges of aviation and aerospace cybersecurity, Butler distinguished those challenges from traditional IT cybersecurity threats.
"The accelerating connectivity and computerization of the industry is transforming aircraft, both manned and unmanned, into highly capable mobile nodes in a vast communications and data network," said Butler. "Aviation cybersecurity professionals must have an understanding of hardware, software and policy-based measures to manage risks in a complex, ever evolving global environment. That's why we have made a university-wide commitment to provide innovative, research-based solutions, graduate capable professionals and the opportunity of continuing education in these fields."
Posted In: Aviation | Business | Computers and Technology | Security Intelligence and Safety