Two Eagles Named U.S. Fulbright Scholars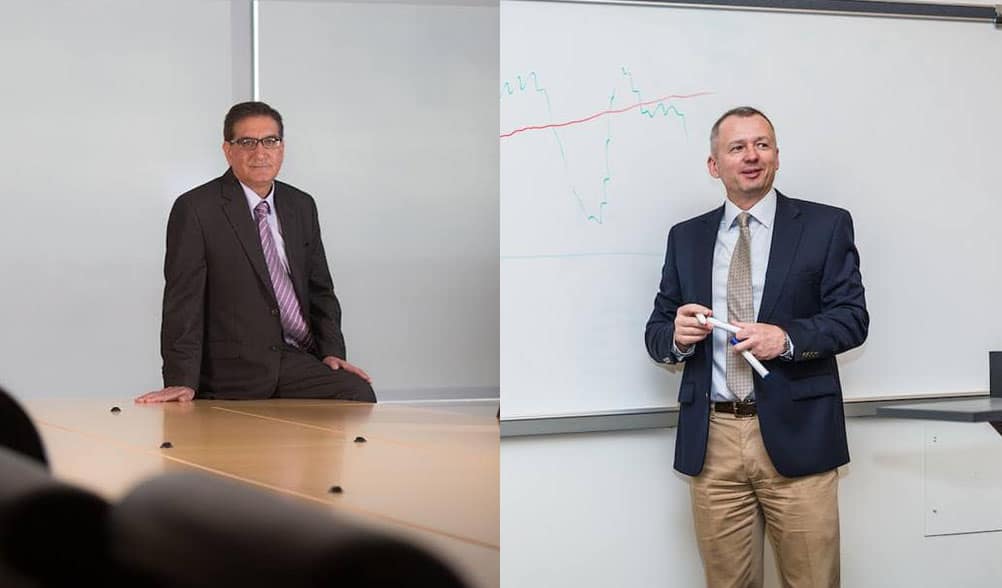 The most highly competitive program for international educational exchange in the United States has awarded two faculty members from Embry-Riddle Aeronautical University — Dr. Massoud Bazargan and Dr. Vitaly Guzhva, each from the Daytona Beach Campus — 2019-2020 Fulbright Scholar Awards.
A professor of Production Operations Management within the David B. O'Maley College of Business, Bazargan will serve as a senior researcher at the Eskisehr Technical University (ETU), the largest aviation school in Turkey, during his Fulbright exchange period of January to June 2020. Bazargan's book, Airline Operations and Scheduling, has been translated into Turkish by an ETU faculty member and its contents are currently taught in courses at the institution. Bazargan plans to offer seminars to faculty and graduate students during his time at the university, as well as establish new ways for Embry-Riddle to collaborate on research, joint degrees and student exchange programs.
"The experience will certainly expose me to ongoing international challenges in aviation faced by academia and industry," Bazargan said.
A professor at Embry-Riddle since 1999, Bazargan specializes in operations research and operations management related to airline/aviation optimization and simulation modeling. An Iran native, he now lives in Ormond Beach, Fla.
"It is truly an honor to have received this award," he said. "I hope it leads to more collaborative research between the two major aviation schools."
A former military and corporate pilot, as well as a Daytona Beach Campus alumnus, Dr. Vitaly Guzhva has taught Aviation Finance at Embry-Riddle since 2004. For his Fulbright Scholar period, he will spend five months in the world capital of aircraft leasing and financing: Dublin, Ireland. With about 50 percent of aircraft worldwide operating on a lease, more than half are managed from Dublin. Guzhva will spend his Fulbright period researching and guest lecturing at the University College Dublin — the only other university in the world, along with Embry-Riddle, that offers a graduate degree in Aviation Finance.
"I am extremely honored and proud to earn the Fulbright Scholar Award," said Guzhva, who was born in Russia but, like Bazargan, also calls Ormond Beach home. "It shows that the Fulbright Commission and my peers recognize my current and potential contribution in the field of Aviation Finance."
Three Embry-Riddle faculty members — two from the Daytona Beach Campus and one from the Worldwide Campus — also won Fulbright Scholars Awards in 2018-2019.
"We appreciate the recognition Embry-Riddle and our faculty receive from the Fulbright Scholar Awards," said Lon Moeller, senior vice president for academic affairs and provost. "The Fulbright experience expands the expertise of our faculty and strengthens the university's connections throughout the world. Congratulations to Drs. Guzhva and Bazargan."
Fulbright Scholarships

Fulbright Scholarships are awarded by the U.S. Department of State and the J. William Fulbright Foreign Scholarship Board.
Since its establishment in 1946 under legislation introduced by the late U.S. Senator J. William Fulbright of Arkansas, the Fulbright Program has given more than 380,000 students, scholars, teachers, artists, and scientists the opportunity to study, teach and conduct research, exchange ideas, and contribute to finding solutions to shared international concerns.
Posted In: Business | Institutional News