Trio of Aerospace Physiology Students Complete First Hospital Rotations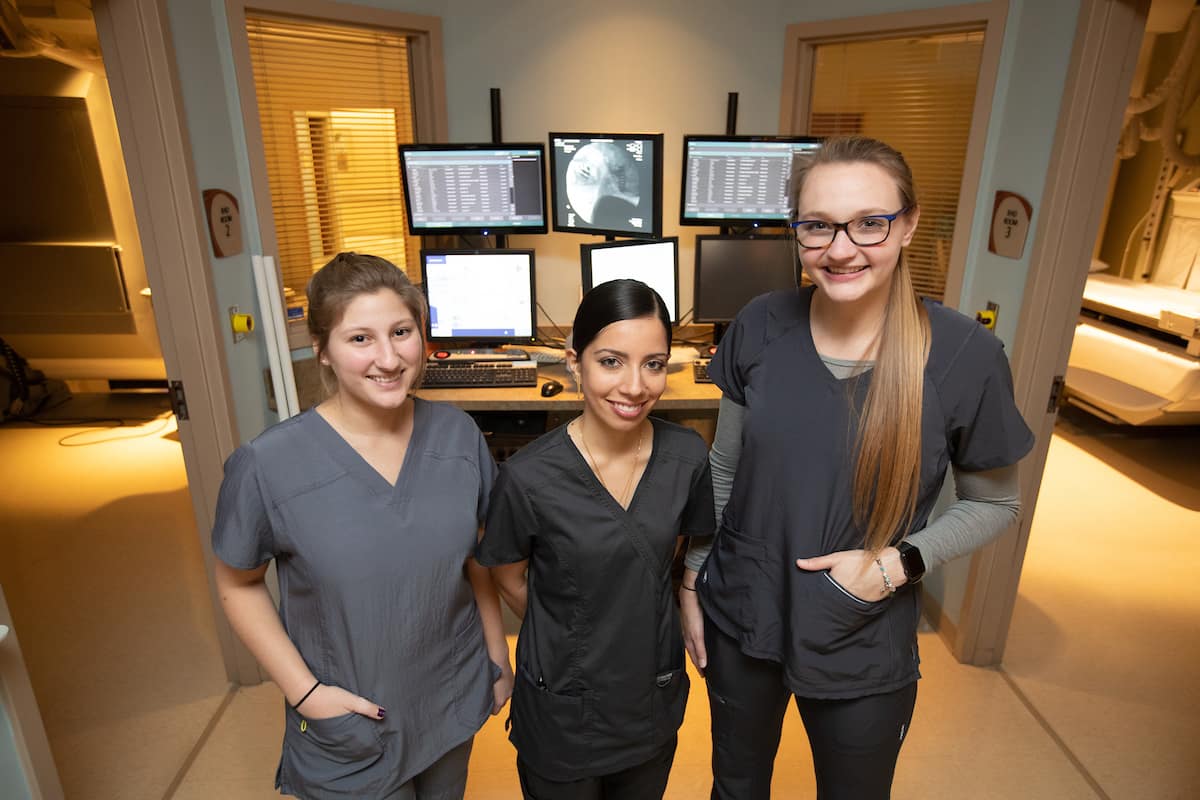 The nation's only undergraduate Aerospace Physiology program, based at Embry-Riddle Aeronautical University, recently dispatched its first cohort of students to complete clinical rotations, in collaboration with Advent Health (formerly Florida Hospital).
Students Haleema Irfan, Jenifer Schuman and Morgan Ackermann have so far observed the diagnosis and treatment of patients in the hospital's operating room, emergency room, hyperbaric wound center, physical therapy center and other settings. For Irfan, who wants to be a neurosurgeon, clinical rotations have helped her gain valuable interpersonal and communication skills.
"When you go into any field that involves the diagnosis of patients, you have to be able to communicate efficiently so every person in the room — including the patient, family and anyone else — understands what the condition is, the prognosis, and how will it be treated," said Irfan. "I feel like this is something people don't learn early enough."
For about two days per week, totaling six to 10 hours, the students attend rotations at the hospital. They meet with a registered nurse, shadow them for a shift, then confer with Dr. Karen Gaines, dean of Embry-Riddle's College of Arts and Sciences on the Daytona Beach Campus, to recap what they learned.
"What makes this experience unique is not only the hands-on learning experiences that Advent Health gives our students, but the time our students spend together to reflect on what they learned," Gaines said. "I require students to perform a literature search on the medical procedures they saw at the hospital, and then they present in class on how that research is going to improve patient care. This brings a full-circle experience for the student to understand what they see in the clinical setting."
Hands On, In the Field
Throughout their rotations, students have worked with nurses to study the vitals of patients in hyperbaric chambers. They have rushed with flight paramedics from the helicopter pad to the emergency room, and they have observed doctors attempting to revive patients in respiratory distress. They have also interacted with patients in physical therapy while becoming familiar with the various labs on site, and they have witnessed Code Rapid Response calls, which send all nearby staff running to assist a patient in need.
In these rotations, students have done more than simply see what life is like for hospital workers — they have experienced that life firsthand, and for Irfan, that distinction has made all the difference. Her experience so far has altered her perspective, offering real-world insight into her future's purpose.
"The most important thing about this experience to me is that we are making advances in the medical field that give the patients and families a sense of hope," she said. "Depending on our location, we learn the technology, equipment and individual effort required in order to provide the best patient care."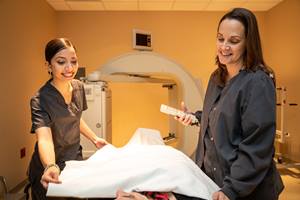 A standing senior, Irfan hopes to attend Johns Hopkins University after graduation. She is following in the footsteps of her mother, a general practitioner, who Irfan calls an "inspiration."
Also a senior, Ackermann is getting a jump on her Master's Degree in Human Factors by starting classes this spring alongside the last of her undergraduate work. She plans to join the U.S. Air Force after school and become a flight surgeon.
Schuman is a junior set to graduate in 2020. Although she had always intended to go to graduate school, she said, she switched her path toward medical school, instead, after taking her first clinical rotation.
"I like the clinical rotations the best out of all aspects of my degree," said Schuman. "I've had a really fun time going to the hospital and learning everything. You can't learn bedside manners in the classroom. You can't learn how to make split-second decisions."
All three students also transferred to Embry-Riddle with a head-start on their undergraduate careers, having already earned their associate degrees while still in high school.
"We work hard to develop unique and engaging experiences that will provide a solid foundation for their future careers promoting the health and wellbeing of pilots, astronauts, and other flight crew members," said Linda Misko, director of Education for AdventHealth Daytona Beach. "I've been so impressed with the dedication of these students as they juggle the demands of school, work, and their time at the hospital during their clinical rotations."
Research Reveals Additional Career Options
Clinical rotations, however, remain just one facet of the work Aerospace Physiology students do in preparation of their futures in the medical field. Irfan and Schuman have been conducting on-campus research with Dr. Hugo Castillo, Embry-Riddle's new microbiologist, in order to learn how background levels of radiation impact cellular growth. The students have been studying cumulative DNA damage in a low-orbit experiment planned for 2021.
The most important thing about this experience to me is that we are making advances in the medical field that give the patients and families a sense of hope.
"Their first task," Castillo explained, "will be to study how DNA damage caused by exposure to X-rays and microgravity conditions changes the way cells grow, using three species of yeast — two of which were isolated by NASA scientists from an International Space Station unit."
In contrast, Ackermann has been working with Aerospace Physiology Program Coordinator Dr. James Novak, studying how a patient's genes can determine whether or not they will go into anaphylactic shock following exposure to certain medications.
Dr. Novak was recently invited to speak at a conference about bioinformatics and the need for astroecologists.
"There's so much to be learned — even when I'm not in the room with a patient," said Ackermann, who also finds time to play on the Eagles women's basketball team.
The Aerospace Physiology program is tailored around each student's individual study track: one group of students might construct a human physiology path, for instance, while another might build a track focused around cellular and biochemistry work.
"It's geared toward what we plan to do in the future," Irfan said. "We don't have to do research and clinical rotations together, but if you would like to do both, you can."
The multidimensionality of their coursework, for Irfan, Ackermann and Schuman, is what makes the program special: While clinical rotations offer an inside look at healthcare operations, the research component offers a different perspective, expanding their scope of future possibilities.
"The research part sets us on a path that other undergrad programs don't typically have, giving us a foot in the door to future employers," Irfan said. "I love the program. It's set up for the success of the student."
Posted In: Applied Science | Human Factors