Embry-Riddle's Aerospace Physiology Program Assists with Vaccine Distribution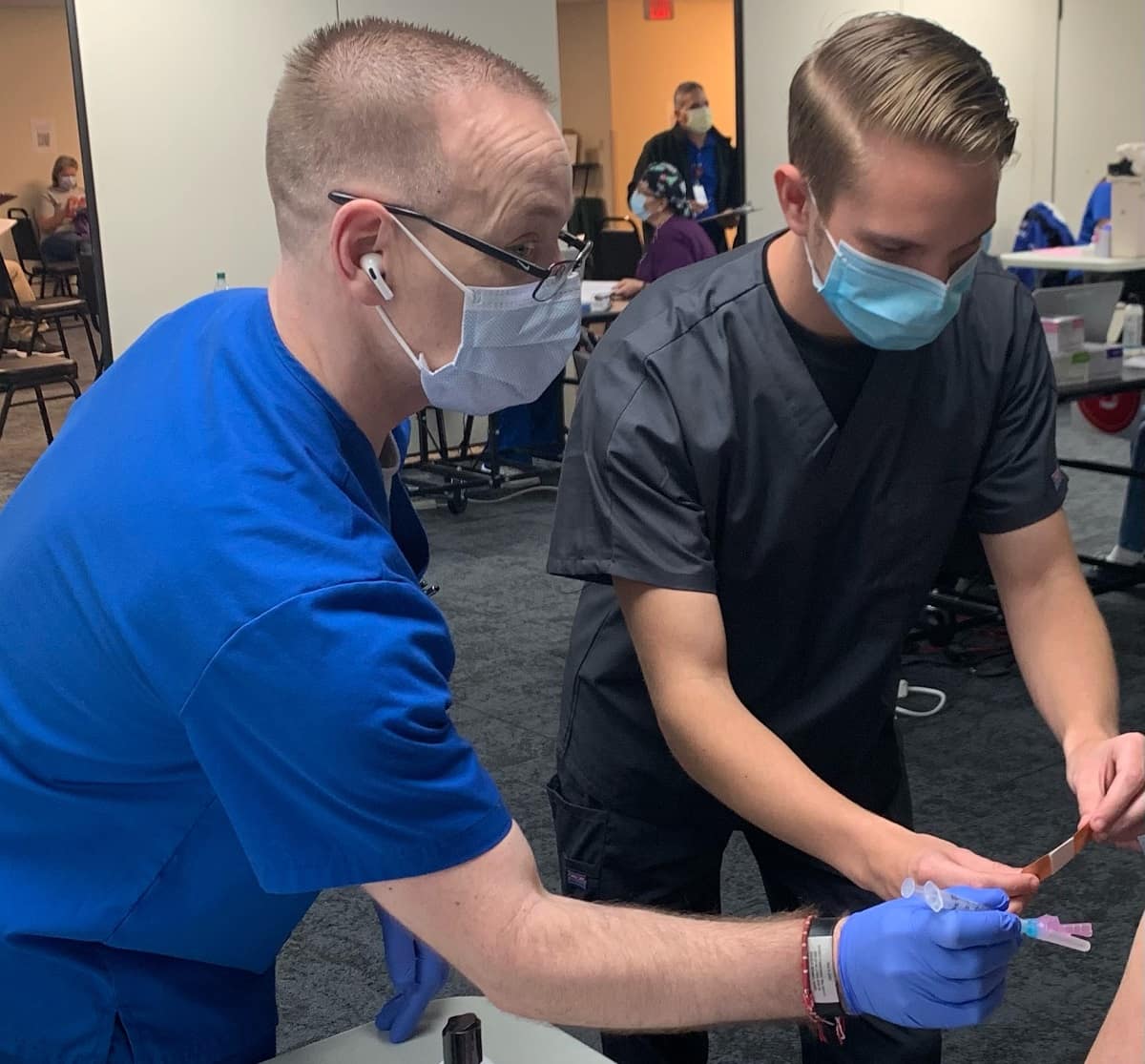 As tireless healthcare providers around the world race to distribute new Covid-19 vaccinations, Embry-Riddle Aeronautical University's one-of-a-kind Aerospace Physiology program is leaning in to help.
A dozen Embry-Riddle Aerospace Physiology students this week began helping AdventHealth Daytona Beach, on a volunteer basis, by providing assistance to front-line hospital workers in the Covid vaccination clinics.
In addition, Embry-Riddle's Aerospace Physiology Laboratory has offered to make ultra-cold storage space available to another area healthcare leader, Halifax Health, to keep critical vaccine supplies chilled.
Faculty member Dr. Hugo Castillo is supervising student volunteers on-site at AdventHealth. "Our students are doing an amazing job, front and center, on the first effort to get the vaccine to healthcare workers," said Castillo, assistant professor of microbiology at Embry-Riddle.
Eagle Values in Action
Embry-Riddle, home to the nation's only undergraduate Aerospace Physiology program, is well-positioned to support front-line healthcare workers as they combat the global pandemic, said Dr. Karen Gaines, dean of the College of Arts and Sciences at the Daytona Beach Campus.
The Eagles at AdventHealth earned accolades from supervisors, Gaines reported. "Our healthcare partner felt that the students' backgrounds in both Human Factors and physiology made them indispensable in the process," she said. "The students understood the need to work as a unit but were not intimidated by the intricacies of the vaccine and the human receiving it."
Aerospace Physiology students complete clinical rotations at AdventHealth as part of their curriculum. When the hospital began looking for volunteers to help with vaccine clinics, Embry-Riddle students were a shoo-in. After a preliminary round of volunteer service, Gaines said, the students were asked to provide additional assistance with second-dose vaccination clinics at locations in Deland, New Smyrna Beach, Orange City and Palm Coast.
Students are handling tasks such as patient check-in and registration, facilitating process flow through the vaccination stations, observation, scheduling of follow-up visits and general trouble-shooting." Because the learning process has been very deep, the student volunteers will be allowed to use these as hours toward the clinical requirement for their major," Gaines explained.
Haleema Irfan, one of the students taking part in AdventHealth's vaccine distribution, described the experience as moving. "This is considered a historic event, and the students in the Aerospace Physiology program had the opportunity to make a difference in the community on a large scale," said Irfan, who plans to become a physician. "I am proud of the time my peers dedicated toward this mission."
So far, Eagles participating in the vaccination effort at AdventHealth Daytona Beach include student leaders Irfan, Linda Delgodo, John Veracka, Jason Revolinsky, Erik Larsen and Trey Bruno, with their classmates Cloe Crichton, Lauren Philips, Romeia Al-Hajeri, Brianna Marr, Julie Barrett and Nicole Tucker.
Medical Science to Serve Society
As of this writing, two Covid-19 vaccines, developed by Pfizer and Moderna, have been authorized for use in the United States:
The Pfizer-BioNTech vaccine was deemed safe and 95 percent effective at preventing Covid-19, based on clinical trials involving more than 43,000 people. The Pfizer vaccine is recommended for patients age 16 and older and involves two shots in the upper arm, given 21 days apart.
The Moderna vaccine was also deemed safe and 94.1 percent effective, based on clinical trials involving about 30,000 people. Moderna's vaccine is recommended for those 18 and older and involves two shots, spaced 28 days apart.
Both currently available vaccines are examples of a new strategy for combating disease. Unlike traditional vaccines, which use an inactivated or weakened pathogen to trigger an immune system response, the Pfizer and Moderna vaccines leverage mRNA, or messenger RNA – the single-stranded partner to DNA, which provides instructions to proteins.
The new mRNA vaccines deliver a kind of how-to manual to our cells, prompting them to make a harmless "spike protein." Because the spike protein is found on the surface of the virus that causes Covid.-19, our cells swiftly perceive a threat and launch an immune-system attack to eradicate it.
In distributing the new vaccines, a key challenge has been the fragility of mRNA, which can easily break apart at warmer temperatures. The Pfizer vaccine must be stored at minus 70 degrees Celsius, conditions similar to winter in Antarctica. The Moderna vaccine requires storage at minus 20 degrees Celsius, akin to a regular freezer. This is why Embry-Riddle volunteered use of ultra-cold storage space in the Aerospace Physiology Lab.
Several other Covid-19 vaccine candidates are now in Phase III clinical trials.
Posted In: Applied Science | Human Factors