Students, Faculty Investigate How Space Travel Impacts Health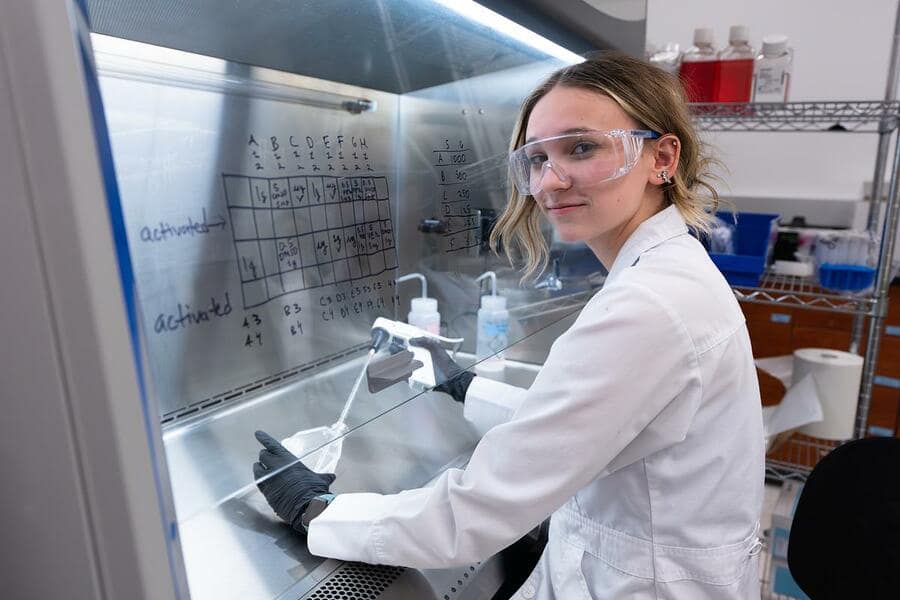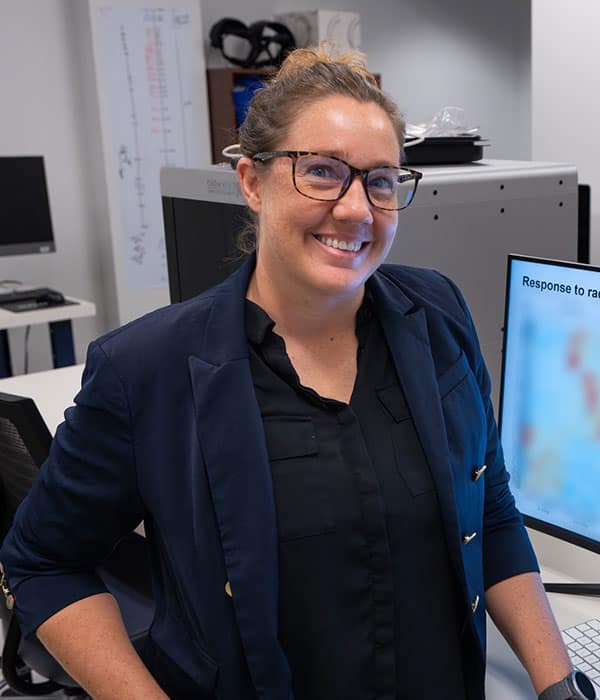 Dr. Cassandra Juran analyzes how radiation affects male and female mice on the Daytona Beach Campus. (Photo: Embry-Riddle/Bernard Wilchusky)
As NASA prepares to send a diverse crew of astronauts to the moon, Embry-Riddle Aeronautical University researchers are investigating how cosmic radiation will affect males and females.
Understanding the relative health risks of men and women aboard the upcoming Artemis II mission and future spaceflights is of great importance. Molecular-based research can help unravel the intricate cellular mechanisms affected by cosmic radiation damage, among other hazards associated with spaceflight. Those hazards have been defined by the NASA Human Research Program, said Dr. Amber M. Paul, who holds the Wessel Endowed Chair in Embry-Riddle's Aerospace Physiology program.
In a recent peer-reviewed study, Embry-Riddle graduate Olivia Siu and colleagues described subtle differences in the behaviors of female versus male mice following exposure to simulated galactic cosmic radiation, or GCR. That paper, published by the journal Life and funded through the NASA Human Factors and Behavioral Performance Element, documented the early and late impacts of simulated GCR on mouse behaviors, including burrowing, rearing, grooming and nest-building following radiation exposure.
The research team observed "subtle" differences in how male and female mice were affected by GCR, said Siu, whose work won a national competition while at Embry-Riddle.
The Omics Lab for Health and Human Performance
Such fundamental studies are a first step toward understanding the impacts of cosmic radiation on humans. Revealing the molecular events that influence human tissues and cells in space and on Earth is the ultimate goal of Embry-Riddle's Omics Lab — so named after key fields of biology: genomics, epigenomics, proteomics and transcriptomics, to name a few.
"We want to know how extreme environments affect us," Paul explained. "Astronauts exposed to the extreme environment of spaceflight experience physiological and psychological stress caused by hazards such as cosmic radiation, microgravity, hypergravity, anxiety and isolation. What we learn about through the molecular events generated by spaceflight exposure could produce similar molecular consequences for those in the military, firefighters, pilots and others in extreme-environment professions."
While acute stress can have health benefits, chronic physiological and/or psychological stress can compromise immune system function, which is essential for defending against infection and rapidly growing "neoplastic" cells, said Paul, who holds a Ph.D. in molecular biology and a bachelor's degree in immunology.
One way to study the effects of stress is to determine the ratio produced from two types of disease-fighting white blood cells, neutrophils and lymphocytes — or the neutrophil-to-lymphocyte ratio. In astronauts, neutrophils, otherwise known as "first responders," undergo a spike in migration into blood circulation following exposure to the extreme stress of hypergravity, which is experienced at landing.
"We want to better understand the migratory behavior of neutrophils to other spaceflight hazards, with the goal to maintain immune health and homeostasis during spaceflight," said Paul, who published these previous findings in Frontiers in Immunonology while at NASA Ames Research Center before joining Embry-Riddle's Department of Human Factors and Neurobiology, part of the university's College of Arts & Sciences in Daytona Beach, Florida.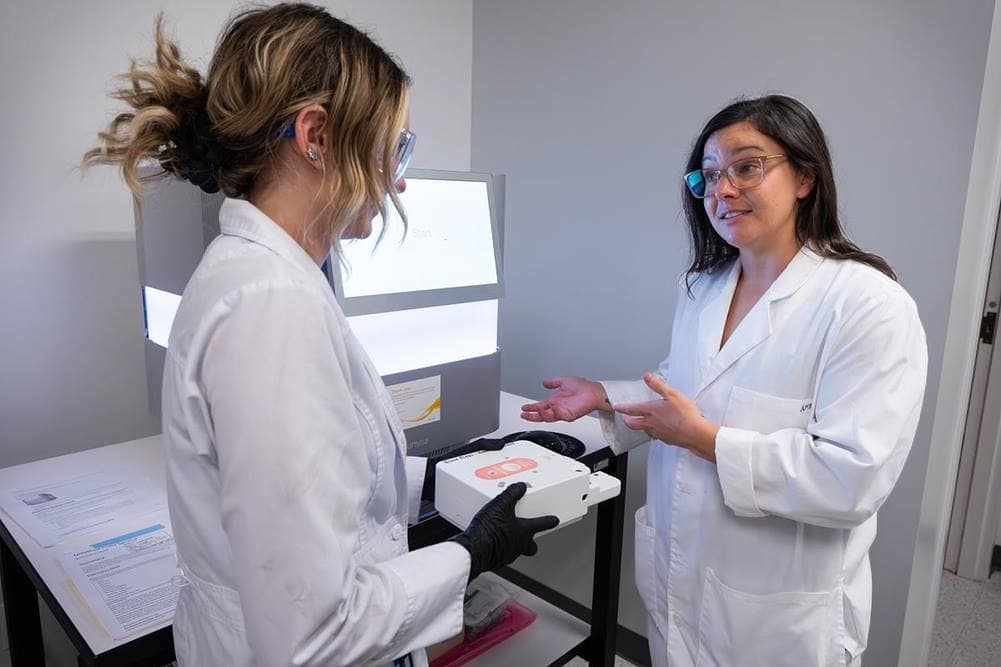 Dr. Amber Paul mentors student Carol Mitchell in her Embry-Riddle Omics Lab. (Photo: Embry-Riddle/Bernard Wilchusky)
Preparing Students for Careers in Bioinformatics
Human immune responses are diverse, yet omics-based learning can provide clues into the molecular mechanisms involved. In Embry-Riddle's Omics Lab, next-generation gene sequencing instruments allow faculty and students to study changes to life's structural "blueprint" DNA. In addition, changes in certain RNA molecules or transcriptomes, which transcribe instructions from DNA to further make proteins, are also possible. Studying these molecules can reveal how different genes in different immune cells respond to extreme environmental stressors.
Working with next-generation instruments in the Omics Lab, students enrolled in a 200-level genetics course sequence the transcriptomes of fruit flies to better understand principles of heredity and the impact of physiological stress. Student researchers within the Omics Lab are also culturing cells in Embry-Riddle's Biosafety Level 2 (BSL-2) cell culture facility. They are also working with mice at Brookhaven National Laboratory to further support simulated cosmic radiation studies. Dr. Cassandra Juran, a new post-doctoral fellow and instructor at Embry-Riddle who also came from NASA Ames Research Center, "has brought a wealth of bioinformatics and space biology knowledge to the Omics Lab and the university," Paul reported.
Bioinformatics integrates computer science, data analysis and biology so that students can work effectively with big data to understand urgent questions of biology — a field full of career possibilities.
Carol Mitchell, one of a half-dozen student researchers working with Paul, is interested in a systems biology approach to assess the effects of cosmic radiation on the immune response and its connection to functioning adrenal glands in male versus female mice. Mitchell is currently pursuing a master's degree in Human Factors at Embry-Riddle. This fall, she will present at the International Astronautical Congress in Baku, Azerbaijan, on her research in the Omics Lab.
Paul's position at Embry-Riddle was made possible by a $10 million endowment donation from the late artist and educator Helen Wessel. That bequest also supports life-changing scholarships for students and critical research equipment.
Posted In: Applied Science | Research | Space