College of Arts & Sciences Expands Faculty, Molecular Research Capability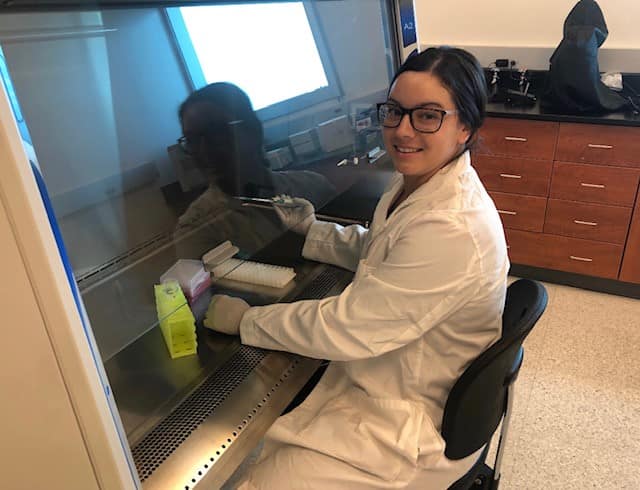 Working at NASA Ames Research Center as a researcher studying the immune and nervous system responses to spaceflight conditions, Dr. Amber Paul crossed paths with many engineers who were educated at Embry-Riddle Aeronautical University.
"I was introduced to Embry-Riddle's stellar reputation through them," Paul said.
This past year, Paul was recruited for a prestigious Wessel Endowed Chair position in Embry-Riddle's Aerospace Physiology program, after an extensive, international search.
"We utilized our network of alumni, industry and government partners, not only to define the position and program, but to help us recruit," said Dr. Karen Gaines, dean of the College of Arts & Sciences. "Dr. Paul was chosen because of her international reputation and unique skillset in space immunology."
Paul transitioned to the university as an assistant professor in the Department of Human Factors and Behavioral Neurobiology, starting this semester, and has expressed great enthusiasm about her new position.
"The Aerospace Physiology program is truly one of a kind in the country and an important first step to developing next-generation space biologists and aerospace physiologists," she said. "It certainly has the potential to become a major source for NASA space biology recruitment, and I'm looking forward to promoting and being part of this exciting effort."
With the hiring of Paul, whose Ph.D. is in molecular biology, immunology and virology, the College of Arts & Sciences has expanded its molecular research capability. As part of Paul's hiring, the college has purchased a gene sequencer, a sophisticated piece of equipment that could sequence the entire human genome in 24 hours, a feat that originally took scientists seven years.
"The sequencer will be able to provide a profile of what happens genetically to multiple types of tissues and cells following extreme environmental exposures," Paul said, adding that Embry-Riddle students will use the sequencer to participate directly in cross-campus and off-campus research collaborations that are already in development.
Paul's position is endowed thanks to a $10 million donation from the late artist and educator Helen Wessel, a bequest that also provides certain student scholarships and research equipment — and has been fundamental to Embry-Riddle's Aerospace Physiology program.
Gaines described Paul as an extremely valuable addition to the university.
"Dr. Paul brings a wealth of experience in space physiology and its impact on human health both in space and on Earth," said Gaines. "With a background in immunology, she has accomplished work that has already had translational impact — bringing research conducted in space to applications on Earth. Students have already benefited from her close affiliations with a network of scientists and educators who can help the students obtain opportunities in both industry and academia."
Paul's interest in the impact of spaceflight on the immune system originated with her desire to understand the underlying source of disease mechanisms.
"I am particularly interested in how physiological stress can initiate immune dysfunction — and finding ways to mitigate it," Paul said.
Spaceflight — which because of effects from such factors as altered gravity and cosmic radiation can cause immune dysfunction, damage to neurons, disorientation, visual impairments, endocrine and hormonal changes, loss of muscle tone and bone loss — provided her with an excellent model.
"There are many extreme environmental stressors that require countermeasures to safely send humans to space, a research topic that I find challenging but intriguing," Paul said.
As a professor and mentor, Paul thinks her non-traditional route into space-related research could serve as an example to students trying to design their own career paths.
"My pathway to NASA and Embry-Riddle was not very traditional and I want to be able to convey this message to assist students who may encounter unique challenges during their professional development," she said. "I am hopeful that I can bridge the gap between the university and aerospace industries to provide opportunities for the students either in the capacity of internships or jobs."
For more information, visit the Omics Lab for Health & Human Performance.
Posted In: Applied Science | Research