Student-Run Project VALHALLA Aims to Launch Rockets at the Edge of Space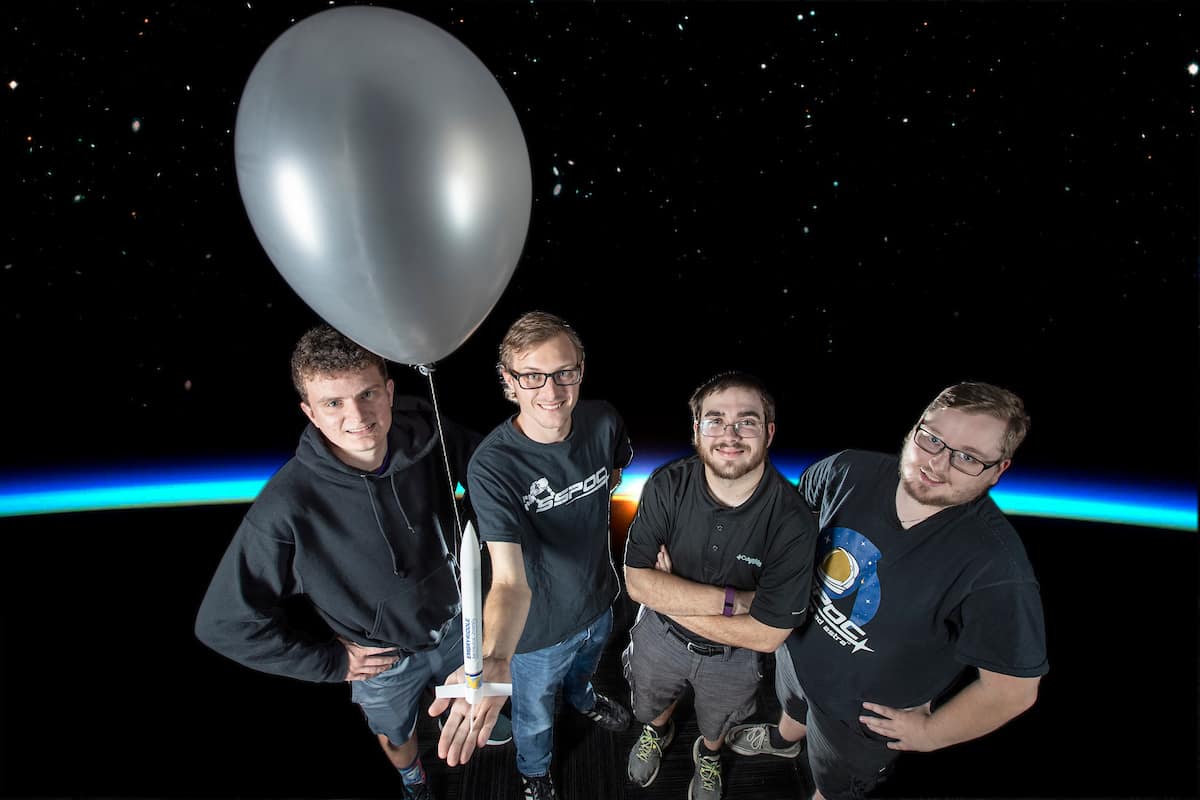 Until recently, most collegiate rocket competitions tended to reach an altitude of 40,000 feet at most, and that limited opportunities for high-altitude research.
Now, university rocket teams nationwide, including a group at Embry-Riddle Aeronautical University, are aiming higher. At Embry-Riddle, the Vertical Air Lifted High Altitude Light Launch Apparatus, or VALHALLA, would let college researchers launch rockets from 100,000 feet – an altitude that passes 90 percent of the Earth's dense atmosphere – the edge of space, or the Karman Line, opening up new doors to space study.
Once fully realized, the launch platform would be economical, too, since about two-dozen undergraduate student members of Embry-Riddle's Spaceflight Sciences Policy and Operations Club (SSPOC) are working to design it as a fully reusable system. "The team aims to provide an affordable launching platform that will help universities conduct research at higher altitudes," explained Project Manager Ryan Kressler.
Project Managers Land Dream Jobs
A student in the Spaceflight Operations degree program, Kressler's work at Embry-Riddle has already landed him a post-graduation job offer, processing satellites for Lockheed Martin, where he recently completed an internship. "I was really lucky to get that opportunity, right out of college," he said. "It's my dream job."
How would Project VALHALLA work? The reusable launch platform would use multiple high-altitude balloons to take the rocket to its target altitude, Kressler said. Members of the SSPOC are continuing to refine their ideas, he emphasized, "but pretty much our concept is to save helium by compressing and storing it in a way that causes the platform to come back down and land."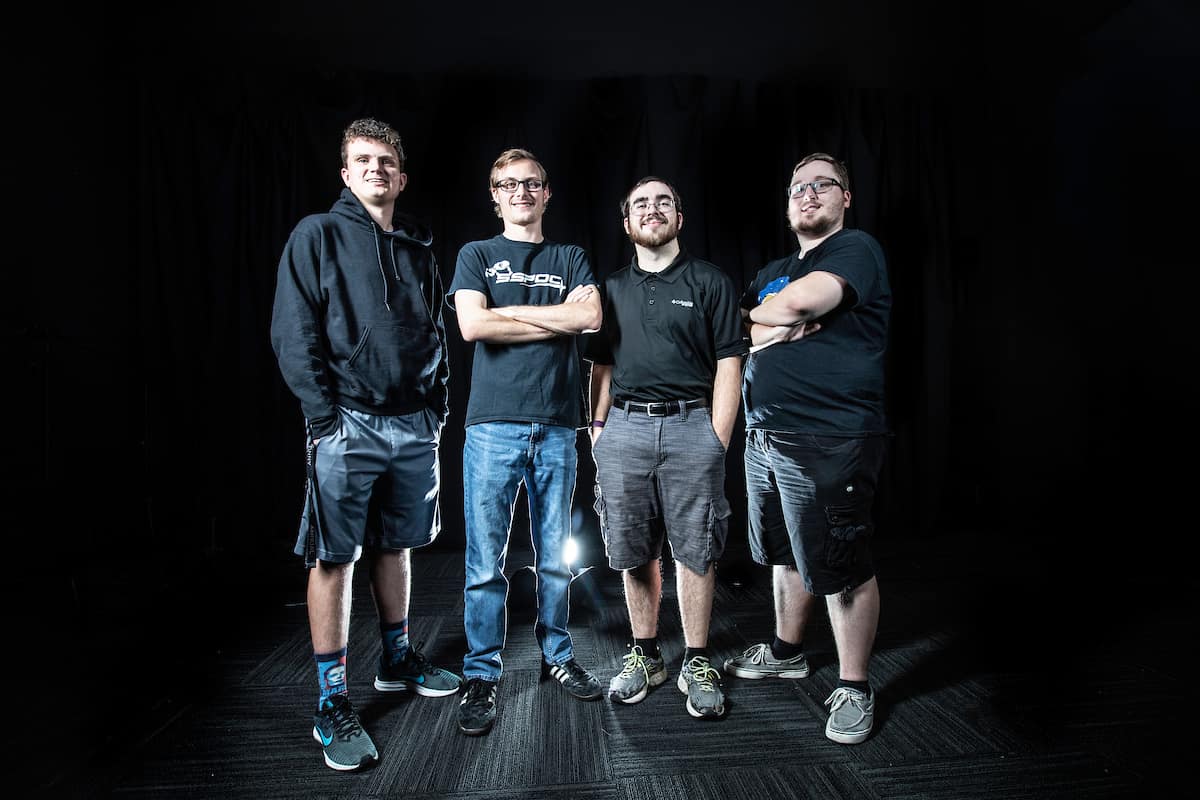 Project lead Nicholas Butler, Ryan Kressler, Benjamin Chaback and Michael Pope comprise Project VALHALLA. (Photos: Embry-Riddle/David Massey)
The Embry-Riddle plan should work, Kressler said, noting that the Red Bull Stratos project of 2012 involved using a helium-filled balloon to launch a space capsule and a skydiver to an altitude of 128,100 feet.
The idea for a high-altitude launch project came from former SSPOC project manager and Embry-Riddle alumnus Rodrigo Bustamante, who is now a systems engineer at Sierra Nevada Corporation, where he works on the Dream Chaser spacecraft.
"My Embry-Riddle experience helped me obtain my job by having multiple externships to the Mojave Air and Spaceport, where I had the opportunity to perform hybrid rocket research as well as visit multiple private space companies," Bustamante said. "It was on my first trip out there where I saw the Dream Chaser spacecraft performing a runway tow test in the NASA Neil A. Armstrong Flight Research Center. I was convinced that I would work on that project one day."
To land his position, Bustamante talked with industry professionals and networked to learn as much as possible about the business. "I was able to combine that and my technical knowledge that I had developed in class, mainly in coding, engineering and project management," he said. After applying to Sierra Nevada Corporation at a career expo, he was invited for a follow-up interview.
These days, Bustamante works as part of the company's Flight Software Design Integration Team, which is responsible for delivering an integrated software suite to the Dream Chaser program.
Project VALHALLA is helping current students refine their ability to work effectively in such team environments. Students Cristina Viana, Nick Butler, Ben Chaback, Michael Pope, Diana Sears and others are all focusing on specific challenges assigned to different teams, from outreach and structural design, to electronics, policy issues and more.
The work raises a number of air and space policy issues, which is why Assistant Professor of Spaceflight Operations Dr. Sara Langston, head of that program's policy track, is working with the club. "This project uniquely provides our students with the opportunity to interface with FAA authorities," Langston said. "They gain hands-on experience with how technological development and mission planning also involves regulatory review to ensure safety, compliance, and more."
Assistant Professor of Aerospace & Occupational Safety Dr. Kimberly Szathmary is providing overall direction for Project VALHALLA team members. Support for the project was provided by the Office of Undergraduate Research, through an Ignite research grant.
For his part, Kressler is currently focused on project logistics. As the project moves forward, he expects to assist with electrical tests and weight and balance. "It's the same kind of work that I did over the summer during my internship at Lockheed Martin," he noted. "I helped integrate the spacecraft to the Delta IV rocket. It was the happiest moment of my life, when I saw that launch and I knew I had played a part in it."
Project VALHALLA's name, referencing a mythical hall of fallen warriors, was developed by student Nikolas Blanks, following a study abroad trip to Iceland, where he learned about Norse mythology.
Posted In: Applied Science | Aviation | Research | Security Intelligence and Safety | Space