Research Park Innovation Facility Provides Powerful Student Opportunities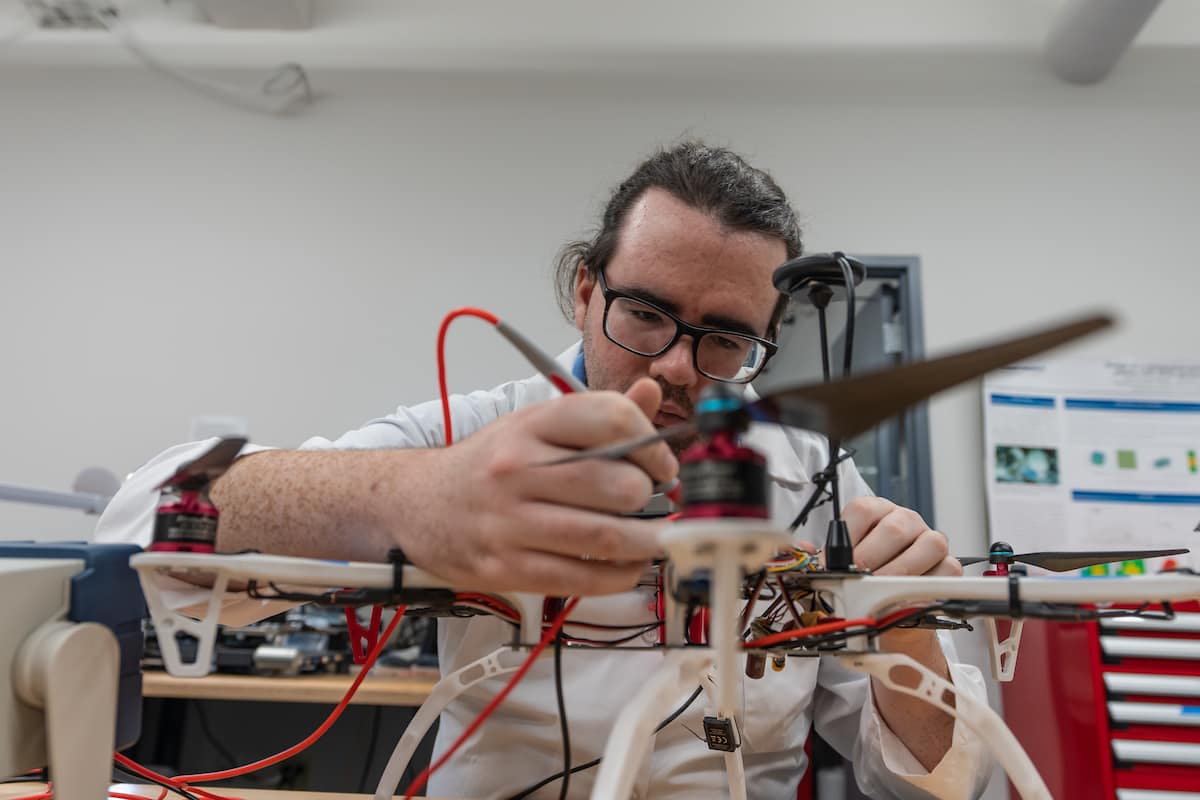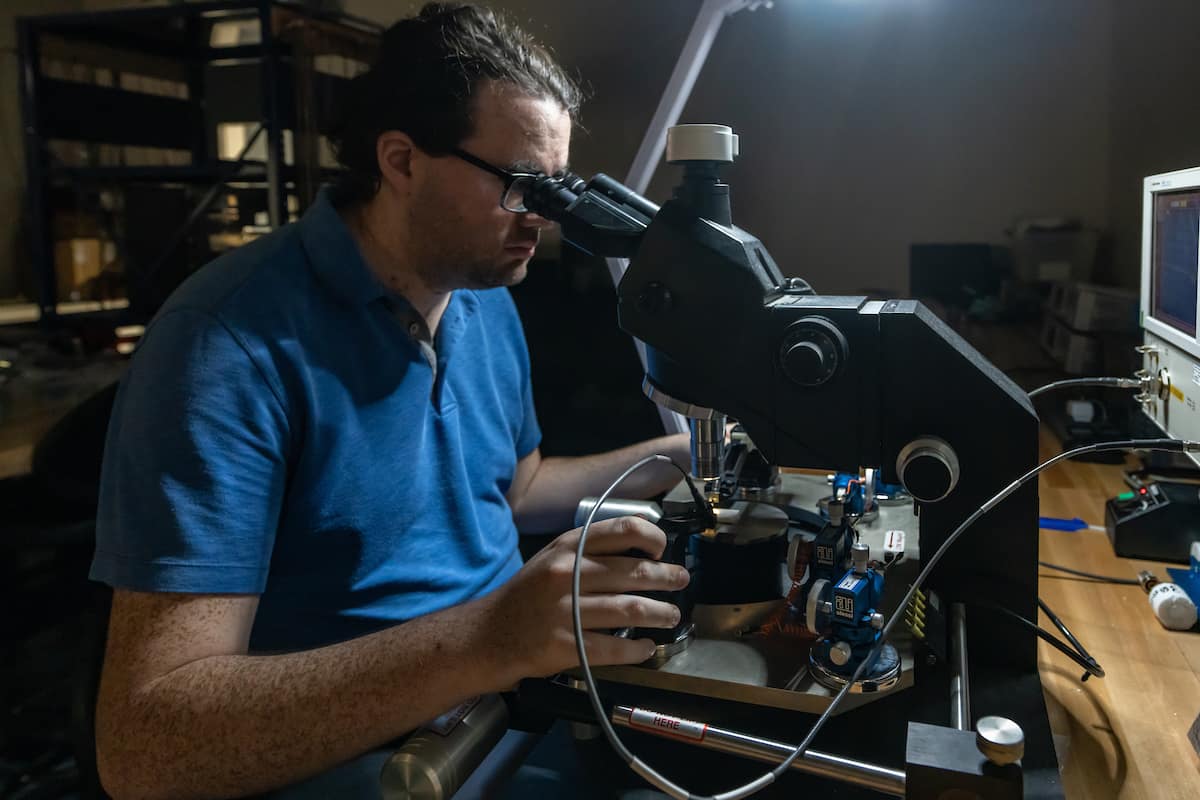 When Nolan Coulter was getting his master's degree at Embry-Riddle, he worked in the Advanced Dynamics and Control Laboratory in the university's John Mica Engineering and Aerospace Innovation Complex (MicaPlex). A company named Modularity Space was right upstairs, so one day he decided to stop by with a resume. After meeting Modularity Space CEO Scott Weintraub and talking to him about the company's commitment to minimizing space debris, Coulter said he "fell in love with the company's values." Luckily, Weintraub was equally impressed with Coulter, and hired him — as lead engineer — just before the Aerospace Engineering graduate student completed his master's.
Eight months later, Coulter was named the company's chief technical officer (CTO).
"I think the labs are critical for students looking to get that valuable hands-on experience," said Coulter, who is now working on a Ph.D. in Aerospace Engineering at Embry-Riddle. "On top of that, there is always a possibility that your first job with a company will come from one of the companies headquartered at the MicaPlex."
Coulter's story is just one example of the many mutually beneficial collaborations that involve Embry-Riddle students and the companies at the university's research park. As companies headquartered there have access to such university resources as high-tech equipment and technical expertise, students gain opportunities for real-life exploration in their fields of study, resume-building to further graduate studies or employment opportunities, chances to work on cutting-edge technologies, participation on patents for new inventions and full-time jobs.
"The students definitely contribute on the innovation side," said Eric Bartsch, CEO of VerdeGo Aero, another MicaPlex tenant, which provides hybrid-electric powertrain systems and engineering services to the emerging electric aircraft industry. "We put them into positions where they're expected to contribute at the innovation level — to do problem-solving, do things in new ways and take on important pieces of projects."
As a small company of 20 employees, Bartsch said, "We can't employ people who aren't playing important roles in advancing the state of the art, and that includes our interns."
Founded in 2017, VerdeGo Aero has recruited three full-time employees as they were graduating from Embry-Riddle and has hosted many interns from the College of Engineering and the David B. O'Maley College of Business, including four that started in the past six months, Bartsch said.
Whereas students tend to learn about how industry interfaces with new technologies in their classes, at VerdeGo Aero, "We're pushing the state of the art, designing things that are new to the world," Bartsch said. "We're putting students into positions every day where they're doing things that haven't been done before."
Multiple projects have resulted in students' being included on patent applications, Bartsch said.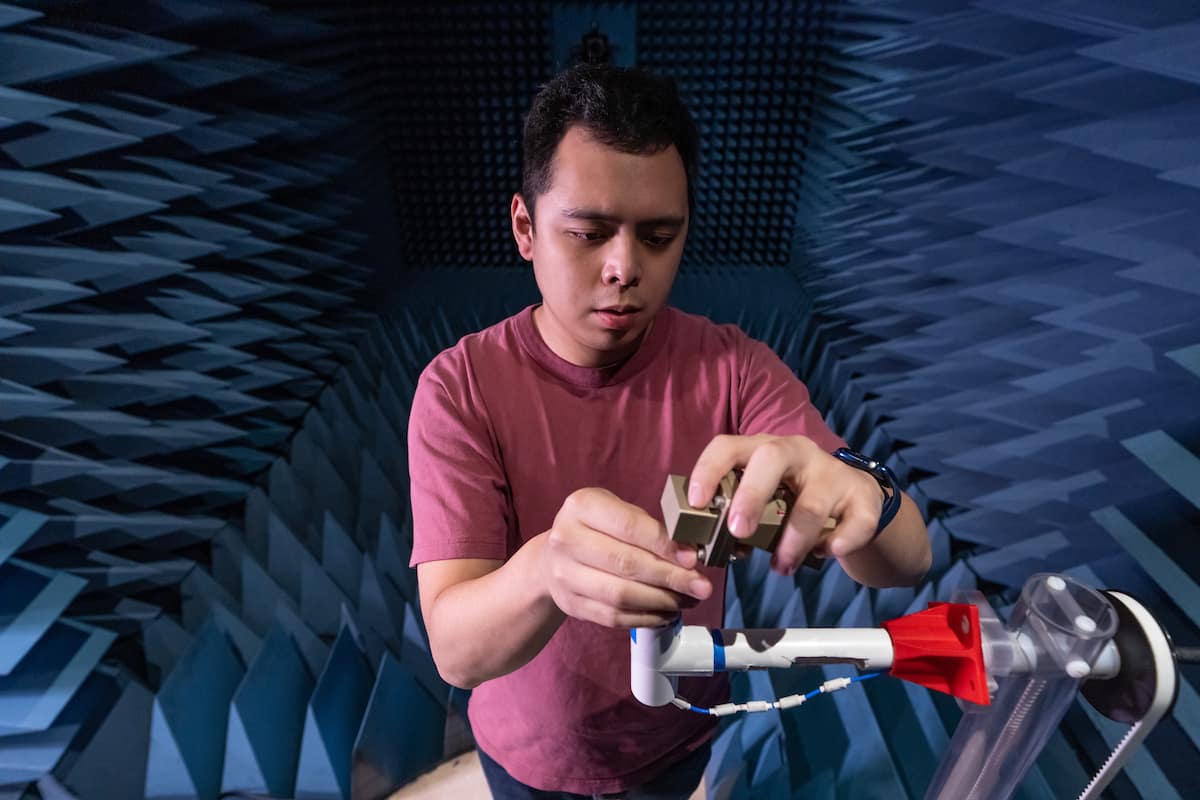 Hanson Yu, a Ph.D. candidate in the Electrical Engineering and Computer Science program, tests the signal properties of a device in Embry-Riddle's anachoic chamber, housed inside the John Mica Engineering and Aerospace Innovation Complex (MicaPlex), in the Research Park. (Embry-Riddle/Daryl LaBello)
Real-World Skills
At WeatherFlow-Tempest, a company in the MicaPlex that focuses on weather observation, modeling and forecasting technology, majors in Meteorology and students from other departments work on everything from weather station hardware, to educating customers about products, to statistical analysis — experience that teaches them specific, general and "soft" skills, said CTO David St. John.
St. John said that, as of 2021, 25 Embry-Riddle students have worked for the company. Among the Eagle graduates who worked at WeatherFlow-Tempest are Zack Yack, National Weather Service meteorologist; Maureen Sanders, meteorologist-hydrologist for the Texas Water Development Board; and Raya Maday, meteorologist with AccuWeather.
The company's part-time intern program "works as a long-term interview process" for students interested in working for the company, St. John said.
"We get to know the student, and the student gets to know our company," he said. "A small percentage of our part-time students are a good fit both ways and can move into full-time and salaried positions."
Two students working at associate professor Eduardo Rojas' Wireless Devices and Electromagnetics (WiDE) Laboratory are involved in projects for Sensatek, a manufacturer of wireless turbine sensors headquartered in the MicaPlex.
Justin Parkhurst, who is earning a master's degree in Embry-Riddle's Electrical and Computer Engineering program, has been developing a low-cost Vector Network Analyzer — a powerful tool used to measure the performance of wireless devices and sensors — and helping to manufacture sensors using the WiDE Lab's laser cutting machines.
Through this work, Parkhurst has also gained extensive knowledge about a technology known as software-defined radio (SDR), which he says has become increasingly common in industry.
"I've seen plenty of job postings asking for experience with SDRs, and I was asked about my knowledge of them during an internship interview last spring," Parkhurst said. "I later was offered and accepted that position."
Seng Loong "Hanson" Yu, a Ph.D. candidate in Electrical Engineering and Computer Science, also works in the WiDE Lab on Sensatek projects. He has designed antennas that can withstand the environments of turbine engines, which have temperatures of up to 1700 degrees Celsius.
"Figuring out the details was the challenge," Yu said. "It was rewarding being able to find solutions."
Career Opportunities
Reamonn Soto, CEO of Sensatek, comes by the WiDE Lab once or twice a week to meet with the students who are working on projects for his company. He said they discuss cost, schedule and performance — and creative ways for the students to overcome any hurdles they have encountered.
Soto said his company is always looking for innovative students as potential employees.
"The ones with a mindset where they can bring new ideas are the ones we want to keep," he said.
At Modularity Space, Maria Mejia — who was hired in 2020 as an intern just after receiving her bachelor's degree in Engineering Physics, focusing on spacecraft systems — has grown into the lead engineer position vacated by CTO Coulter, and she may be named a company co-founder, Weintraub said.
He said when Embry-Riddle interns participate in "white-boarding" sessions at the company, the university-industry collaboration really shines.
"You're seeing what the students have learned in class, but in a real-world situation -- it's pretty cool," Weintraub said. "It's been amazing seeing dozens of students grow and graduate and land their dream jobs because of the experience and knowledge they gained working with us."
Posted In: Applied Science | Aviation | Business | Computers and Technology | Engineering