Project Haiti Wins Support from the Ford Motor Company Fund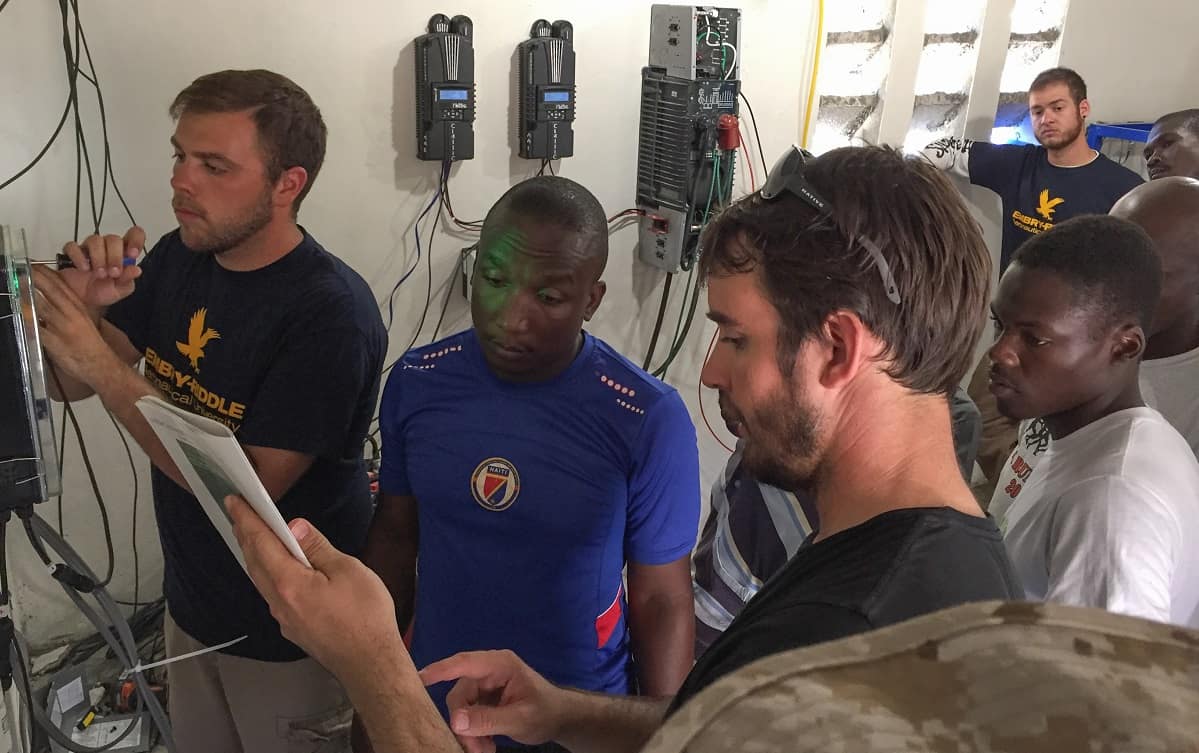 Ford Motor Company Fund has named Project Haiti – an Embry-Riddle Aeronautical University initiative that brings clean drinking water filtration systems to Haitian communities – as one of 10 organizations to receive a $25,000 grant through the Ford College Community Challenge.
Embry-Riddle students and their faculty advisors have installed nine water filtration systems, serving thousands of Haitians since the inception of Project Haiti in January 2010.
In May, for example, a team of 10 Embry-Riddle students installed a solar-powered water purification system at a Haitian school and orphanage serving 235 children. That effort was directed by Marc Compere, associate professor of mechanical engineering, and Geoffrey Kain, professor of humanities and communication and director of Embry-Riddle's Honors Program.
The Ford College Community Challenge is a signature initiative of Ford Motor Company Fund – the philanthropic arm of Ford Motor Company – supporting colleges and universities that work with students to address critical community needs in sustainable and innovative ways.
"Ford Fund is working to build stronger communities and make people's lives better all over the world," said Mike Schmidt, director, Education and Global Community Development, Ford Motor Company Fund. "Project Haiti shows how the Ford College Community Challenge is providing students with meaningful leadership opportunities, allowing them to become engaged in community life and make a real, positive difference for their neighbors."
Students like Rachel Hunt, a mechanical engineering senior, are at the heart of Project Haiti, playing leadership roles as they design and build the specific filtration systems that are best-suited for each setting, Compere said.
Following her trip to Haiti, Hunt recalled children in cholera-stricken communities cheering when they received clean drinking water. "I really enjoyed the ability to use what I've been learning to help other people and make an actual change in the world," Hunt said.
"Embry-Riddle places a high value on service to others, both close to home and across borders," said University President Dr. P. Barry Butler. "By solving engineering problems to improve human quality of life, students engaged with Project Haiti exemplify the spirit of the Embry-Riddle Eagle. We're proud of this program and honored to receive generous support from the Ford Motor Company Fund."
Marc Compere said: "Project Haiti engages students in a way that is hard to describe. Helping other people gain access to safe, clean water is very powerful. It's an adventure to leave the comfort of our homes and cross cultures to tackle technical, logistical, social and language challenges. Our students have to be resourceful to achieve success in a highly dynamic, uncertain environment. Ford's funding will help our students grow and continue the work they are so passionate about while improving Haitians' quality of life."
Students engaged with Project Haiti have built a range of water purification systems, from solar-powered to reverse osmosis models, Compere said. They also prepare and teach water and sanitation lessons on-site in Haiti. Finally, they set up micro-businesses that allow Haitian people to sell excess clean water in order to fund purifier maintenance and operational costs of the school or orphanage.
In addition to the Ford Motor Company Fund support, Project Haiti relies upon donations from individuals and businesses. To learn more about supporting the program, go to https://crowdfunding.erau.edu/project/9845.
---
ABOUT FORD MOTOR COMPANY FUND
Ford Motor Company Fund is the philanthropic arm of Ford Motor Company. Established in 1949, Ford Fund invests in transformational programs that advance innovation, empower people, promote social mobility and improve community prosperity. Ford Fund works with local and global partners to create opportunities in education, encourage safe driving, enlist employee volunteers and enrich community life. For more information, visit http://community.ford.com, or join us on Facebook and Twitter.