MicaPlex Firm Wins Grand Prize in Florida Startup Competition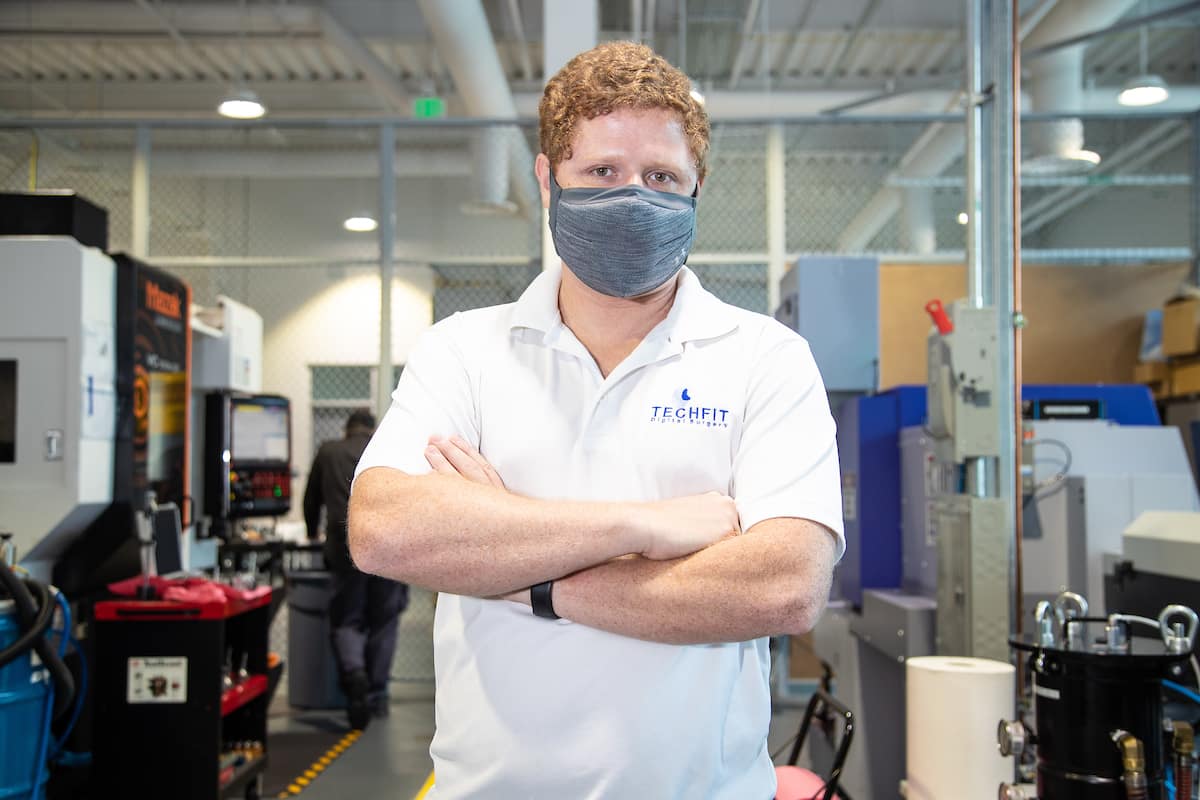 Operating out of Embry-Riddle Aeronautical University's John Mica Engineering and Aerospace Innovation Complex (MicaPlex), surgical implant company Techfit Digital Surgery took home the $40,000 grand prize in the 2020 Florida Early Stage Capital Conference and Statewide Collegiate Startup Competition, hosted by Space Florida and the Florida Venture Forum.
The conference, held virtually due to the Covid-19 pandemic, marked the 13th event the Florida Venture Forum has hosted, and 21 companies from a pool of more than 150 applicants were selected to present. Of that pool, two companies from Embry-Riddle's MicaPlex participated — Censys Technologies Corporation, the first firm to move into Embry-Riddle's business incubator, marked the second.
"Having two companies selected for this prestigious event shows that our Research Park is really making a difference in the establishment and growth of these companies," said Dr. Stephanie Miller, executive director of Technology Transfer and Research Park initiatives. "We help them become investable — attractive to angel investors, venture capitalists and others."
Techfit Digital Surgery aims to make customized implants the new standard of care for musculoskeletal pathologies. The company's solution starts with a patient's imaging (CT/MRI), which is then converted into a 3D model that can be used for planning treatment. If needed, models for surgical trial workshops can also be printed. Once a surgical plan is approved, the company uses advanced manufacturing to build custom implants and instruments that fit the patient's body perfectly.
"We're working hard on obtaining FDA clearances for our product, which is very demanding in terms of resources but would open many doors," said Mauricio Toro, Techfit CEO and cofounder. "We're expecting to file for three new clearances during the next few weeks. We're also setting up a dream team to further develop our surgical planning software."
The company plans to use its winnings from the competition to expand its manufacturing capacity at the MicaPlex. Achievements like this competition win, Toro added, work to legitimize his company, as well as create new funding pathways in the future.
"This recognition is very important for us because it validates our business premise," he said. "Having seasoned investors recognize our value proposition and business idea motivates us to keep going forward with our plans."
Operating within the MicaPlex, he added, offers its own unique rewards, as well.
"Having the Embry-Riddle faculty and students so close by has opened many new doors and potential growth avenues — in terms of surgical robotics, software and automation," he said. "We're surrounded by so much talent and academic depth. Everyone in the local innovation community has been a key player in making this happen, and they have prepared us for the growth challenges ahead."
Having a company like Techfit operating on university grounds adds value for students, as well, according to Miller.
"Techfit does a great job showcasing that a 'biomedical company' can, in reality, be an engineering firm," she said. "It shows students that the possibilities after graduation may be much broader than they realized."
Space Florida provided the Accelerating Innovation prize money for the event. To date, Space Florida-supported capital accelerators have attracted more than $460 million in funding and investments for participating companies. Ten colleges and universities were chosen to participate in this year's Statewide Collegiate Startup Competition.
"These events are essential in highlighting Florida's startup ecosystem and venture capital community," said Space Florida President and CEO Frank DiBello, "and Space Florida thanks Florida Venture Forum for its leadership in that arena."
As has been the case each year of the competition, Embry-Riddle also presented a student team, SIQ Engineering, at the event's Collegiate Competition. The team showcased a 3D-printed ankle brace.
Techfit joined Embry-Riddle's Micaplex in 2018. In 2019, the company won the Volusia County Innovation and Healthcare Award.
Posted In: Applied Science | Business | Institutional News