Human Factors Grad Promotes Campus Recycling in Award-Winning Research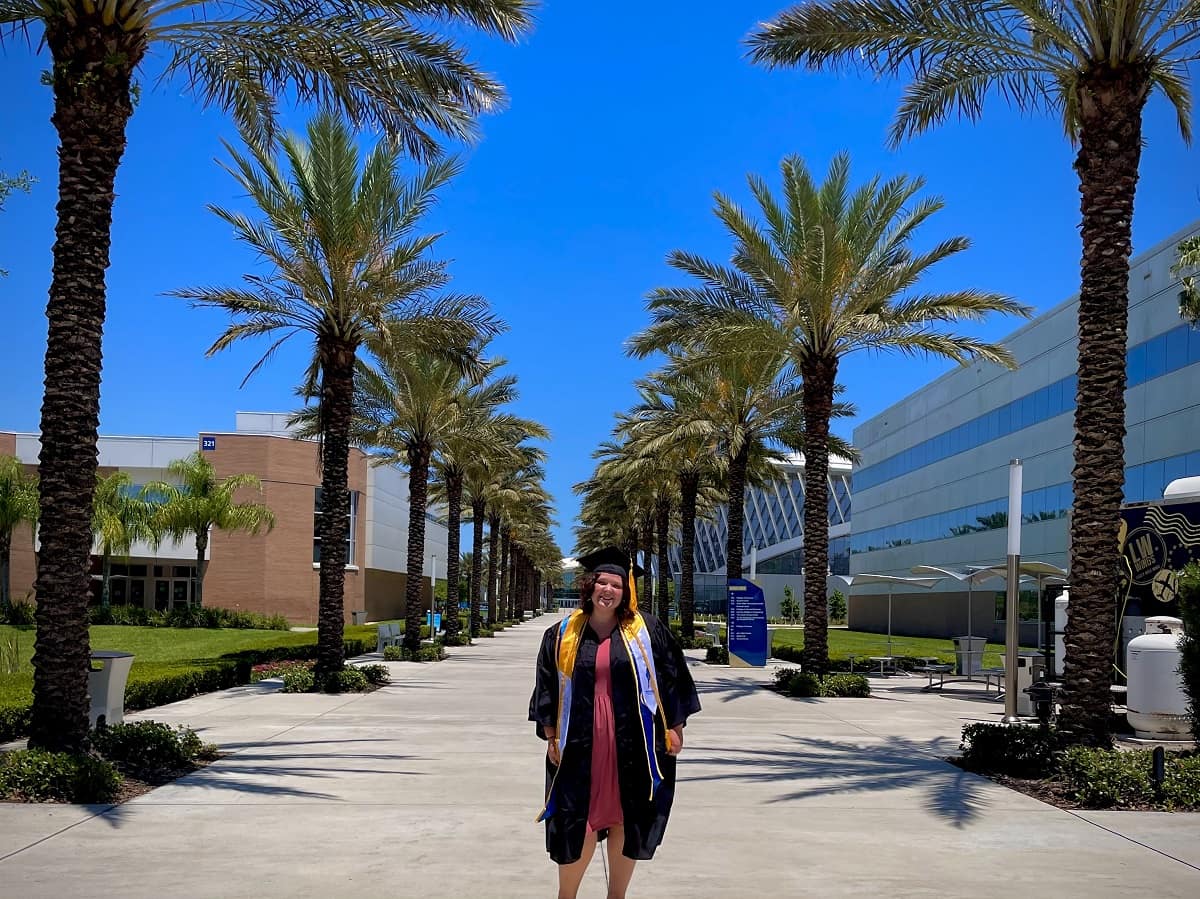 A self-described environmentalist, recent graduate Emma Bucey noticed that students in her residence hall at Embry-Riddle Aeronautical University struggled with how to deal with their recyclables. Rather than rush to a solution, however, Bucey and her mentor, Barbara Chaparro, professor of Human Factors and Behavioral Neurobiology, decided to first survey students' opinions around recycling to fully understand the problem.
"We decided that a good place to start was analyzing student attitude and behavior in order to make informed decisions in the development of sustainable initiatives for students to take part in," said Bucey, a Human Factors Psychology major.
The resultant project, "Living Sustainably: Student Initiatives," won first place in the Individual Project category of Embry-Riddle's Virtual Discovery Day 2021, which was held in April.
Bucey said that although conservation and sustainability are huge problems requiring industry-wide change, she thinks smaller-scale change is equally important.
"Promoting practices such as recycling, composting and community gardens are key steps our campus can take to move in a more sustainable direction," said the Navarre, Florida, native.
Bucey recruited students to answer questions about how they viewed recycling on campus, reaching out to her friends, co-workers, fellow organization members and others in her residence hall. She also hung flyers around campus.
According to the surveys, 39% of students who recycle said they don't know how to do it properly, and 32% of non-recyclers said the same. Among recyclers, 56% said they had trouble finding a recycling bin, and 58% of non-recyclers reported the same issue.
Bucey also looked into composting, which would be the first step toward having a sustainable community garden. She said students sorted paper products into the correct composting category 60% of the time, plastic products 89.5% of the time, and food products 67.7%. While these numbers are not necessarily low, she said, successful community composting requires an almost 100% success rate.
"Students understanding of what is or is not compostable would need to be much higher," Bucey said. "I believe this understanding can be improved through educational resources and tools."
The next step of the project will involve a sorting study of recyclables to explore how well students are understanding recycling guidelines through current signage. Chaparro said the project easily lends itself to further development.
"This project gave Emma a chance to collect some data to provide further insight into the attitudes of Embry-Riddle students regarding recycling and composting," said Chaparro. "Her results can inform future initiatives to provide a more ecofriendly environment on campus."
In the meantime, Bucey's initial project offers recommended solutions, such as increasing the number of recycling bins on campus, providing more transparency between the administration and students about sustainability efforts and improving signage.
Bucey, who hopes she will one day work in environmental educational and sustainability policy development, said she thinks Embry-Riddle is a good place to start.
"Embry-Riddle and its students have long upheld a reputation of leadership and ingenuity on a global scale — we are a school of problem-solvers," she said. "Sustainability is necessary for a successful future, and it is time for our community to do our part."
Posted In: Applied Science