Pratt and Whitney Sponsors All-Female Maintenance Team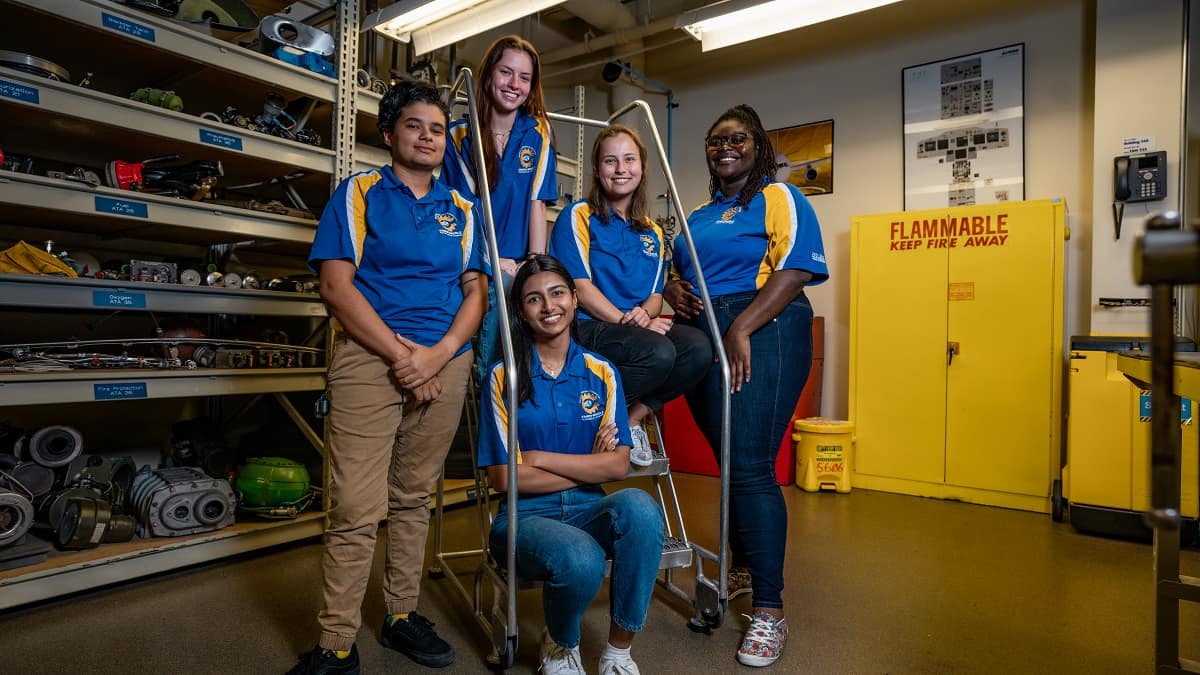 When the best of the best in aerospace maintenance compete in Dallas this month at the MRO Americas conference, Embry-Riddle will send an all-female team. Pratt & Whitney is sponsoring the SAT Club to compete with teams from commercial airlines, repair and manufacturing companies and general aviation.
The five women will participate in the Aerospace Maintenance Competition presented by Snap-On and held annually with Aviation Week Network's MRO Americas. They have a reputation to defend. In the last competition in 2019, Embry-Riddle topped the school category in a field of 27. (The organization postponed the event during the pandemic.) The competition is April 25-28, 2022.
No one cheers this team on more than assistant professor of Aviation Maintenance Science Cristin Klaus. She appreciates that industry leaders such as Pratt & Whitney recognize talent and dedication. "I am inspired by the motivation and dedication these young students have towards advancing their education and technical abilities. They are constantly going above and beyond to learn more and perform tasks with skill and efficiency," she said. "Sponsorships provide valuable opportunities for students to embark on unique experiences, such as factory tours and access to advanced training equipment; these opportunities solidify what they are learning and encourage confidence in attaining their dreams. I am excited to see them grow into accomplished maintenance technicians; they are future leaders in aviation maintenance technology."
Mary Anne Cannon, vice president West Palm Beach Site & Development Operations, sees the sponsorship as an investment in the future. "Pratt & Whitney is so proud to support Embry-Riddle's all-female team and can't wait to see what they accomplish at this year's Aerospace Maintenance Competition in Dallas," she said. "These women, along with all the students in the Society of Aerospace Technicians club, train extensively year round for this, and we're happy that our donation can provide them the opportunity to showcase that hard work on such a big stage. The Aerospace Maintenance Competition at MRO Americas is such a great opportunity for these students, who are the next generation of aviation maintenance technicians, to connect with the skilled professionals already in the field to continue to inspire and learn from them."
This sponsorship reflects a shared commitment to making aviation maintenance more inclusive. Pratt & Whitney has also been a strong supporter of Embry-Riddle Aeronautical University's Aviation Maintenance Technology SkillBridge program, which connects veterans transitioning to careers in aerospace with industry partners.
Posted In: Applied Science