Human Factors Ph.D. Works to Refine Robotic Surgery through Fellowship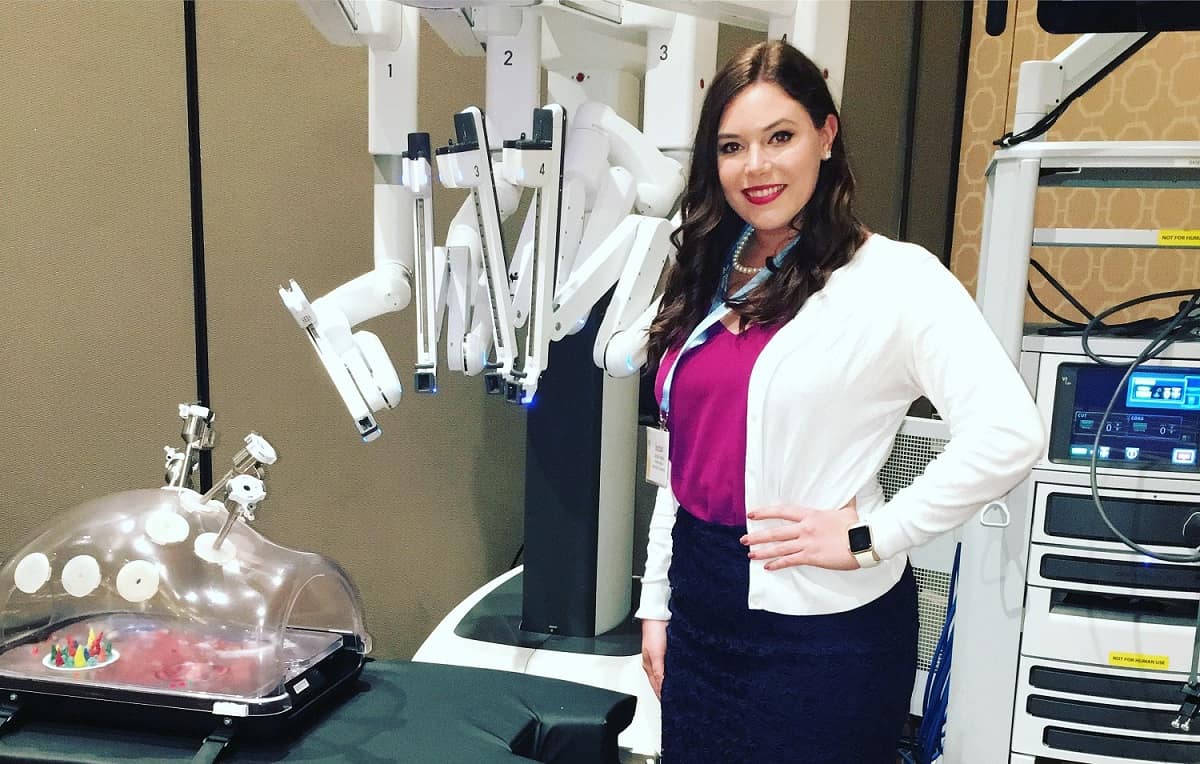 Jordan Rogers, now on track to earn her Ph.D. in Human Factors, has several operating room experiences under her belt — but not as a clinician.
Instead, she has turned her healthcare aspirations toward research: studying how surgical team members communicate with one another during surgery, and how the use of robots like the da Vinci Surgical System, which allows surgeons to control mechanical arms through a computer-augmented console, alter that interaction.
"When I saw the connections between human factors and healthcare, that's when I really found my niche," Rogers said.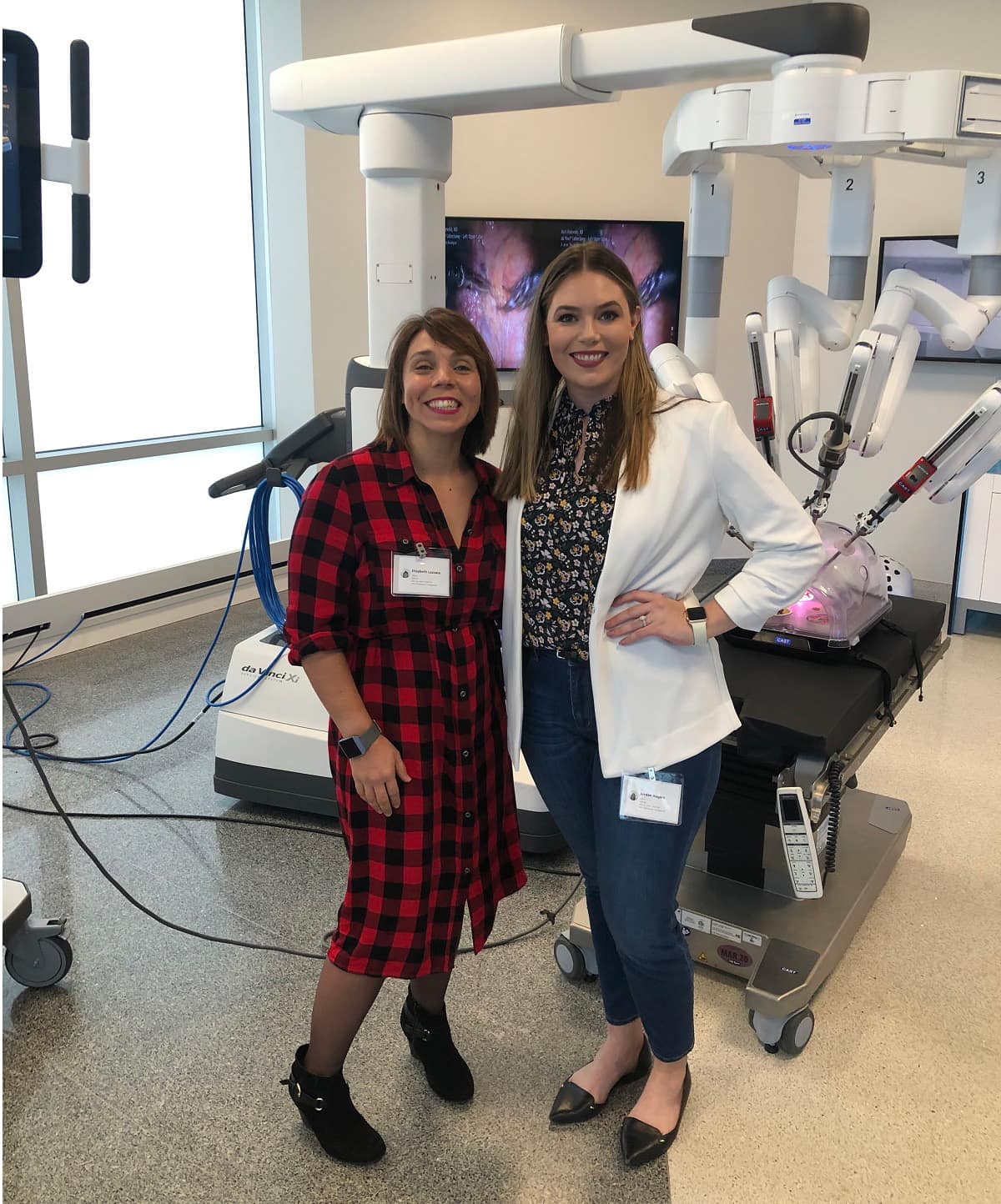 Assistant professor of Human Factors Liz Lazzara serves as faculty advisor to PhD student Jordan Rogers, who hopes to graduate this summer. (Photo: Jordan Rogers)
A student at Embry-Riddle Aeronautical University since 2013, Rogers initially planned to pursue nursing after earning a few general-education requirements, but an internship at Intuitive Surgical, the California company that manufactures the da Vinci robot, set her on a new course.
"I realized I really liked analyzing the teamwork dynamics," Rogers said. "I knew I wanted to be a part of that."
She returned to Intuitive Surgical for a second time in 2018, this time as a contractor. That role eventually morphed into a fellowship in which she currently analyzes hours of video from the surgical suite in an effort to answer questions like, how do surgical team member behaviors differ in traditional compared to robotic procedures? More, how do their perceptions differ in each environment?
Learning these answers will help in making both surgery types safer and more efficient.
"Certain communication behaviors lead to more effective teamwork," Rogers explained, adding that simple actions such as verbalizing team members' names and being specific when requesting tools can reduce confusion and wasted time.
Those behaviors change, however, when new equipment is introduced. Some surgical systems require doctors to operate at a console that is located away from the patient's bedside, removing the face-to-face component with their teammates, for instance.
"Robotic surgery is increasingly occurring because of all the various benefits it provides," Rogers said, citing a more ergonomic design, more accurate movements and computer/camera upgrades that improve visibility. "But poor teamwork is associated with errors, and with this technology, we're seeing a more distributed team."
For some surgeons, isolating themselves in a robotic console might increase their focus and improve their performance — but for others, it could decrease their spatial awareness or alter communication with their teams. By studying behaviors of both new and experienced surgeons in each environment, Rogers is seeking to understand the optimal behaviors underlying successful surgeries, so that those practices can be incorporated into training as well as used to optimize the equipment in future iterations.
When I saw the connections between human factors and healthcare, that's when I really found my niche.
The technology driving robotic surgery has been in a state of constant evolution, though, ever since its invention in 1981 to help repair parts on the International Space Station. The high-precision ability of a robotic arm proved useful for surgeries on Earth, and after decades of refinement, it made its way into hospital operating rooms.
As new iterations of the device continue to emerge — even influencing telemedicine from doctors on Earth to patients in space — Rogers hopes to contribute to what the technology becomes next. She is driven by a goal to better serve patients, she said, reinforcing the core initiative of Embry-Riddle's Human Factors Ph.D. program as a whole, which seeks to leverage the university's expertise in flight and space to improve life on Earth.
Sprinting to the Finish Line
Advised by assistant professor of Human Factors Dr. Elizabeth Lazzara, Rogers is currently working on her dissertation with hopes to land a job with a medical device manufacturer or consultancy firm after graduation. Her goals are clear, but they were not always that way. She needed guidance, and Dr. Lazzara's focus on discipline helped her find it.
"She's really tough, but always for a good reason," Rogers said of her advisor. "She's challenged me to think more, to delve more into what I really want to know and what things really mean. … This whole experience, it has led me to develop my voice, and to assert myself when I need to."
For Dr. Lazzara, Rogers serves as a symbol of what students in her department can achieve with the right combination of curiosity and enthusiasm.
"Human Factors is applicable to any domain within the real world, so we aim to give our students the competencies and tools to be successful irrespective of the industry by providing laboratory and applied projects and experiences throughout their scholastic tenure," said Dr. Lazzara.
Looking back on a seven-year college career, Rogers is fully aware of how much her time at Embry-Riddle has changed her.
"I think for a large part of my life, up until my master's, I really sold myself short," she said. "Proving that I can work through this, just like anyone else, having the courage to try … I think for awhile I had a hard time taking the first step because I wasn't sure I could do something perfectly."
But her perseverance gave her confidence, and that confidence gave her a better, brighter future.
"This was a huge turning point for me," Rogers said. "It's allowed me to progress much farther than I ever thought I could."
Posted In: Applied Science