Groundbreaking Book Examines Role of English Language Proficiency in Airline Accidents
On Dec. 20, 1995, just before American Airlines Flight 965 slammed into the tree line at the summit of a mountain near Cali, Colombia, among the captain's final words on the cockpit voice recorder were, "Pull up, baby."
A host of complex factors contributed to the accident, but within this set of circumstances, investigators found evidence of possible language problems between the pilots and the Cali Airport air traffic controller. Specifically, while not mentioned in the official "findings" of the accident investigation, the report noted that the Cali airspace was not provided with "a controller who shared native language and culture with the flight crew."
"While aircraft accidents usually have multiple causes, miscommunication often plays a more significant role than many people realize," said applied linguist Elizabeth Mathews, an assistant professor of Aerospace and Occupational Safety at Embry-Riddle Aeronautical University's Daytona Beach Campus.
A systematic review of approximately 5,000 aviation accident reports from 1990 to 2012 by Embry-Riddle researchers uncovered a number of other cases in which language appears as a valid investigative question in the chain of events leading to disaster, in ways that can be difficult for investigators to perceive. Mathews notes that accident investigators need to be better supported with tools and training to assist their analysis of possible language factors.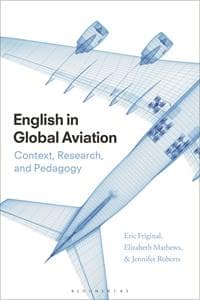 English in Global Aviation, a new book by Mathews and co-authors Eric Friginal, a professor of applied linguistics at Georgia State University, and Embry-Riddle aviation applied linguist Jennifer Roberts, takes readers through the major issues surrounding the use of – and sometimes misunderstanding of – English in the global aviation industry.
While written for applied linguists in teaching and research fields to encourage greater participation in efforts to improve teaching English to speakers of other languages in the aviation industry, many chapters are immediately useful for the general aviation community, especially aviation maintenance and flight schools around the world that are teaching English language learning.
With both cutting-edge research and evidence-based practice, the three researchers explore the critical role of English in aviation, including national and global policies affecting training and language assessment for pilots, air-traffic controllers, cabin crew, ground staff and students.
"Too often, aviation personnel receive operational training without sufficient English language instruction to support the English language proficiency they need to communicate effectively in the hangar, the tower or the flight deck," Roberts said. "The list of potential opportunities for miscommunication in aviation are endless because there are no native speakers of aviation English."
The International Civil Aviation Organization (ICAO), a United Nations agency, was established in 1944 to create international consensus on civil aviation standards and recommended practices. It developed language proficiency requirements for the global aviation industry in 2003 and Member States began adopting the language standards. However, 17 years later there are still no uniform training and testing protocols.
"In terms of the actual implementation, there is not always clear oversight," said Friginal in an interview with the Georgia State University News Service. "Air traffic controllers in one country may have different [testing] protocols from those in another country. Currently, no one is technically monitoring and analyzing these [programs] and the problem could only grow as demand for pilots grows globally."
Mathews, who was a linguistics consultant at ICAO during the development of the Language Proficiency Requirements, sees the two-year collaboration to research and write English in Global Aviation as a wake-up call and a pioneering opportunity for the aviation industry.
"This is the first book to situate the ICAO language requirements into the context of aviation human factors. It begins to define the testing and training programs that are required to create effective learning and comprehension strategies," said Mathews. "We look at human factors, crew resource management, the testing and training programs needed and what research has been done."
"Much like programs designed to teach English for business and medicine, our fundamental goal is to establish a core group of academically trained applied linguists that focus their expertise on the development of English language acquisition programs for the greater aviation community," said Roberts. "From what we've seen in our research, it could also ultimately help save lives."
Posted In: Applied Science | Aviation | Research