Grad Student's Journey Features Jeff Bezos, Rockets, and Now — 'Gas Stations in Space'
When he was a child growing up in Chennai, South India, who knew that Vijay Vishal V. Duraisamy would one day help design a fuel storage and transfer system to propel humans to the moon and back? Then again, the "space gas station" now under development at Embry-Riddle Aeronautical University, in partnership with Zero-G Horizons Technologies, is only the latest highlight for Duraisamy, a Mechanical Engineering Ph.D. student.
During his time on Embry-Riddle's Daytona Beach Campus, Duraisamy has also led or worked on various engineering payloads flown aboard Blue Origin's New Shepard suborbital rocket system as well as NASA's WB-57 high-altitude scientific research aircraft.
At one payload launch, Duraisamy got to meet Amazon founder Jeff Bezos as well as Blue Origin CEO Bob Smith. "It was a surreal experience to watch your work go up in space in front of your eyes," said Duraisamy, who is the first in his family to earn a Master's degree. "We felt very proud in representing Embry-Riddle there at Blue Origin's West Texas launch site."
On the New Shepard, the Cell Research Experiment in Microgravity (CRExIM) payload, designed with help from Duraisamy, assessed the impacts of microgravity on the cellular processes of immune-system cells called T-lymphocytes, or T-cells. Such fundamental insights will be key to keeping astronauts healthy on longer-duration space missions.
Fueling Spacecraft to Fly Farther
Now, Duraisamy is studying how microgravity would affect the behavior of fuel being transferred from a space-based depot to a spacecraft. The work is part of NASA's "Moon to Mars" effort—a plan to return astronauts to the surface of the Moon by 2024.
Duraisamy's analysis will be key to refining a novel fuel transfer system envisioned by Florida-based Zero G Horizons Technologies. The business is collaborating with Embry-Riddle, under a NASA Phase I Small Business Innovation Research grant (with Benjamin Tincher as the company's principal investigator), to further test the concept. If all goes well, the technology, which passed microgravity tests, will be deployed on a sub-orbital Virgin Galactic flight and, ultimately, tested in prototype form in low-Earth orbit.
"We have an innovative idea for a propellant depot to help build the infrastructure in space that is very much needed for developing the space economy," said Dr. Sathya Gangadharan, a professor of Mechanical Engineering and founder of Zero G Horizons Technologies. "Right now, because there is no propellant depot in space, whatever you need for the mission, you have to carry with you, and you need enough fuel to escape gravity."
With the option of refueling in low-Earth orbit or higher, said Gangadharan, "You could then increase spacecraft payloads up to at least two-fold. You would also have an energy source for space-based enterprise such as mining and manufacturing."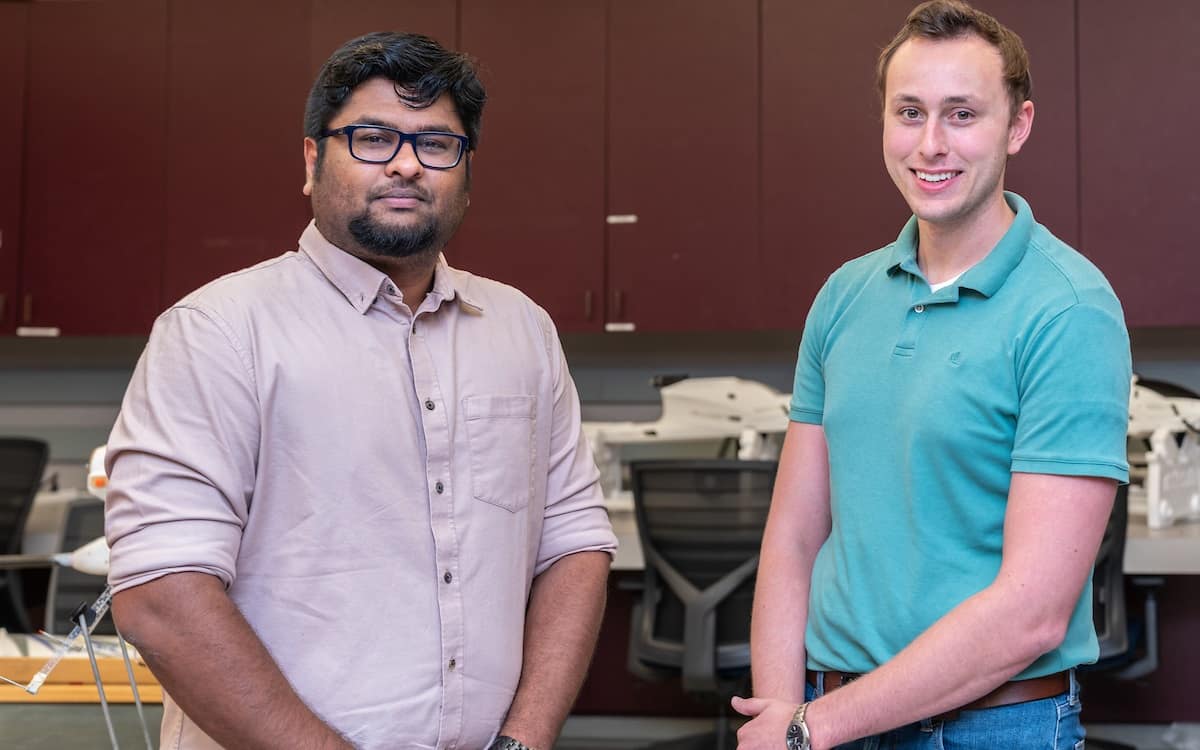 Vijay Duraisamy, a Mechanical Engineering Ph.D. student, and John Zelina, a master's of Aerospace Engineering student. (Photo: Embry-Riddle/Daryl LaBello)
A Life-Changing Journey
When Duraisamy arrived at Embry-Riddle, it was the first time he had ever left South India, where he grew up. Although he is an only child, his parents were proud of his decision and cheered him on from afar. Still, culture shock was a given.
Fortunately, friends who were already enrolled at Embry-Riddle and the University's diverse culture helped ease the transition. "Everything about Embry-Riddle and its students was related to aviation, which was my passion from my childhood," he said. "This helped me learn a lot of new things and make new friends."
One of his new friends became his wife – Embry-Riddle alumna Prabashini Mudliyar, who earned a Master's degree in Aerospace Engineering on the Daytona Beach Campus before joining a local company as a product design engineer. These days, the pair live near the Halifax River, where he enjoys fishing.
What's Duraisamy's advice for other students considering a Ph.D.? First, he said, pursuing a Ph.D. is a long-term commitment, so be sure to assess the program in detail. Once enrolled, keep the faith. "The course of study could seem quite daunting, but it's important not to lose focus or get disheartened by shortcomings," he said. Remember that failures turn into lessons and "the gains at the end are very satisfying and worth the effort for one's professional career."
Duraisamy commends all of his mentors at Embry-Riddle. "The faculty and staff were really helpful and kind, and their guidance was vital to me in adapting to the curriculum," he said.
In addition to Gangadharan, Duraisamy works with Engineering Honors Program Coordinator Troy Henderson, an assistant professor of Aerospace Engineering; Distinguished Professor of Aerospace Engineering Reda Mankbadi; Richard Prazenica, an associate professor of
Aerospace Engineering
(AE); and AE graduate student John Zelina. For Duraisamy's payload work, he worked closely with Pedro Llanos, assistant professor of
Spaceflight Operations
. That work also gave Duraisamy real-world experience collaborating with teams from the University of Texas Health Science Center and the Medical University of South Carolina.
Posted In: Aviation | Engineering | Research | Space