From Drone Inspections to Collecting Donations: Eagles Find Many Ways to Help Following Hurricane Ian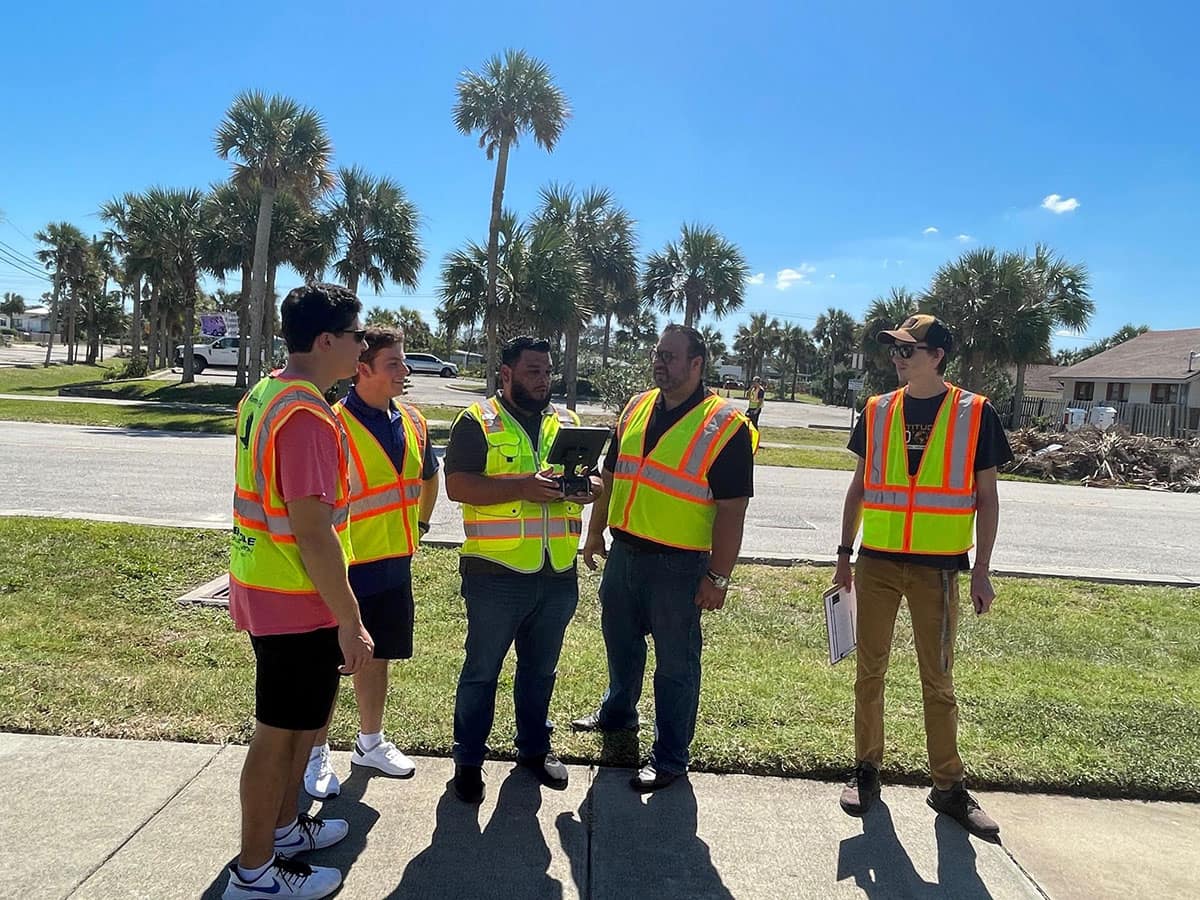 Assessing storm damage, helping with cleanup and fundraising for hard-hit communities are just some of the ways that Embry-Riddle Aeronautical University students have jumped in to help after Hurricane Ian recently ravaged much of the state with high winds and major flooding.
Dr. John Robbins, professor and chair of the Aeronautical Science Department at Embry-Riddle's Daytona Beach Campus, recently led a team of graduate and undergraduate students in using unmanned aircraft systems (UAS) to assess damage to a local church following Hurricane Ian.
My peers and I are determined to do anything we can to assist residents in recovering from this storm.
"This is really what we like to do as part of our service-learning initiatives," said Robbins. "It gives us the chance to do meaningful things in the community while also gaining experience in the field for the students."
The students used a camera-equipped drone to look for roof damage and conduct a vertical inspection of the bell tower at First Presbyterian Church in Daytona Beach. They planned and conducted the mission, then processed the data collected.
Students Michael Alexiev, Michael D'Alonzo and Evan Martin, who are all pursuing bachelor's degrees in Unmanned Aircraft Systems, said there are many valuable uses for UAS in areas like public safety and disaster recovery.
"I have a job for insurance companies to take photos of roofs to look for damage," said Martin, who is from DeLand.
Two other members of the UAS team — Joe Cabrera, a graduate student and UAS flight instructor/research support specialist, and Blake Neal, a Master of Science in Unmanned Systems student — are involved in an ongoing international project using UAS data. The Embry-Riddle study, being done in partnership with the University of Michigan and backed by funding from USDA's National Institute of Food and Agriculture, is using UAS to assess crop recovery and collect other data following Hurricane Maria in Puerto Rico.
"I think this [disaster recovery] is one of the biggest applications of UAS, especially in Florida," said Neal, whose interest in UAS was sparked while attending the Gaetz Aerospace Institute at Flagler Palm Coast High School. "We're saving people time and money."
Neighbors Helping Neighbors
Many Embry-Riddle student organizations and student groups have been volunteering to help provide disaster relief around the Daytona Beach community and even in southwest Florida, which felt the brunt of Hurricane Ian.
Nicholas A. Damiano, who is the university's assistant director for Fraternity & Sorority Life, said several Embry-Riddle fraternities assisted with local recovery efforts, including Phi Gamma Delta (FIJI), Beta Theta Pi Fraternity and Sigma Alpha Epsilon. They helped local community groups with debris cleanup, as well as distributed food and water.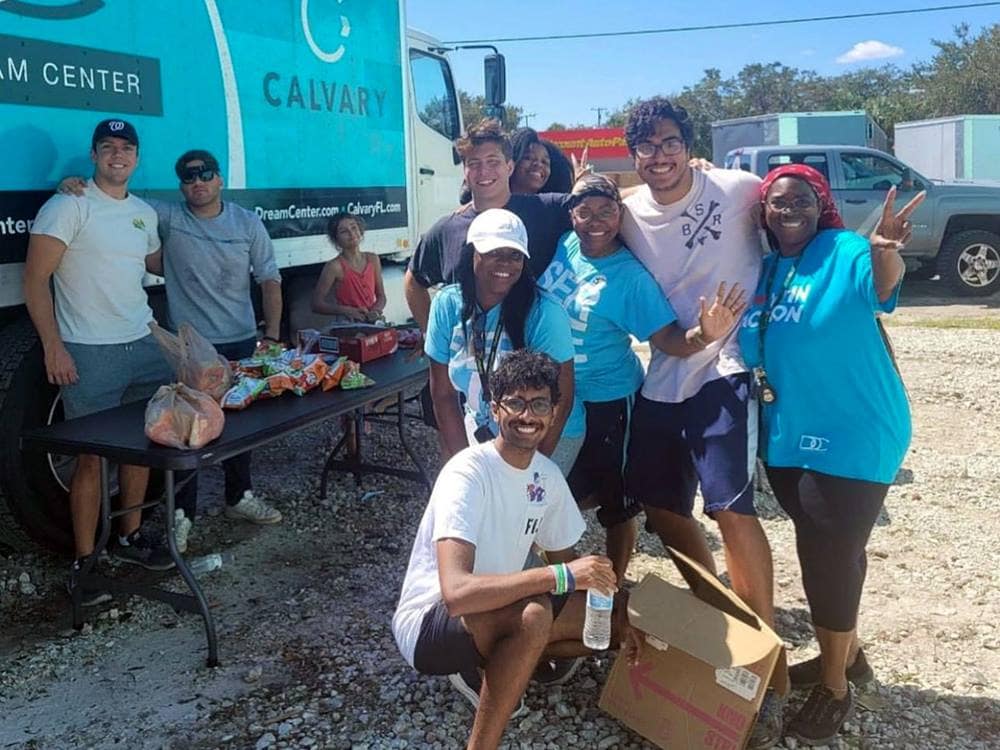 Embry-Riddle's Phi Gamma Delta fraternity partnered with the Daytona Dream Center to provide food to local residents impacted by Hurricane Ian. Many students assisted with local hurricane-recovery efforts. (Photo: Embry-Riddle Fraternity & Sorority Life)
"Hurricane Ian left many Daytona Beach families without fresh food, groceries and essentials for the past few days," saidFIJI president Christian Ogburn. "Our brothers were eager to help when we heard our partners at Daytona Dream Center were heading into the community to serve hot meals and provide some groceries."
Additionally, Embry-Riddle ROTC students assisted local businesses with cleanup efforts, according to Negar Afshar, the university's associate director of Student Engagement. The university's Muslim Students Association has also been hosting the Islamic Center of Daytona Beach's weekly Jummah Prayer service at Embry Riddle's student union building because the local mosque was badly flooded in the storm, said Embry-Riddle Chaplain Rev. David Keck.
Meanwhile, Embry-Riddle senior Derek Coppola has launched a fundraising effort to help southwest Florida residents.
"Hurricane Ian wreaked havoc on all parts of Florida, but it was especially devastating to the Southwest Florida area," said Coppola.
He and a team of volunteers are collecting donations of non-perishable food, water, sports drinks and clothing to distribute to residents, the Red Cross and local organizations. Coppola and some members of his team are also licensed captains with access to boats capable of transporting residents and supplies to areas cut off from the mainland. His efforts are being supported by multiple student organizations and groups on campus, including the WIKD 102.5 FM.
"My peers and I are determined to do anything we can to assist residents in recovering from this storm," said Coppola.
Posted In: Aviation | Uncrewed Systems