Students Collaborate on Inventions that Support Industry, Hands-On Learning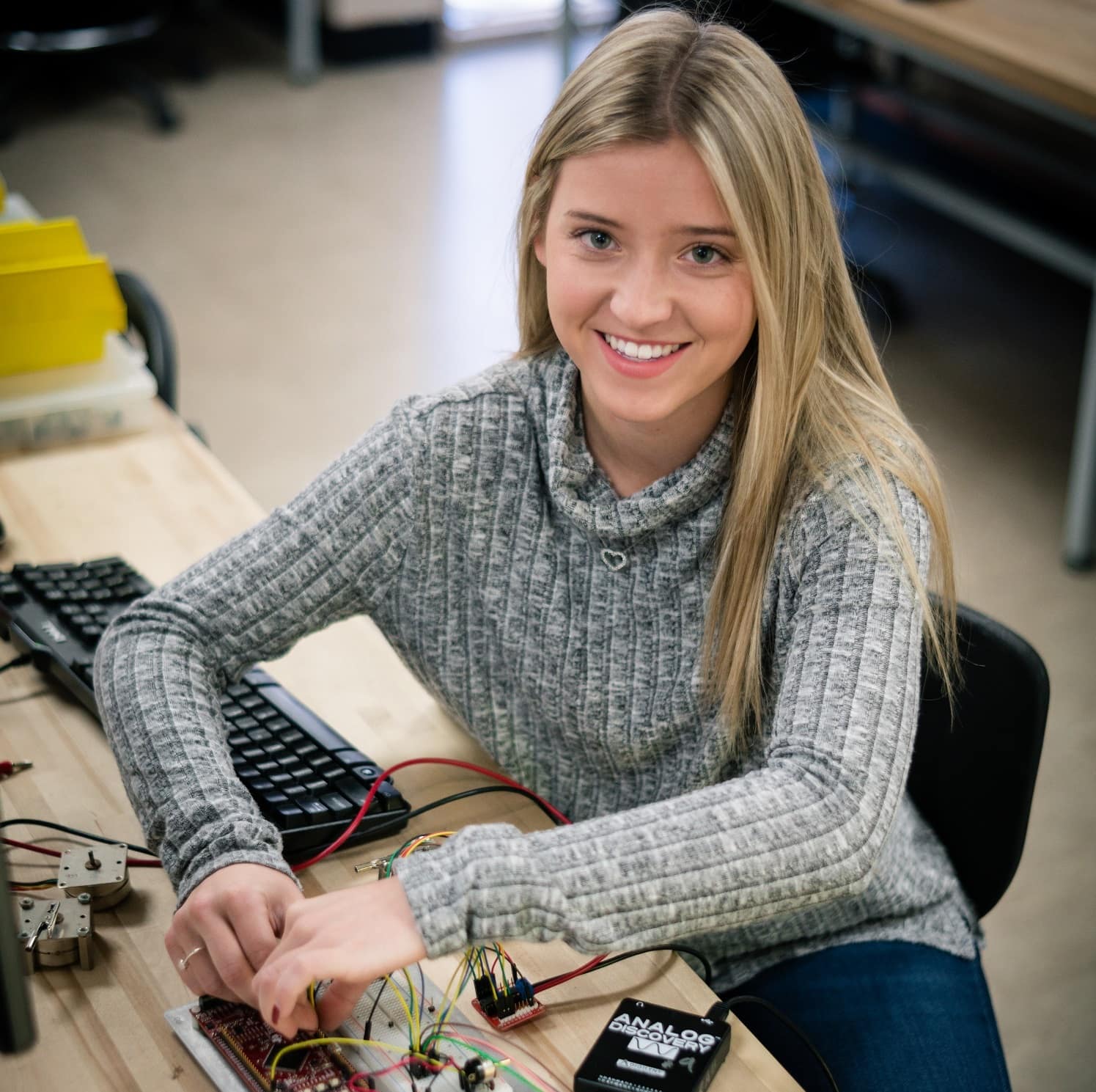 As the world marvels at systems that allow self-driving cars to detect obstacles, lane markings and traffic signals, the researchers designing such technology are engaged in an ongoing search for ways to cost-effectively expedite and improve performance.
New technology patented by Dr. Akhan Almagambetov, associate professor, of Computer, Electrical & Software Engineering at Embry-Riddle Aeronautical University, offers such a solution. His programmable device is usable for any application that requires large numbers of multiplication operations — which, in addition to autonomous vehicles, includes cryptography and any other complex application requiring a human brain-mimicking neural network. His invention can be scaled to a particular application "on the fly" and produces results in about half the time of similar approaches, using only a fraction of the computational resources.
"This technology is intended primarily for optimizing multiplication operations that need to be completed within a very short period of time, and it is fully reconfigurable for the intended application," said Almagambetov.
"Dr. Almagambetov's bit-serial multiplier invention could be applicable to many computation-intensive industries, like simulation, encryption and digital signal processing," said Stephanie Miller, Embry-Riddle's executive director of Technology Transfer and Research Park initiatives.
Almagambetov's technology is just one example of the innovation flowing from Embry-Riddle through its Technology Transfer Office, which managed 11 invention disclosures involving 20 inventors in fiscal year 2020, with five patent applications. The office, which is part of Embry-Riddle's legal department, has managed 112 invention disclosures involving 150 inventors, resulting in 79 patent applications since its founding in 2013.
"If you look at the publishing activity from Embry-Riddle researchers, you will see that there is a lot of innovation happening across the campuses," said Miller. "Some of the work is applied research that results in a patentable invention. The ultimate goal of the Technology Transfer Office is to commercialize these innovations. We seek to market and license the intellectual property to a company, or help the researcher start their own company, so that the work started here can become a product. (Job opportunities result) because companies need people to do final R&D, design production, produce and sell these products."
Some of the patents, including Almagambetov's, have involved Embry-Riddle students directly and feature the students' names on the inventions. Holly Ross, who graduated in 2019, is listed on the bit-serial multiplier patent. Almagambetov said Ross worked with him on developing the device from the time she was a sophomore. She is now working for Micron Technology in Boise, Idaho, Almagambetov said.
"The university researchers are utilizing students, especially graduate students, to do work in a lab," said Miller. "As students progress through their programs, they gain enough knowledge in their fields to participate in the inventive part of research."
The technologies being patented at Embry-Riddle represent a wide range. In addition to Dr. Almagambetov's bit-serial multiplier, other patents issued in 2020 include one for a kind of precision airflow measurement device used in research laboratories, called a hot-wire anemometer. This device, patented by Michael Potash, a laboratory technician in the College of Engineering, includes innovations that cost-effectively enhance hot-wire anemometer ease of use and system stability, Potash said.
A technology with a patent pending — developed by Brian Butka, professor of Electrical and Computer Engineering, and Jefferson Romney, a first-year graduate student in Electrical and Computer Engineering — involves an autonomous underwater vehicle motor that can double as an acoustic transmitter. Such a motor, providing propulsion and underwater transmission of an acoustic signal, will allow better coordination of unmanned vehicles operating in the air and on the surface of the water. The motor allows air and surface vessels to communicate with each other easily using radio frequency and optical communication links — while also opening communication to unmanned vehicles underwater, where radio frequency and optical communication generally work poorly.
Another invention, for which a patent application was only recently filed, aims to lessen supersonic jet noise with the use of a wavy shield. The research for developing the shield and testing its effectiveness was conducted by Saman Salehian, who just earned his Ph.D. in Aerospace Engineering at Embry-Riddle, and Reda Mankbadi, distinguished professor of Aerospace Engineering.
Embry-Riddle also recently partnered with VerdeGo Aero, a hybrid-electric aerospace powertrain firm and tenant in university's Research Park, to develop and commercialize patent-pending technology designed to mitigate electric aircraft noise.
Companies interested in partnership with Embry-Riddle should contact Miller, at milles50@erau.edu, or Charlie Sevastos, vice president and general counsel, at sevastoc@erau.edu.
Posted In: Applied Science | Computers and Technology | Engineering | Institutional News | Research