Embry-Riddle Leverages Safety Culture, Can-Do Spirit to Bring Students Back for Fall 2020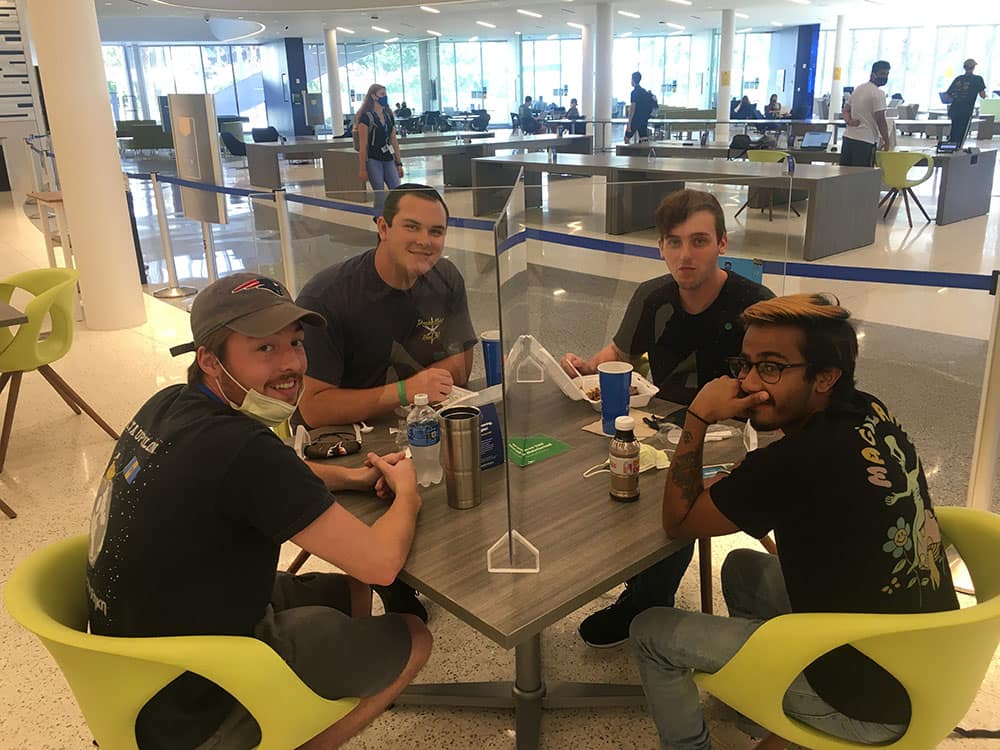 Embry-Riddle Aeronautical University plans to continue face-to-face instruction for the fall 2020 semester beginning on Aug. 24, with mandatory health precautions, barriers and a diagnostic Covid-19 testing process in place, and following a series of readiness exercises.
The university looks forward to welcoming new students for the 2020-21 school year beginning Aug. 14 at the Daytona Beach, Florida, campus and Aug. 15 at the Prescott, Arizona, campus. For returning students, the start dates are Aug. 19 at Daytona Beach and Aug. 21 at Prescott.
Classes will begin on both residential campuses on Aug. 24. For details, review the previously released fall 2020 academic calendars.
The academic calendar was modified to help minimize student travel. In-person classes will end on Nov. 24, the day before the Thanksgiving Break. To make up class time normally scheduled after the break, the Labor Day holiday and fall break will serve as face-to-face class days. The week of Nov. 30 to Dec. 4 will be study-at-home days. Review sessions and tutoring will be completed online. Final exams will take place remotely, as scheduled, or via take-home assignments.
Embry-Riddle is continuing face-to-face instruction in keeping with its Path Forward plan and Best Practices Guide, and following a successful on-campus Summer B term.
As President P. Barry Butler has noted, "Embry-Riddle is leveraging both its strong aviation safety culture and trademark can-do Eagle spirit to bring students back to our residential campuses in the safest possible way for the fall semester."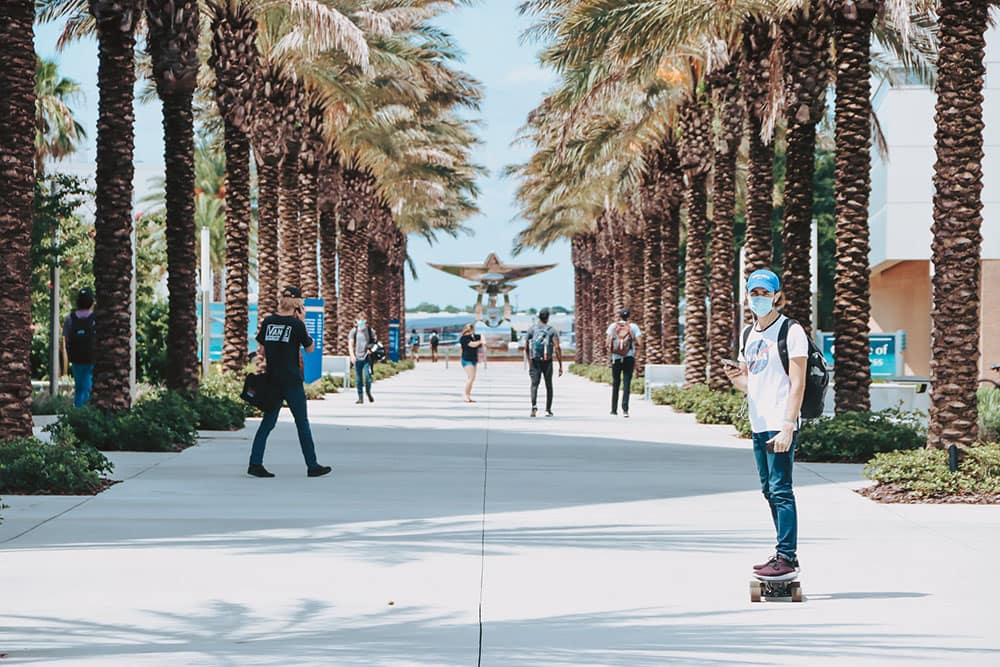 Campus Life: What to Expect
Life is much the same on Embry-Riddle's campuses – you will see our recently replenished fleet of aircraft and many students on skateboards, as always – but new health protocols are firmly in place. To get a feel for how fall 2020 will work for students, take a look at our Return to Campus videos.
Face coverings in all common areas and physical distancing are now mandatory on Embry-Riddle's campuses, with no exceptions. The university has installed Plexiglas barriers, floor markers to keep everyone six feet apart, directional arrows and signage across both campuses. Everyone must have a temperature check every 24 hours. To help ensure safety, those selected for diagnostic Covid-19 testing will be required to complete their appointment. Individual test results will be held in strict confidence. Aggregated testing results will continue to be publicly disclosed on a weekly basis, in keeping with Embry-Riddle's transparency pledge.
Classrooms and class schedules have been reconfigured to ensure physical distancing and reduce traffic in hallways. Embry-Riddle faculty are working hard to prepare for face-to-face instruction while also maintaining all course materials on Canvas and preparing for a variety of content-delivery modes, leveraging all available technologies. Enhanced cleaning protocols are in place everywhere. Students will help wipe down their classrooms and residence halls on a regular basis, using approved anti-viral supplies provided by Embry-Riddle. Students will be wearing face coverings during classes. Instructors will wear a face covering and/or plastic face shield.
Extra-curricular activities will continue so long as physical distancing and other health precautions can be maintained, and in keeping with state and federal guidelines. Watch the Covid-19 information page for updates.
We Know You Have Questions
We are all living through an uncertain time. Students and their families as well as faculty and staff have many questions. We will do our best to provide answers.
Please review the Frequently Asked Questions page and all of the Covid-19 information and videos that we have been posting online since Jan. 25. We will continue to update the FAQs as new information becomes available.
Students and employees are urged to submit questions as well as ideas for continuing improvement to the Embry-Riddle Online Suggestion Box.
Health Reminders
If you are sick, or if you have been in close contact with someone with Covid-19, do not come onto Embry-Riddle's campuses.
If you have been on a cruise or in a highly affected region within the past two weeks, stay away from campus.
In case of difficulty breathing or chest pains, call 911.
Please promptly report any concerning symptoms (i.e., fever, cough or congestion) to the health services or campus safety unit on your campus:
Daytona Beach Health Services: 386-226-7917
Daytona Beach Campus Safety: 386-226-SAFE (7233)
Prescott Wellness Center: 928-777-6653
Prescott Campus Safety: 928-777-3333
We look forward to the return of students to Embry-Riddle. Until then, stay safe and practice kindness whenever possible, remembering that you are forever an Eagle.
Review the Covid-19 information page, including our FAQ site and Return to Campus videos.