Embry-Riddle's Intelligent Ground Vehicle Team Scores Big at International Competition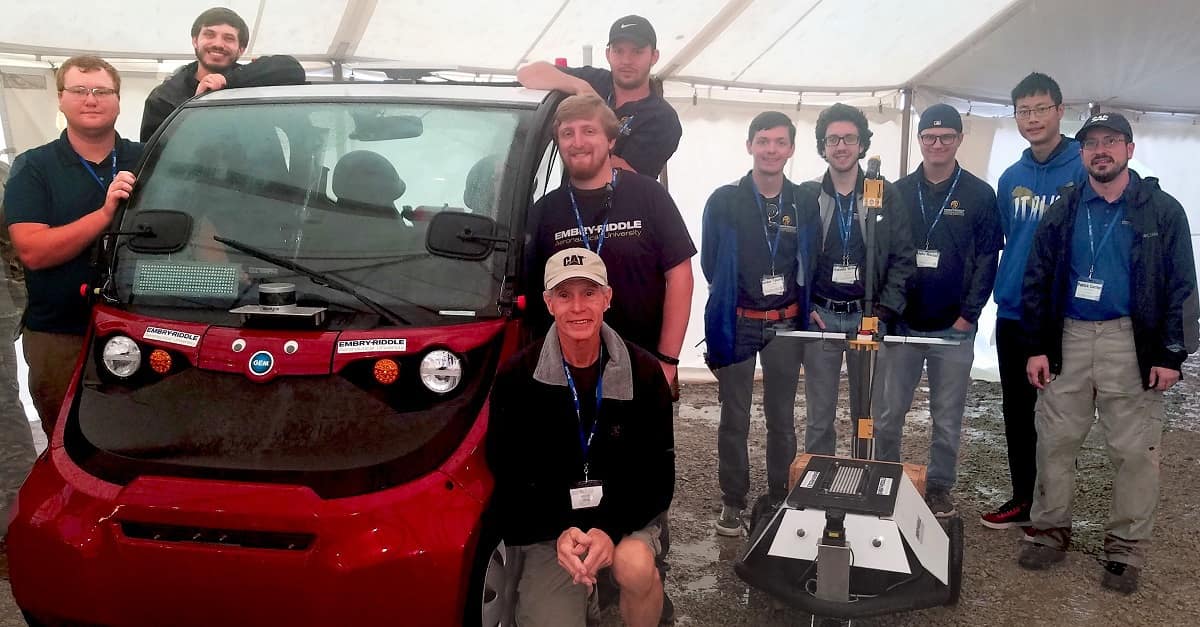 Students from the Robotics Association at Embry-Riddle took first place in Design and second overall in the Self-Drive Challenges.
Over 50 teams of university students from across the globe gathered at Oakland University's campus in Rochester, Michigan for the 27th annual Intelligent Ground Vehicle Competition (IGVC), sponsored by the U.S. Army Ground Vehicle Systems Center (GVSC), RoboNation and both defense and automotive industry companies.
This competition requires student teams to design and build fully autonomous robots that must navigate complex on-road and off-road courses without human intervention. The robots use advanced sensors, such as GPS, Lidar, computer vision, magnetometers and inertial measurement units to perceive and map their surroundings. The vehicles must obey traffic signs, avoid obstacles and simulated pedestrians while following a defined course or navigating through a series of GPS waypoints.
For students at Embry-Riddle Aeronautical University, it has been a yearlong task to prepare different vehicles for the two separate categories in the international contest, which includes an exhaustive 86-page guidebook of competition rules and details.
One category – the AUTO-NAV Challenge – features lawnmower-sized, semi-rugged outdoor autonomous robots. A second category – the Self-Drive Challenges – focuses on larger, street-legal, neighborhood electric vehicles with automotive quality driving sensors.
The team's long hours and hard work in the robotics lab at the Daytona Beach Campus paid off as the students took first place in Vehicle Design and second overall in the Self-Drive Challenges. The team also finished sixth in the AUTO-NAV Challenge.
In addition to the competition, the Embry-Riddle Self Drive team was fulfilling the requirements of a research contract sponsored by the U.S. Army Ground Vehicle Systems Center (GVSC) to test and advance the Army's Robotic Technology Kernel (RTK). The Army expects to deploy the RTK as the standard autonomy package on its unmanned vehicle fleet. RTK is an open-source code library the Army shares only with key domestic universities and industry partners to advance the Department of Defense/Army programs in Mobile Robotics. RTK uses a sophisticated robotic operating system framework consisting of many independently running executable programs to communicate with other software programs and the driving controls that operate the vehicles.
"Our two teams include future aerospace, electrical and mechanical engineers, computer scientists, software developers and business leaders. They work together and experience being part of a group project that's building a whole system," said Dr. Charles Reinholtz, professor of mechanical engineering and faculty advisor for the team. "The students also work with automotive and defense industry sponsors who provide component hardware and advice, and in that way get an inside view of industrial design and opportunities for employment."
Justin Bungard, Nicholas Middlebrooks, Zach Bryant and Garrett Holden represented Embry-Riddle's fifteen-member Self-Drive team at competition. The AUTO-NAV team was represented by Lang Chen, Kody Miller, Parker Tyson and John Wardell. In addition to Reinholtz, faculty advisors included Drs. Patrick Currier and Eric Coyle.
The IGVC is part of the RoboNation Community, a non-profit dedicated to creating an open community of tech gurus, pacesetters, inventors and visionaries on the cutting-edge of the technological and engineering world – a world where artificial intelligence, big data and autonomous machines can make lives better. RoboNation hosts several different university-level international competitions throughout the year.
The Robotics Association at Embry-Riddle (RAER) is a student organization at the Daytona Beach Campus, pushing the boundaries of what is possible in unmanned systems. RAER supports seven collegiate robotics teams that compete around the world across the domains of land, sea and air. They also provide outreach and support to K–12 students, inspiring them to pursue their own paths through STEM.
Posted In: Applied Science | Engineering | Uncrewed Systems