Embry-Riddle Flight Instructor Muhammad Omar Answers the Call to Help a Student Pilot in Distress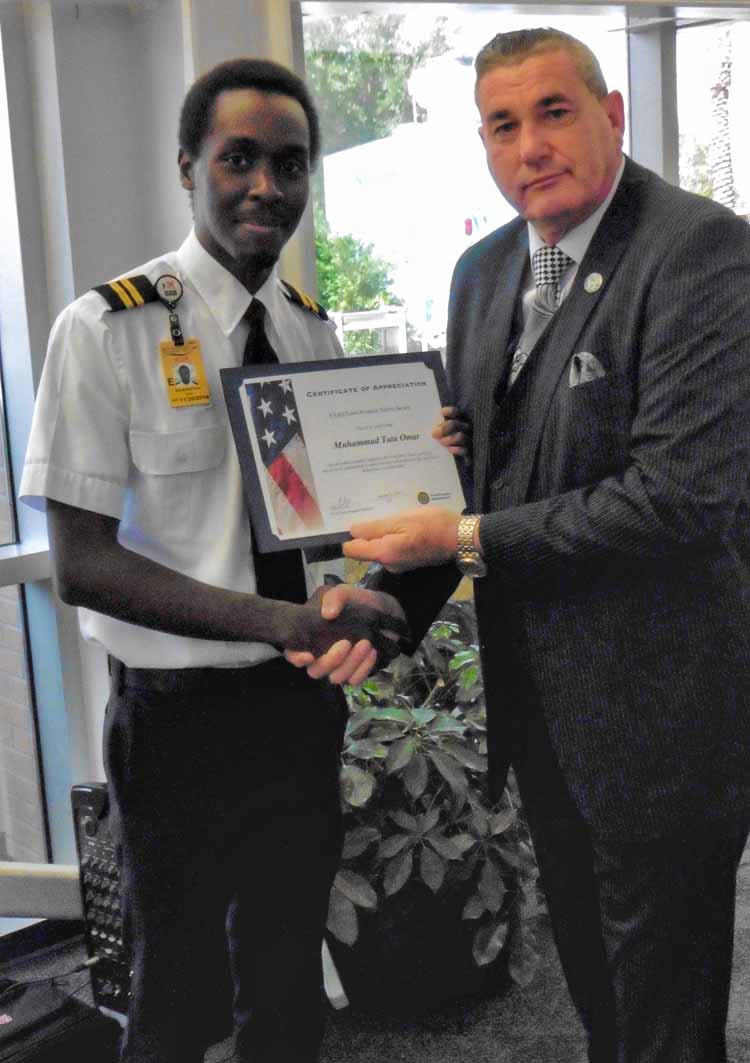 A shaky pilot on her first solo flight radios for help after three unsuccessful landing attempts. Thanks to a veteran air traffic controller and a skilled Embry-Riddle flight instructor, the story has a happy ending.
DAYTONA BEACH, Fla. – On the morning of August 30, Air Traffic Control Specialist Ken Stanley was working in the Tower at Ormond Beach Municipal Airport (KOMN) when he noted a student pilot getting ready to land on their first solo flight in a Cessna 172.
Stanley watched as the student's first landing attempt came in too steep, resulting in a nose-wheel-first touchdown, which can cause loss of directional control during the landing. The pilot initiated a go-around.
The student's second landing attempt was even shakier, resulting in a near loss-of-control and another go-around. The student pilot radioed the tower and requested assistance.
Stanley helped establish the struggling pilot on the downwind leg of the traffic pattern and immediately radioed for an instructor of any other training flights at the airport to see if they could help render assistance. Embry–Riddle flight instructor Muhammad Omar answered the call.
Omar said of the incident, "I was flying with a student and heard on the radio a call to the tower from the distressed pilot say 'hello tower, I can't land the airplane.' She repeated the call. We decided to land and try to help. Ken said to me over the radio, 'I'm not a pilot, could you please help me talk her down for a landing?' "
Omar landed and positioned his aircraft on an adjacent taxiway to observe the struggling student pilot, who was from another flight school, make another approach.
"We parked our plane on a taxiway and I made contact with her and she sounded very nervous. Ken and I coached her through the traffic pattern," said Omar.
Omar talked the student through the next landing attempt, but that effort was aborted as well. The Tower issued the student another go-around.
The student's flight became erratic and the she lost sight of the airport and Omar lost sight of the aircraft. Stanley took over and issued a series of "no-gyro" vectors–simple to understand instructions that got the student headed back to the airport and on another final approach.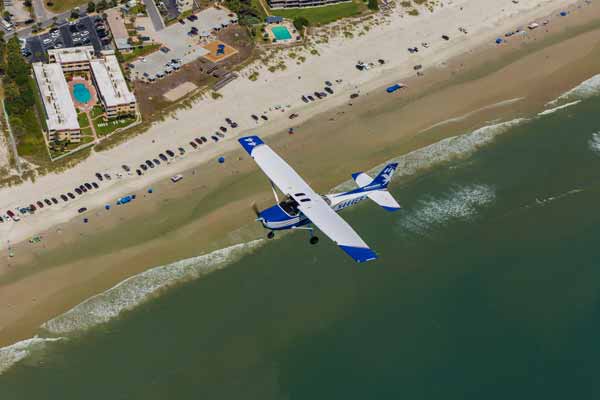 Embry-Riddle flight instructor Muhammad Omar helped a student successfully land a plane like this one after a couple of shaky attempts. Photo: James Roddey/Embry-Riddle
The plane came in view and Omar began again coaching the pilot, who was setting up for the fourth attempt at landing. This time the solo pilot was successful and must have surely been relieved to be safely on the ground.
"We (Stanley and Omar) got her in a longer final (approach). She did really well and she made one of the best landings I've seen." said Omar.
The FAA's Orlando Flight Standards District Office Manager Max McConnell and Safety Team Program Manager Robert Jex visited Embry–Riddle to present Stanley and Omar with FAASTeam Aviation Safety Awards for their professionalism, alertness and extraordinary teamwork. In his presentation of the award to Omar, Jex said he was proud to recognize his extraordinary efforts to assist a fellow pilot in distress.
Jex noted that Omar's "immediate and decisive actions resulted in the student pilot making a first successful solo landing and safely ending a dangerous situation that, without Omar's heroic intervention, might otherwise have resulted in a mishap."
"Omar demonstrated his skill as a flight instructor by assisting a pilot in distress," said Ken Byrnes, assistant dean and flight department chair at Embry–Riddle's College of Aviation. "His professional behavior and focus on the safety of the student pilot helped ensure a positive outcome to a challenging situation. Everybody in the Daytona Beach flight department is extremely proud of him!"
"Once the student pilot landed, she taxied off the runway and we took off again to continue our flight," said Omar. "It's natural to be nervous on a first solo. Being nervous and then having that happen to you, and still being able to fight through a difficult situation takes a lot of courage ... I never learned her name. I wish I had gotten to meet her."
Posted In: Aviation | Human Factors | Security Intelligence and Safety