Embry-Riddle Aeronautical University Reports Positive Enrollment Trends Across All Campuses, Welcomes Nearly 10,000 New Students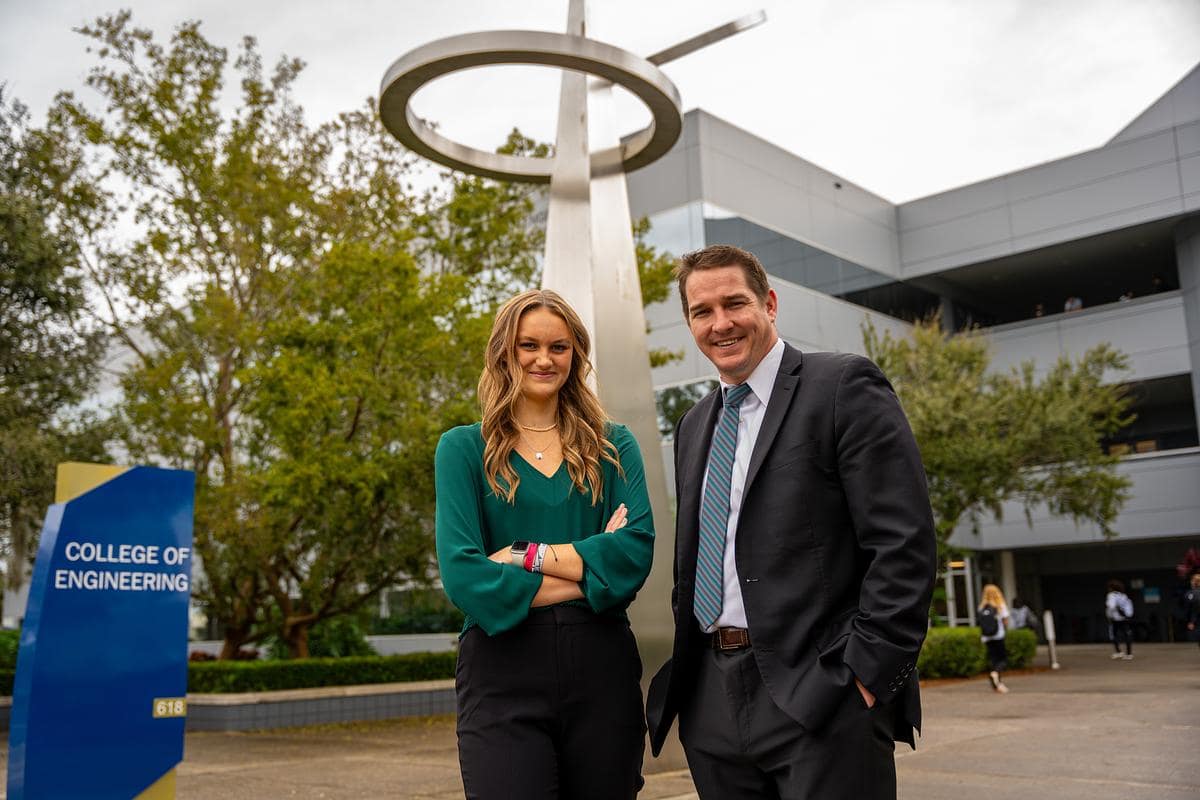 Aspiring engineer Bethany T. Bothoff, who maintained a 4.73 grade point average, held service leadership roles, worked multiple jobs and took college courses in high school, exemplifies Embry-Riddle Aeronautical University's incoming 2023 class, which is as talented and diverse as it is record-breaking.
Bothoff is currently pursuing a Civil Engineering degree at Embry-Riddle. A member of the National Honors Society and president of her spirit club during her junior and senior year of high school, when she was also dual enrolled at Cape Fear Community College, Bothoff expressed optimism for the future.
"I am so excited to be in an environment where I can put these skills to use," she said, "whether that be in my career field, classes or leadership positions."
Bothoff, of Wilmington, North Carolina, was among the largest residential undergraduate class in Embry-Riddle's history — a record 3,106 new incoming students who are now attending the Daytona Beach, Florida, and Prescott, Arizona, campuses, as of fall 2023.
As a whole, Embry-Riddle brought in a total class of nearly 10,000 new students this year and boosted its total residential campus enrollment of undergraduate, graduate and doctoral students from 11,107 in 2022 to 11,633 this year. Including Embry-Riddle's Worldwide Campus, the university now serves more than 31,000 students around the globe.
High-Value Degrees
"The strength of our programs and our status as the world's premier aviation and aerospace institution have meant exceptional demand for Embry-Riddle degrees," said Senior Vice President for Enrollment Management, Marketing, and Student Affairs Dr. Jason M. Ruckert. "With 95% of all graduates employed or pursuing further education within one year of commencement, an Embry-Riddle degree offers a high return on the investment."
That return on investment is reflected by Embry-Riddle alumni who are leaders across industry, academia and the military.
Academic Excellence
Rankings by "U.S. News & World Report" also reflect the high value of an Embry-Riddle degree: In 2023, the university claimed the No. 4 spot nationwide among Aerospace Engineering degree programswith a doctoral option, which placed it among the world's most elite engineering institutions and just below the Massachusetts Institute of Technology, Georgia Institute of Technology and Purdue University.
Embry‑Riddle's Prescott Campus was named No. 1 Best for Veterans, as well as No. 1 among regional colleges in the western United States. The university's Worldwide Campus this year ranked No. 2 in the nation (tied), for online bachelor's degree programs. The Worldwide Campus has ranked either No. 1 or No. 2 in this category every year since 2016.
Diverse, Exemplary Students
Embry-Riddle is also serving more female students than ever: At Daytona Beach, 30% of incoming undergraduate students were female, and female students now make up 27% of the population, compared with 18% in 2013. At Prescott, female students comprised 28% of the total population, compared to 22% a decade ago.
This fall's incoming classes were filled with high achievers like Bethany Bothoff: New students at the Daytona Beach Campus had a mean high school grade point average (GPA) of 3.99 and a median SAT score of 1250. The incoming class at the Prescott Campus had a mean GPA of 3.85 and a median 1260 SAT score.
At Embry-Riddle's Worldwide Campus, enrollment in the last full academic year increased to 6,174 new students — a 12% jump. The 2023-2024 academic year is showing continued growth in new student enrollment.
Embry-Riddle also continued its rich history of service to military members, veterans and their families, a legacy that dates to 1926 when U.S. Army pilot and barnstormer John Paul Riddle and entrepreneur T. Higbee Embry founded the university to train pilots.
"Our mission calls on us to prepare students for productive careers and leadership roles in aviation/aerospace, business, government agencies and the military," Ruckert said. "We have been fulfilling that mandate since 1926. Our students make us proud and inspire us to greater heights on a daily basis."
Posted In: Institutional News