Effective Immediately – Embry-Riddle Expects Everyone to Wear a Mask Indoors, No Exceptions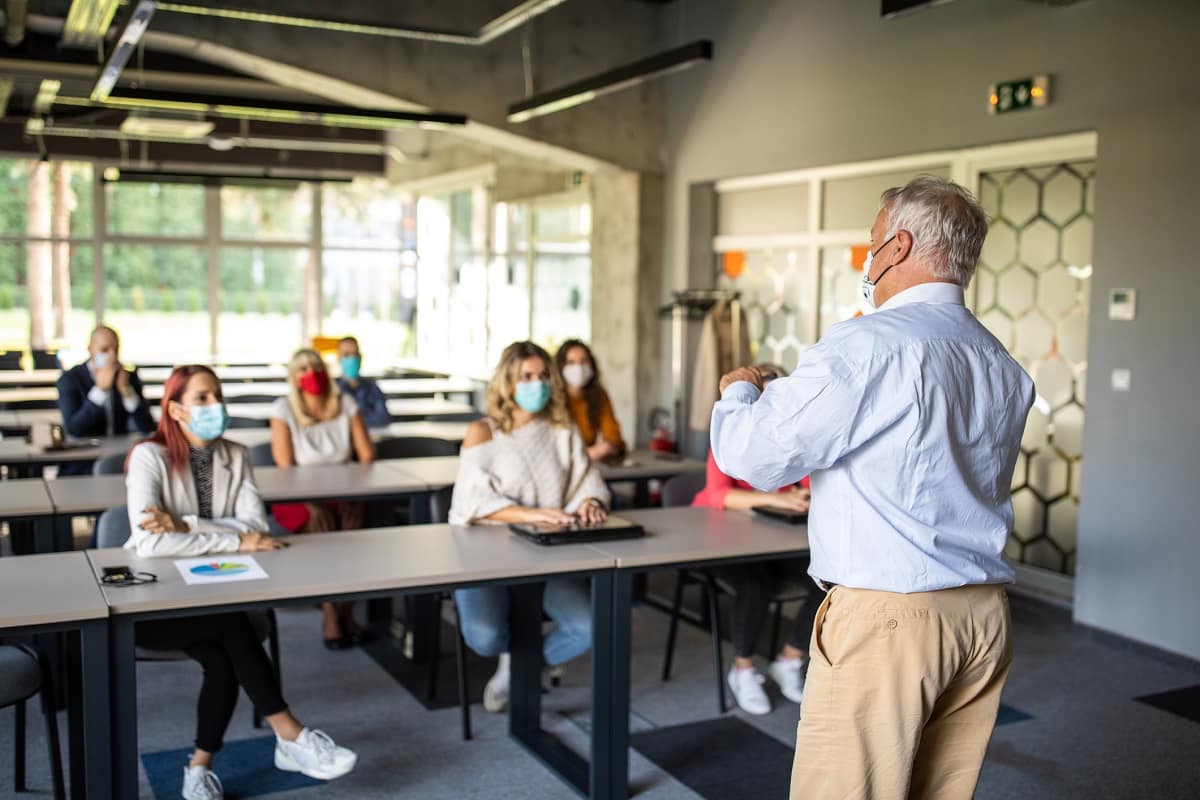 Excitement marked the first day of the fall 2021 semester at Embry-Riddle Aeronautical University's residential campuses, but there was also cause for disappointment. Although we have repeatedly and strongly encouraged everyone to wear face masks indoors, compliance with that recommendation was low yesterday. Many Eagles simply did not step up to help protect themselves and others who may face higher risks. This is unacceptable.
From this moment forward, in light of the latest guidance from the U.S. Centers for Disease Control and Prevention (CDC), Embry-Riddle leadership expects everyone – whether you are vaccinated or unvaccinated – to wear a mask over your nose and mouth at all times whenever you are inside any university facility or aircraft.
All Embry-Riddle students, faculty, staff, vendors and visitors are expected to mask up indoors, effective immediately. Sadly, that safety-first mindset was not on display during the first day of classes yesterday, and therefore we are making our expectations more explicit: Wear a mask indoors and on the flight deck.
As President Butler has noted, this is not rocket science. To stay as safe as possible, everyone should do two things – get vaccinated against Covid-19 and wear a mask indoors, in keeping with CDC guidance. It really is that simple, if you want to be able to continue with in-person learning.
Covid-19 cases have been surging. The highly transmissible Delta variant is prevalent everywhere. Even if you have been vaccinated, you can harbor the Delta variant and transmit it to unvaccinated and/or more vulnerable people. A face mask helps lower the risk of transmission by blocking respiratory droplets. As we noted in our Aug. 27 message, wearing a mask is also a great way to demonstrate your respect for your professors, as they are working hard to provide you with the best possible face-to-face education.
To further encourage vaccinations and mask compliance, Embry-Riddle will resume its regular weekly reporting of positive Covid-19 cases on Friday. As always, we will continue to post all Covid-19 information to https://www.erau.edu/coronavirus. Our Frequently Asked Questions have been updated to reflect this latest message.
Please review Embry-Riddle's quarantine and isolation protocols, based on CDC guidance. Avoid having to quarantine for 10 days, which would mean missing out on classes, flight instruction, and other benefits of an in-person learning environment.
Testing is available daily for those exhibiting symptoms of Covid-19 at Health Services on our Daytona Beach Campus and at the Wellness Center on our Prescott Campus.
Additional testing and vaccines are available as follows:
On our Prescott Campus, visit the tent by the Wellness Center for testing on Tuesday, Aug. 31 and Wednesday, Sept. 1 from 8 a.m. until noon this week, and then weekly on Wednesdays from 8 a.m. to noon. Vaccine clinics are offered every Thursday from noon until 2 p.m. at the Wellness Center, by appointment (928-777-6653).
On our Daytona Beach Campus, stop by the Mori Hosseini Student Union for testing on Wednesday, Sept. 1 and Thursday, Sept. 2 from 10 a.m. until 2 p.m., and then weekly every Tuesday and Wednesday from 10 a.m. until 2 p.m. Vaccines are available daily, Monday through Friday from 8 a.m. to 5 p.m. Walk-ups are welcome.
The pandemic is not over, and it is real. Embry-Riddle has lost members of its extended community. Our hearts go out to all families who have been affected by this terrible illness. Please be respectful of those for whom the threat of illness is deeply personal. Honor the memory of those lost by promoting a safe environment on our campuses. Wear your mask properly whenever you are inside a building or an aircraft.