Eagles Collaborate in Unique High-Altitude Simulation Training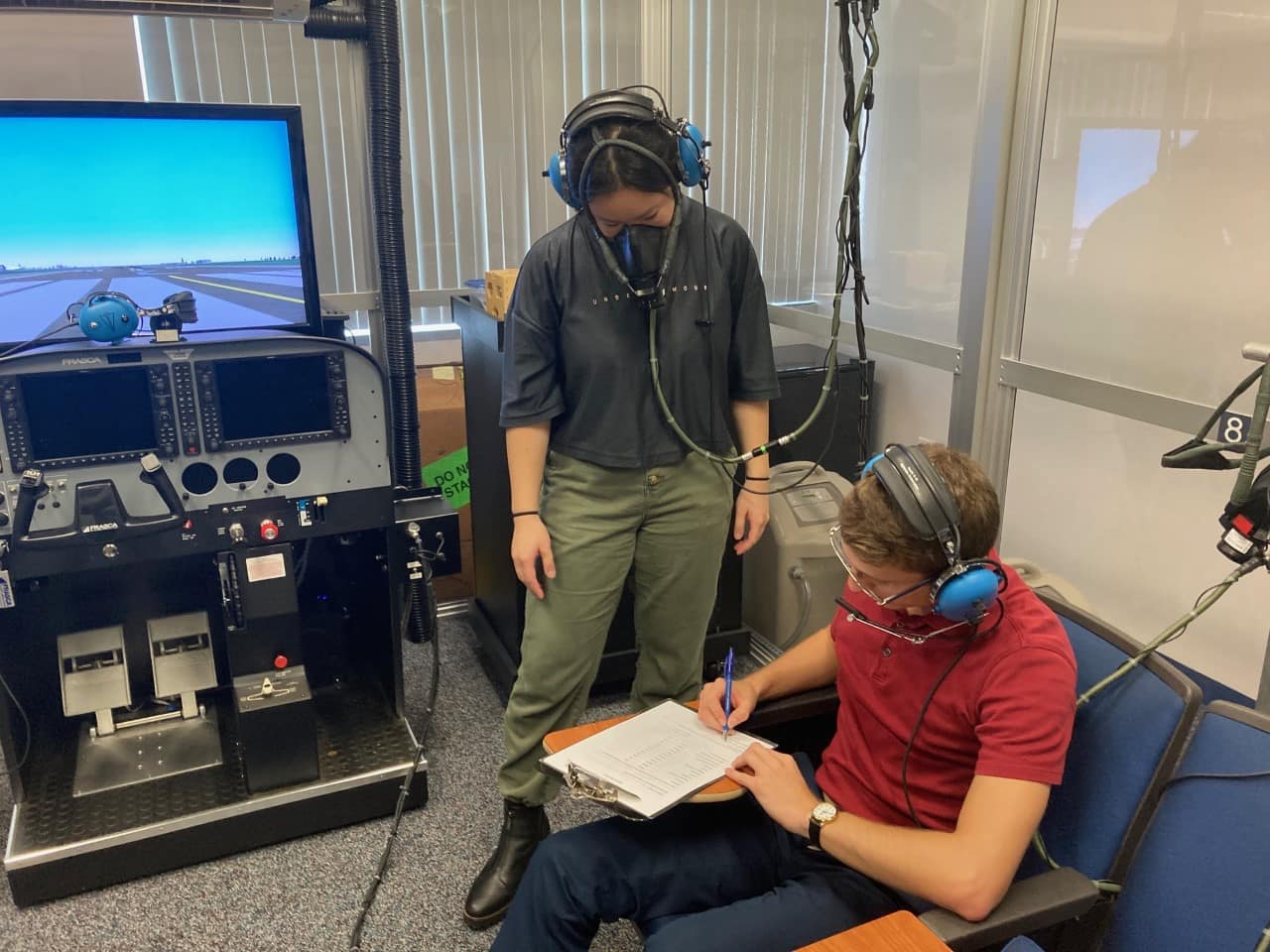 The first time senior Olivia Siu experienced hypoxia — a condition caused by lack of oxygen, sometimes suffered by pilots — she thought she was functioning fairly well.
She was in the High-Altitude Lab (HAL) at Embry-Riddle Aeronautical University, focusing on folding a paper boat. Despite her low oxygen intake, her dexterity was perfect, and each crease of her creation was exact. There was only one problem: Her short-term memory was so compromised that she forgot she had completed the boat and kept folding until it was too compact to fold anymore. The boat she ended up with was one-half the size of the normal version.
"Through this experience, I learned you can't pin more value on one skill over another when under these extreme conditions," Siu said. "The loss of one skill — in my case, memory — can be just as critical as another skill — dexterity — which is why it's really important to watch out for your other crew members."
In a collaboration between Embry-Riddle's College of Aviation (COA) and College of Arts and Sciences (COAS), Siu and some of her COAS classmates in the Aerospace Physiology program are getting firsthand experiences with hypoxia by learning how to help run the HAL for students in Aviation classes, such as Basic Flight Physiology.
"This is one of the most valuable experiences for any student who is interested in the effects of flight on human physiology and performance," said COAS Dean Karen Gaines. "Being able to work in close collaboration with the College of Aviation and the High-Altitude Lab is an example of what makes Embry-Riddle great. Specifically, they are learning the protocols and procedures of the training, which will be invaluable in the workforce. More importantly, this type of experiential learning reinforces what they learn in the classroom regarding how the human body responds to hypoxia."
Dr. Scott Shappell, chair of the COAS department of Human Factors and Behavioral Neurobiology, agreed.
"Imagine being able to go to an employer who asks if you are familiar with hypoxia," Shappell said, and respond, "Not only am I familiar with hypoxia, I have experience training student pilots within our normobaric chamber!"
Dr. John Robbins, chair of the Department of Aeronautical Science, suggested employing Aerospace Physiology students in the HAL this past summer, when faculty were brainstorming how to get the most out of the lab. Today, six Aerospace Physiology students are participating.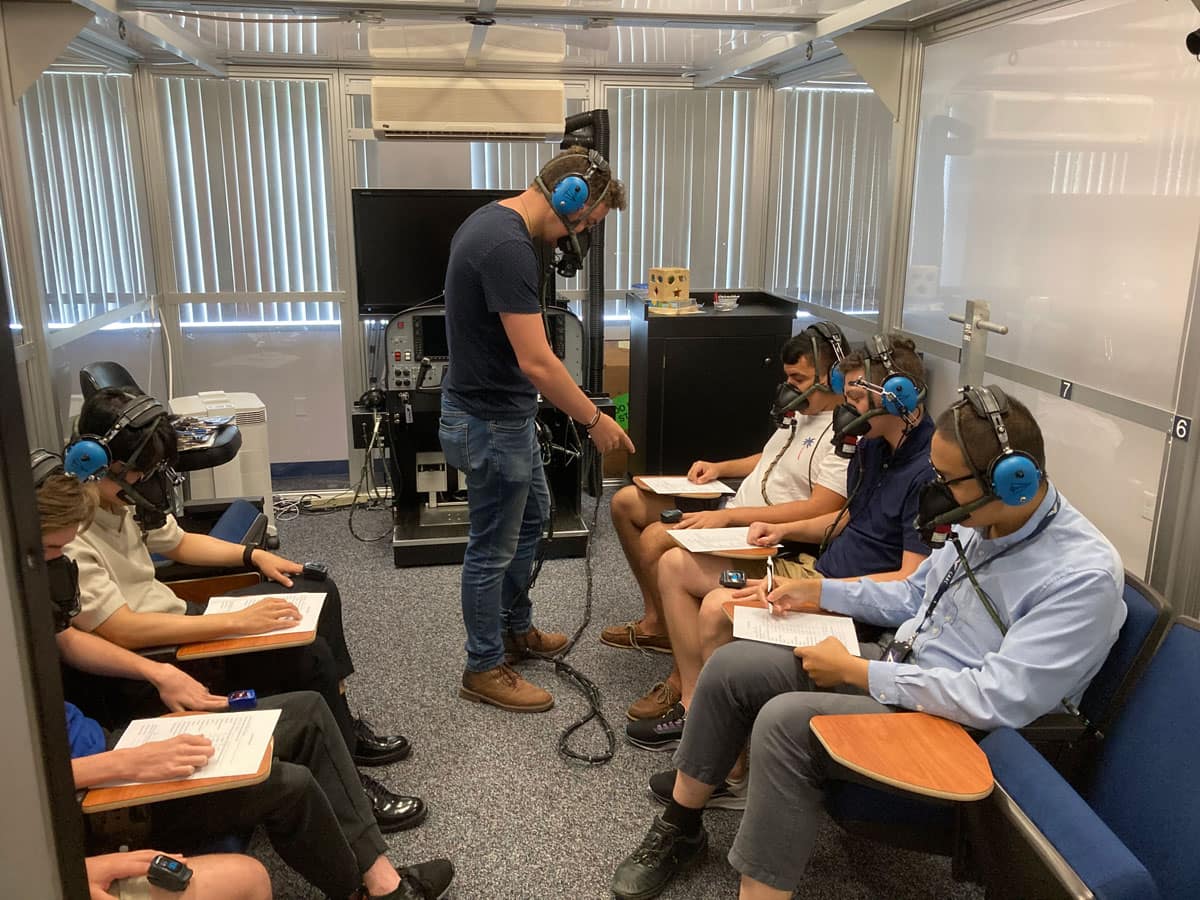 Erik Larsen, a senior in Embry-Riddle's College of Arts and Sciences, leads a session inside the HAL chamber. After graduation, Larsen will attend medical school.
"(They are) already assisting greatly with our ability to execute a demanding HAL schedule," said Scott Wagner, assistant professor in the Department of Aeronautical Science, citing a goal to bring in every student taking Basic Flight Physiology this semester for a HAL session. He also intends to accommodate students who had been waiting for the lab to re-open after a Covid-19-related closure from March 2020 to the beginning of the 2021 fall semester.
"Our newly minted HAL instructors are playing a key role in meeting this objective, in addition to gaining valuable experience themselves in flight physiology, instructional techniques, safety, judgment and leadership," Wagner added.
Giovanna Camacho, who is in her second year of a master's program in Human Factors, said she thinks the experience of helping run the lab will assist her in future job searches by showing that she is "capable of working in a sensitive lab setting and safely monitoring individuals."
COA Dean Alan Stolzer said the HAL collaboration is just one of Embry-Riddle's educational offerings that sets it apart as employers review job applications.
"Employers know that Embry-Riddle graduates have been exposed to high-altitude training and have an understanding of aerospace physiology as well as their hypoxic symptoms," Stolzer said. "That, along with a wide range of other topics our students receive, assure employers that they are hiring the best educated and trained aviation professionals."
Posted In: Applied Science | Aviation | Human Factors