Eagle Researchers Work to Improve Drone Awareness for Airspace and Aircraft Security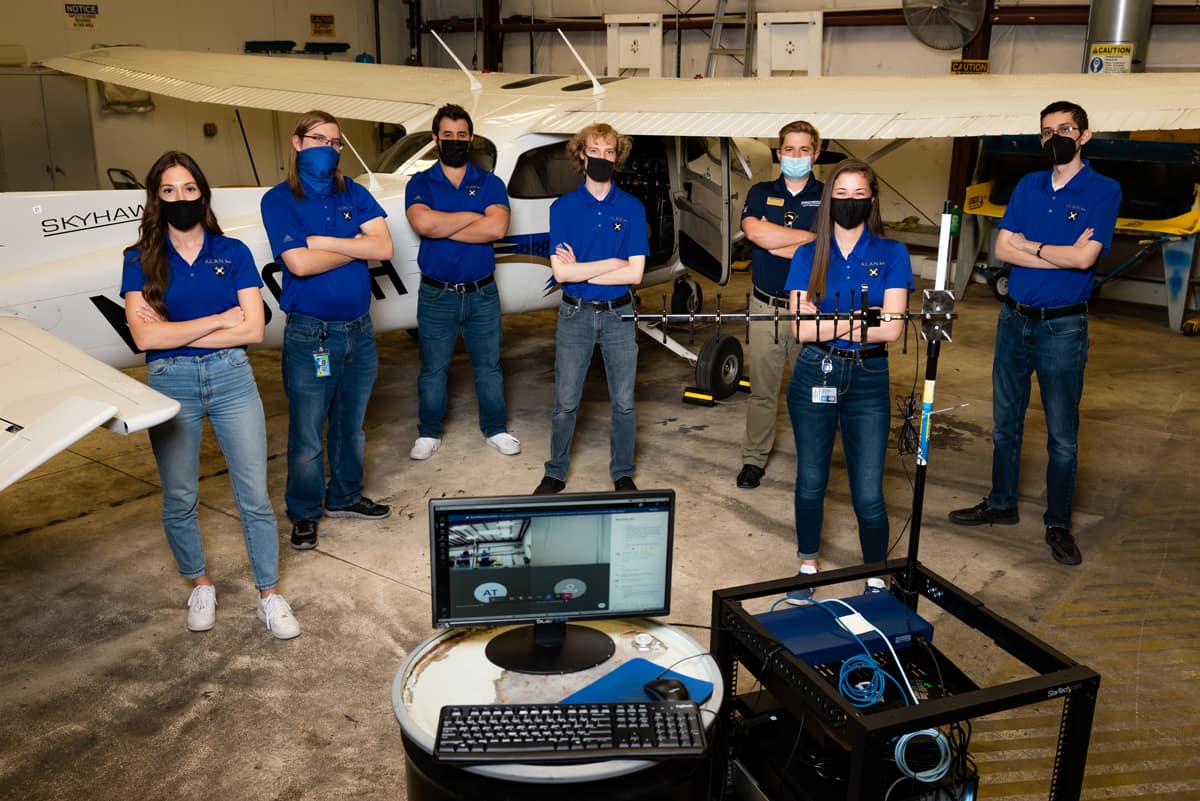 With more and more drones in flight each year and more and more sightings of drones intruding into airspace occupied by manned aircraft, a team of Embry-Riddle Aeronautical University seniors is developing a comprehensive system to quickly, accurately and securely provide aircraft pilots with precise locations of unmanned aircraft.
"A solution to this problem is critical," said Michaela Adams, Cyber Intelligence and Security senior, who is the manager of the project. "There have been incidents where aircraft have been grounded, costing airports and airlines time and money, and some cases where aircraft have collided with an unmanned aircraft system (UAS), causing damage to the aircraft, as well as a risk to the passengers."
Adams — along with Software Engineering majors Drew Grobmeier and Emily Ferrier, and Cyber Intelligence and Security majors Brandon Nepute, Quinn Razak and Jake Coolidge — joined the project as their senior capstone. They were supported by graduate students Mike Ledermann and James Hensleigh and Unmanned Aircraft Systems major Cali Singleton.
The project has been funded by The Boeing Company for two years, and two Boeing employees who are Embry-Riddle alumni, Alan Tomaszycki and Brian Jaury, support the project as subject-matter experts. Students from the Colleges of Security and Intelligence, Engineering, and Aviation, and the Department of Flight at the Prescott Campus have closely collaborated over this period, highlighting the project's inherent cross-disciplinary nature.
"Boeing, along with other organizations, are actively looking for a solution to solve the problem of unidentified UAS vehicles with an emphasis on cyber security," Adams said.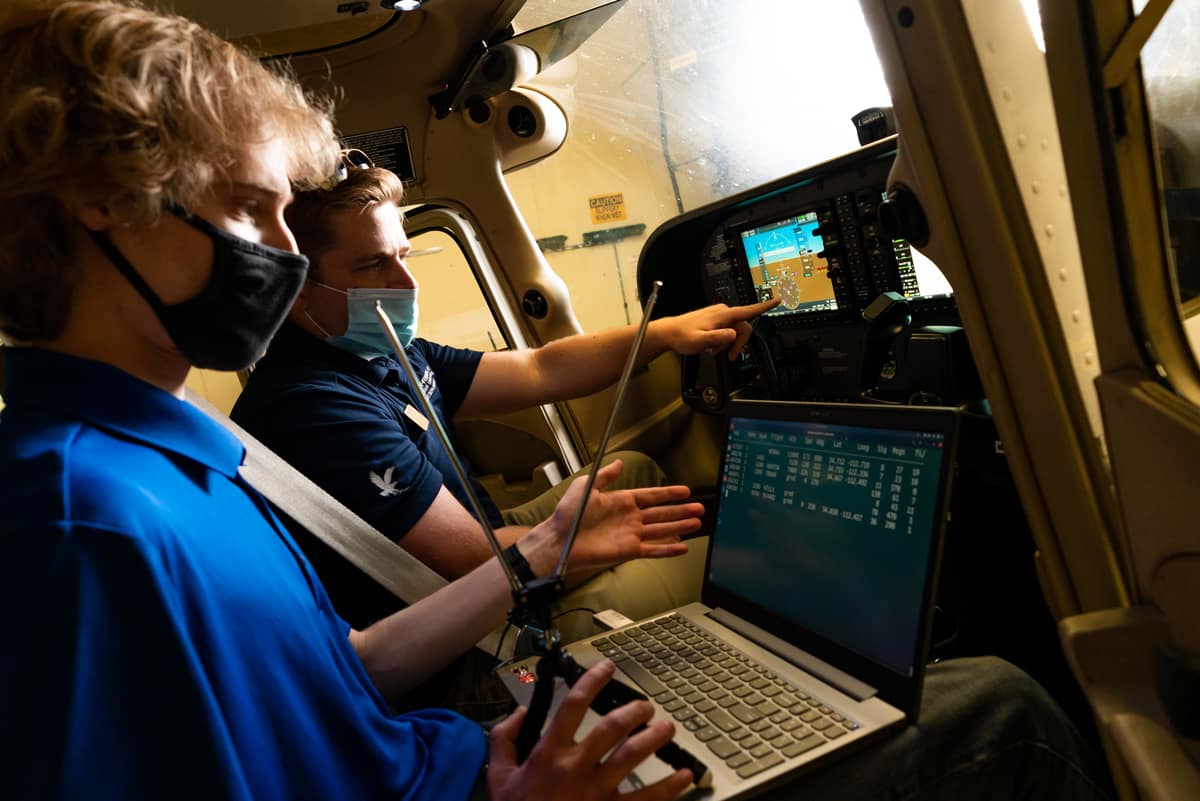 Students Brandon Nepute and Michael Ledermann test new drone-awareness software in the flight deck.
A new rule from the FAA requires that drones broadcast their position information to ground systems for use in UAS traffic management applications. These communications are potentially vulnerable to cyberattacks and currently the information does not go directly to manned aircraft and their pilots. The research team is focusing on securing the identification and positioning of UAS so that it can be transmitted for use in manned aircraft, in existing avionics systems and new applications.
"This is where our project plays a role," said Dr. Krishna Sampigethaya, chair of the Cyber Intelligence and Security Department and faculty advisor for the project. "We seek to mitigate major threats in the drone-position information, as well as demonstrate the value of sharing this validated drone-position information in real time with pilots and their manned aircraft."
Once operational, the system will offer pilots a display, including the position of all nearby drones, thereby improving pilots' situational awareness of air traffic.
To test their system, the research team will transmit simulated drone data to a multi-functional display monitored by a student and a pilot in a Cessna aircraft parked at the Prescott Campus Flight Line. If the project is continued, Adams said, a flight test will be conducted.
Developing the transfer of information so the communications are secure against cyberattacks such as spoofing, in which a false drone position is intentionally transmitted, is an important aspect of the research.
"Secure and safe development of increasingly autonomous systems are a huge concern across the industry," said Adams, who will be joining MITRE Corporation after graduation. "The need for security within these safety-critical systems will be unquestioned in the future, and the students who have been on our team will be ready to step up to this great challenge."
Grobmeier, who has been hired by Northrop Grumman as a software engineer, said, "The skills I learned for this project will surely follow me wherever I go."
"I think the experience of working with this team, working with Boeing and working on drones for the past two years has really prepared me," he added, noting that he has learned how drones work and how to build simulations to mimic them, plus he has been able to talk to industry insiders along the way. "Capstone is designed to challenge students to work hard and learn what it takes to be on a multi-disciplinary team, because this will happen in industry. I have gotten the necessary skills from this project to be the best on whatever project."
Posted In: Aviation | Computers and Technology | Security Intelligence and Safety | Uncrewed Systems