Daytona Beach Campus Secures First Limited Supply of Covid-19 Vaccines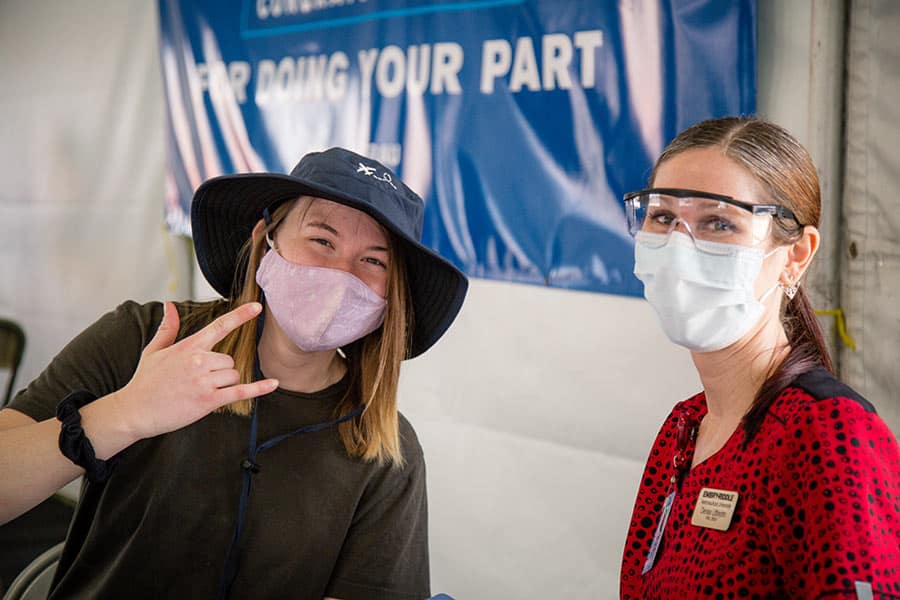 Embry-Riddle Aeronautical University's Daytona Beach Campus today secured an initial supply of 500 Covid-19 vaccines. The first on-campus clinics for those 18 years or older will take place Thursday and Friday, April 8-9, with second doses of the Moderna vaccine scheduled for May 6-7.
Important information follows:
You will receive an invitation soon. That message will include a link where you can request an appointment. Watch for the email.
If you sign up for an appointment on April 8-9, make sure you will be available for your second dose on May 6-7.
Vaccinations will be offered by appointment only. Walk-ups cannot be accommodated.
Embry-Riddle has been promised an additional supply of vaccines on a weekly basis, going forward. If you are unable to get an appointment for our first clinic on the Daytona Beach Campus, we will send you another message about the next clinic as soon as can finalize those details.
We are urging everyone to get vaccinated as soon as possible. The U.S. Centers for Disease Control and Prevention have deemed all currently available Covid-19 vaccines to be safe and effective.
Florida Vaccine Information:
If you don't get an on-campus vaccine appointment, use this VaccineFinder website to locate available vaccine appointments in the 32114 zip code. Students, please do this now so that you will have time to get your second dose before you return home at the end of the spring semester.
NOTE: Florida students who go to community vaccination centers may be asked to show proof of residency such as a Florida driver's license or state-issued ID card. If you do not have these types of ID but you live on campus, stop by the Housing Office, or contact them at Daytona.Housing@erau.edu or (386) 323-8000 to request proof of residency. Off-campus students should gather up two official documents showing their Florida address (i.e., rental agreement, bank statement, utility bill, or the like). Check the Florida seasonal residency requirements online.
Employees as well as students – Orange County is also accepting appointments for vaccinations at the Orange County Convention Center site. Log onto the Orange County vaccine registration site now. One of the categories listed as eligible for vaccination through Orange County is "educator or staff member at a school/college."
In addition, FEMA-run sites in Florida are an excellent option, particularly for employees, from food service personnel to professors. Take your university ID and a driver's license or state-issued ID card. FEMA sites seem to be offering first doses in the morning and second doses in the afternoon. Arrive early.
The FEMA sites closest to the Daytona Beach Campus are located at Gateway Mall, 5200 Norwood Avenue, Jacksonville, and Valencia College – West Campus, 1800 S. Kirkman Road, Orlando. These sites are open 7 a.m. – 7 p.m., seven days a week, no appointment needed. The process is quick and easy. Enjoy the food trucks and free water.
Get your All Clear badge! Those who have been vaccinated for at least 14 days can skip daily wellness checks as well as quarantine and testing requirements, take necessary university-sponsored trips, and assist with summer youth camps by getting an All Clear badge.