Vaccinated? Update Embry-Riddle and Get Your "All Clear" Designation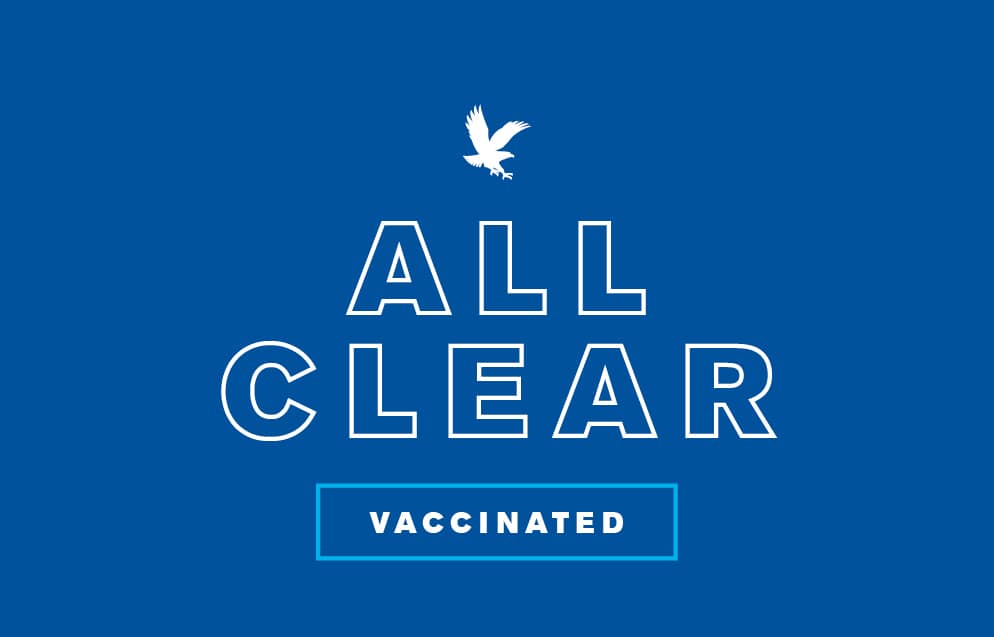 Embry-Riddle is strongly encouraging but not requiring Covid-19 vaccinations, in keeping with U.S. Centers for Disease Control & Prevention guidelines. We are also encouraging but not requiring reporting of vaccinations, so that we can keep an accurate count.
More and more eligible Eagles are getting their Covid-19 vaccinations. Those who have been fully vaccinated (both doses) can bypass Embry-Riddle's daily wellness checks, remove their masks indoors and outdoors, and take part in university-sponsored travel by displaying their "All Clear" designation, shown above.
Submit proof of your vaccination (and other important medical information) in a safe, secure way through the new Medical/Health Portal.
You can find the Medical/Health Portal via "Tools" in ERNIE, or via the ERNIE pages for Daytona Beach Campus Health Services or the Prescott Campus Wellness Center. Within the portal, select "Document Upload" and then select the appropriate drop-down value for the vaccine document you are submitting. Complete instructions for uploading your proof of vaccination can be found there as well.
Health Services and the Wellness Center will produce a weekly report of who is eligible for their All Clear designation. You will be contacted to coordinate the delivery or pick-up location of your All Clear designation. Please allow time for these offices to process the submissions.
Remember – Even after you are vaccinated – if you are sick, with or without fever, you must follow Embry-Riddle's guidelines and stay home! You will also need to continue wearing a mask and staying six feet apart from others.
Review these detailed instructions in ERNIE on how to upload your proof of vaccination.