Corporate Careers Beckon in User Experience Research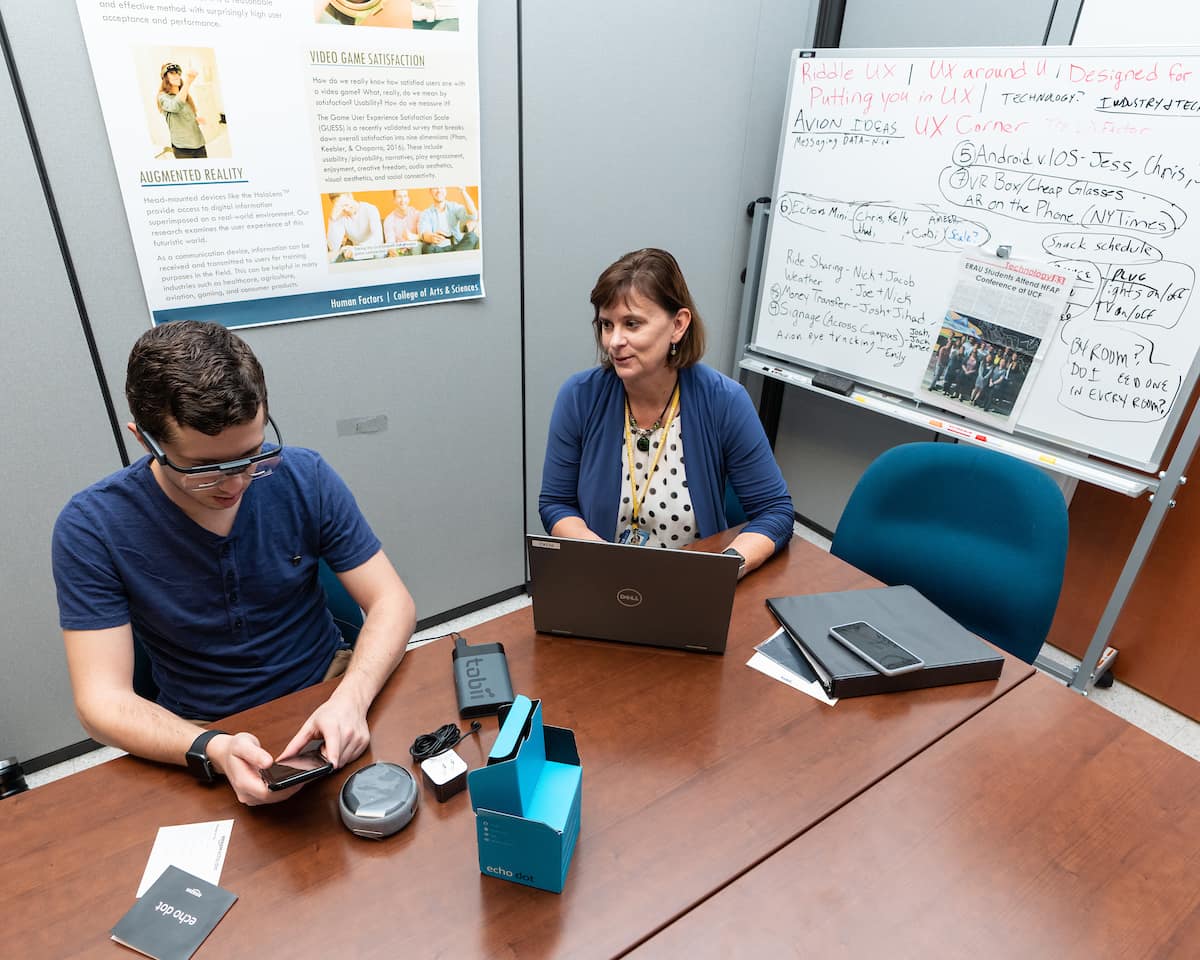 When Dawn Shaikh was an intern at Google in 2006, she was unique in her cohort because she had completed numerous full, beginning-to-end research studies of the user experience of products. This was one of the main aspects of her educational experience that helped her "land her job," she said.
Shaikh, now Google's Director of User Experience, took classes in graduate school with Dr. Barbara Chaparro and worked in her Software Usability Research Lab (SURL) at Wichita State University.
"Working in Dr. Chaparro's Software Usability Research Lab," Shaikh said, "prepared me so well for my future."
Chaparro is now a professor of Human Factors and Behavioral Neurobiology at Embry-Riddle Aeronautical University and director of the school's Research in User eXperience (RUX) Lab. She said she has more than 25 former Ph.D. students "now working at Google, Microsoft, Dell and Fortune 100 companies as user experience experts."
Drawing on her extensive academic and industry experience, Chaparro is just starting to connect the RUX Lab to industry clients so that it will function like a small consulting firm. Her students at Embry-Riddle, where she started work in 2017, are conducting the kind of research and gaining the kind of practical experience that helped Shaikh so much along her career path.
So far, Chaparro's Embry-Riddle students are in the very early stages of helping to improve the websites of six nonprofits near the university's Daytona Beach Campus. At the same time, Chaparro has entered into nondisclosure agreements with several companies wanting to work with the lab, and projects are forthcoming.
"My first year was kind of a building year of getting students skills they need to do this type of thing for industry," Chaparro said. "Now, we're trying to build those relationships."
Making Information More Accessible
In the meantime, her students are experimenting with prototypes of products, such as a mixed-reality headset called a HoloLens that provides the functionality of a Windows computer. Although the device is currently too heavy to be used for long periods of time, it demonstrates a technology that could be used in many industries, including healthcare and aviation. The idea is that the headset could provide specific information, for instance, for an aircraft mechanic who might otherwise need a 300-page manual schematic to make a repair.
As with Chaparro's lab experiments with the HoloLens and other similar technologies, she and her students are trying to develop user-experience evaluation guidelines that could help industry representatives "be comfortable that, as they're developing a new technology, they're covering all their bases so their device will be easy to use," she explained.
Students in the lab are also working on gathering eye-movement data to assess the user experience of everything from student facilities to restaurant menus to — and most prominently — websites. Their findings help researchers know where users look first on a website, what kinds of fonts or graphics might be off-putting and how long it takes them to get to the information they need. Such observation provides objective data points that can be quantified. This is helpful in creating websites and other systems that are more intuitive. It can also make information more accessible for people with disabilities, older people, or other special populations.
"In usability testing, you bring in users, part of the target population," said Chaparro. "If it's a website or app, we have them sit down with the app, and we primarily observe and gather lots of data on what they're doing and whether they are successful. How long does it take them to do things? Also, what do they think about it?"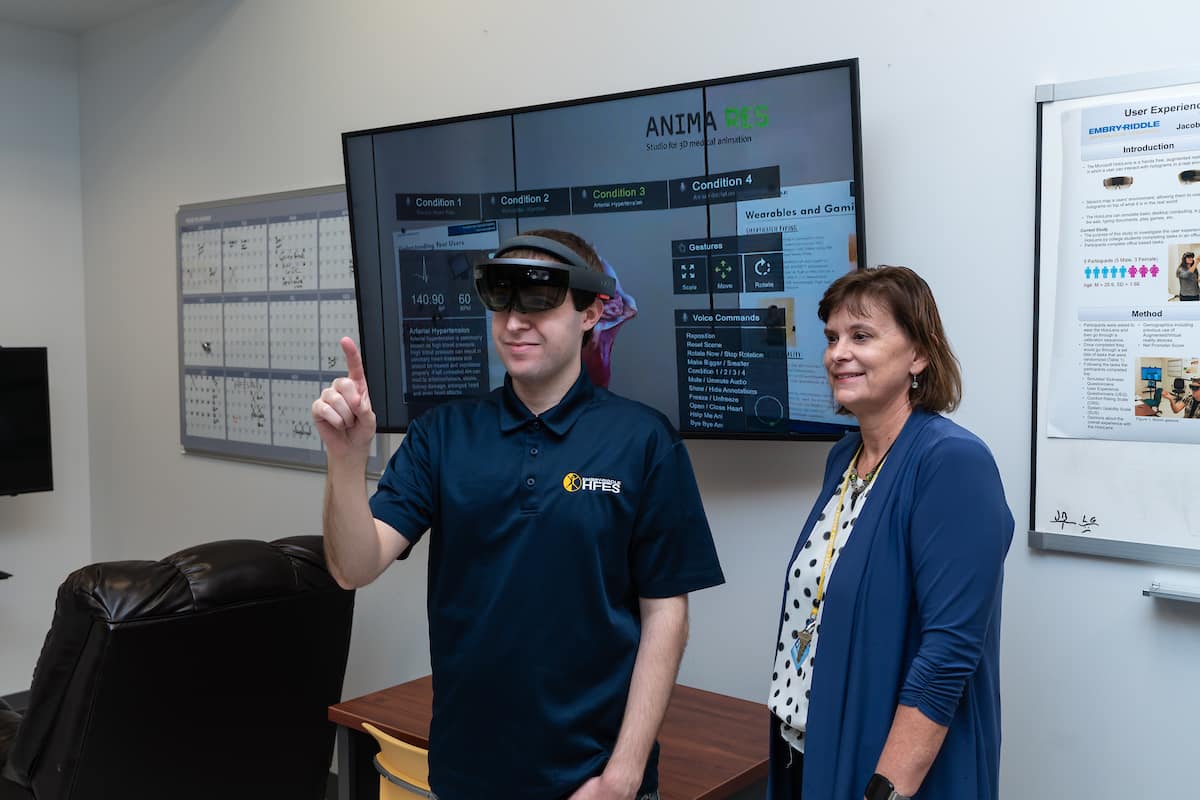 Dr. Barbara Chaparro, professor of Human Factors and Behavioral Neurobiology, coaches Ph.D. student William Shelstad as he demonstrates a Microsoft HoloLens mixed-reality headset connected to a medical training application in the RUX (Research in User eXperience) Lab. (Photo: Embry-Riddle/Daryl LaBello)
Careers with Top Employers
While this kind of research experience helped Shaikh succeed at Google, it was also valuable to Chaparro's former student Jennifer Teves, now a Digital Product (UX) Research Leader at Target.
"I believe that Dr. Barb's lab gave me a competitive edge when I was ready to apply for jobs," said Teves. "My Ph.D. in Human Factors Psychology and the experiences I had in graduate school gave me a great advantage when seeking employment. It has allowed me to fast-track my career progression."
One of Chaparro's Embry-Riddle students, William Shelstad is beginning his own career climb. This summer, he will work as an intern at State Farm insurance. Most likely, he will be evaluating the corporation's website and app to, for example, make it as easy as possible to make a claim using a mobile phone.
Meanwhile at Google, Shaikh visits elementary, middle and high schools to give presentations about her work, and she could not be a more enthusiastic fan of user experience research as a career direction.
"I love this field and feel it is such an amazing intersection of humanity and tech," she said. "The jobs are good. The pay is good. I always tell people that UX research is the best job on earth."
Posted In: Computers and Technology | Human Factors | Research