Bedford Foundation Provides Athletic Camp Scholarships to Local Children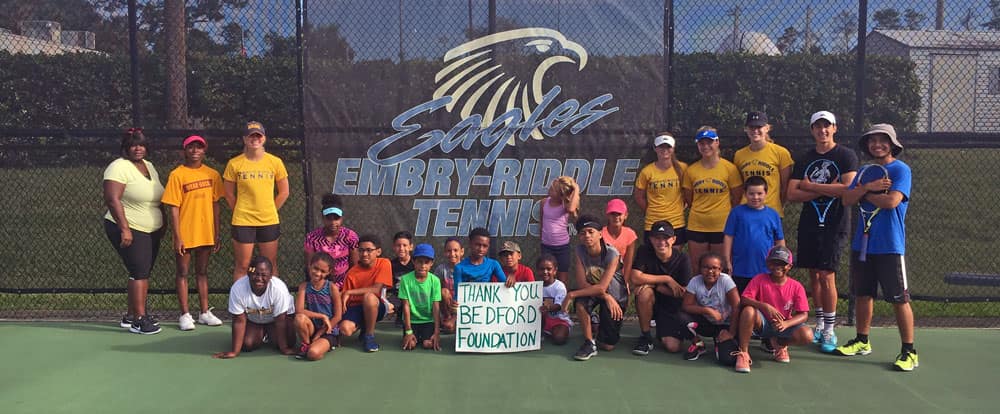 This summer, nine-year-old Adonis Thompson got the chance to take a swing at a new sport.
"We come from a sports background, but we've never done tennis," says Al Thompson, who watched his son Adonis and daughters Paris, 12, and Nya, 5, practice their swings at Embry-Riddle's tennis camp.
The Thompson siblings got that opportunity, thanks to a generous donation by The Edward T. Bedford Foundation that has provided scholarships to dozens of local children who normally would not have had the means to attend the Daytona Beach Campus' athletic camps.
"It helps tremendously," says the New Smyrna Beach father of the camp scholarships his three children received.
More than 100 Volusia and Flagler county children in the past year were awarded scholarships for athletic camps, thanks to the Palm Beach-based Bedford Foundation's support.
"It's been good," says Adonis of his camp experience. "I met new friends, and I like learning tennis."
The financial support from the Bedford Foundation has made a huge impact in our community.
Elementary and middle school students who meet financial need criteria receive training in baseball, soccer, basketball, tennis, volleyball and softball, while experiencing athletic-and character-building opportunities.
"The financial support from the Bedford Foundation has made a huge impact in our community," says John Phillips, director of athletics at Embry-Riddle's Daytona Beach Campus. "For many of these kids, it's their first chance to attend a summer camp program of any kind, and often times is the first time they have ever set foot on a college campus."
The Bedford Foundation started supporting the summer athletic camp scholarships in 2012 and has helped hundreds of low-income and disadvantaged children residing in Volusia and Flagler counties with scholarships over the past several years, says Phillips.
The university's tennis camp program typically awards the most camp scholarships annually, in coordination with the Daytona Beach's Derbyshire Community Tennis program.
Dave Paschal, Embry-Riddle head men's and women's tennis coach, works with the local inner-city tennis program to link up many of its low-income children with camp scholarships. For a week, the youngsters hone their tennis skills, while also participating in activities on the university's campus, like swimming and eating lunch in the cafeteria.
"The opportunities the Bedford Foundation provides are life changing," says Paschal.
Scholarships also allow more experienced players to take their athletic skills to the next level. Lisa Nuxol-Wilson, head coach of the Embry-Riddle women's basketball team, says two girls received scholarships to the university's elite basketball camp, which focuses on player development and extensive skill work.
"I have seen firsthand the positive impact and memories made for the campers who attended our camps, thanks to the Bedford scholarships," says Nuxol-Wilson. "They were able to meet and work with our student athletes, who are great role models for them."
Samantha Gayne says her 10-year-old brother Sam Jones definitely benefitted from the Embry-Riddle summer basketball camp that he was able to attend with a scholarship.
"Not only do they teach the sport of basketball, but they teach the kids the importance of academics, as well as having good sportsmanship," says Gayne. "The knowledge these children gain from this type of experience is phenomenal. It is a wonderful opportunity for the children of this community."
Support Embry-Riddle today.