Aviation Week Op-Ed: Embry-Riddle President Proposes Three Ways to Improve the Aviation Maintenance Pipeline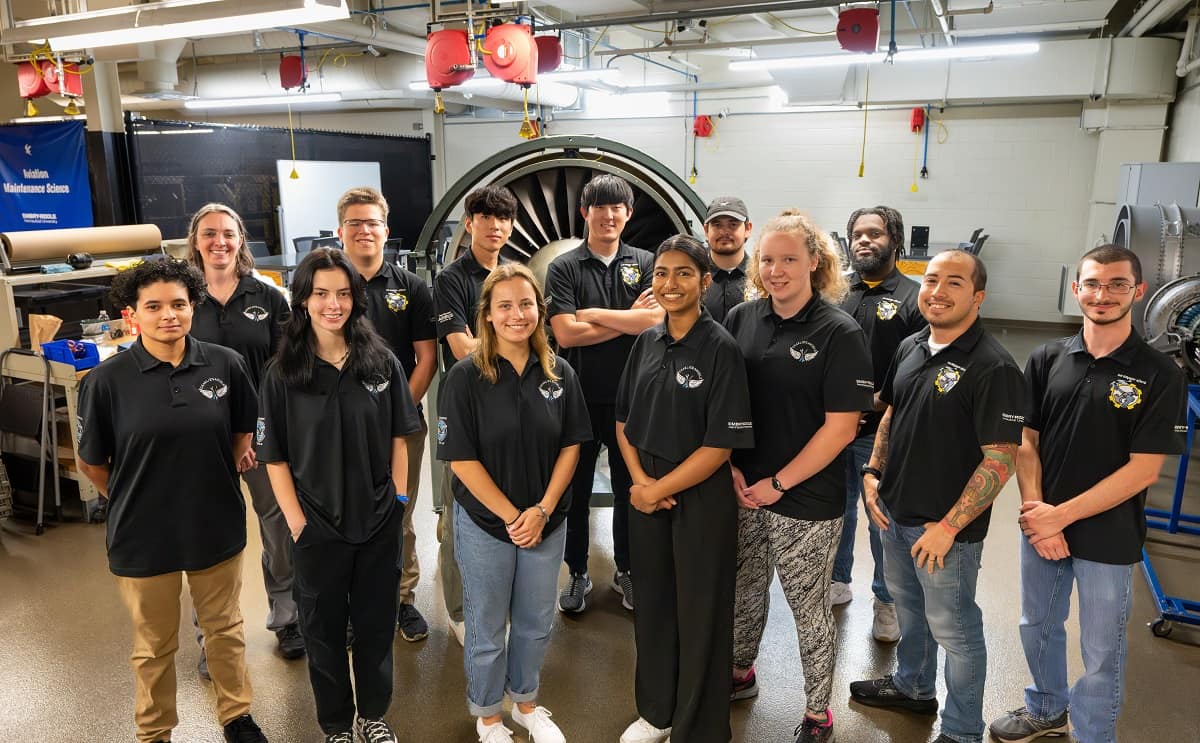 In his latest "Aviation Week"essay, Embry-Riddle Aeronautical University President P. Barry Butler, Ph.D., notes that meeting the need for more aviation maintenance technicians "requires applying all available resources — from industry, government and aviation education." He outlines three promising strategies for building workforce capacity. His latest essay was published by "Aviation Week" on Nov. 3, 2023. Through the Hunt Library, the Eagle community can log onto ERNIE to freely access the op-ed. Alternatively, subscribers to "Aviation Week" can log on here to access the essay, which is also provided below.
By P. Barry Butler
Our industry desperately needs more young people like Tea Galon. A recent email from Galon, an Embry-Riddle Aeronautical University graduate who is now an aviation technician for United Airlines, bursts with enthusiasm for her work keeping aircraft sound and flying. "I love it," Galon writes. "I work on all their airframes, from the [Boeing] 737-8 to 787s. Every night, I'm troubleshooting a different system and learning something new."
With a high proportion of maintenance technicians reaching retirement age, the industry will likely face a shortfall of at least 43,000 technicians by 2027 in North America alone, according to Oliver Wyman. Boeing estimates that globally, some 690,000 new technicians will be needed over the next 20 years to meet demand.
Even a bright spot in this scenario — the FAA conferred 6,929 new mechanic certificates in 2021, a 33% jump from 2020 — cannot erase the dark clouds. Technician school enrollment is growing by only about 2% annually, according to a 2022 pipeline report from the Aviation Technical Education Council.
Solving this requires applying all available resources — from industry, government and aviation education — to draw necessary new talent to the field. Three strategies deserve more attention:
(1) Remove obstacles and open opportunities to those who already have aviation maintenance skills. Recent changes to the FAA Part 147 regulations have shifted training from seat time and credit hours to competency-based training that emphasizes exams, says Cesar Mendoza, chair of the Aviation Maintenance Science (AMS) Department at Embry-Riddle.
Industry and educators are also creating new pathways to maintenance careers. For example, transitioning servicemembers are entering the field through Embry-Riddle's Aviation Maintenance Technology Skill-Bridge Program. Graduates of the nine-week program earn both an Aviation Maintenance Technology Part 65 Certificate from Embry-Riddle and a Boeing 737 Familiarization Certificate from industry partner AAR, and they are guaranteed at least one industry interview.
Similarly, airlines and maintenance, repair and overhaul providers have launched initiatives to attract underutilized military talent. They have also developed training and apprenticeship programs, often partnering with universities or technician schools.
(2) Improve the image of aviation maintenance. Currently, the work is poorly understood, with technicians seen as people who "merely turn wrenches and get dirty," Mendoza said, while this could not be farther from the truth. The complexity of the latest aircraft requires technicians to be versed in new materials, processes, systems and techniques.
Top companies are in an urgent search for certified technicians with leadership skills and higher-level training and education who have a deep understanding of technology, business and safety. Scholarships are needed to support such talent. And academic programs must recruit more technicians to provide top-flight teaching. Fortunately, salaries for technicians are high — half earn a mean wage of $70,000 annually — and are likely to increase. The field offers many other selling points, too: "It's a very dynamic field … not one where the person is going to be behind a desk," Mendoza says.
(3) Recruit high school and college students, including women. Most young people, even those interested in aviation, have little awareness of the career. Choose Aerospace, a nonprofit formed in 2020 that aims to make aviation technical programs more accessible in secondary education, is working to change that. The project hopes to enroll 10,000 students in its aviation maintenance curriculum by 2027.
Moreover, less than 3% of certified technicians are women, offering a grand opportunity to bring more into the field. Hannah Daren, a senior at Embry-Riddle, initially enrolled to study engineering but discovered the major was not a fit. An advisor urged her to enter our AMS program. "I really did not even know this major existed," Daren writes in an email. "But I have always liked being hands-on."
At the 2023 Aerospace Maintenance Competition, Daren and her team earned the top spot in the education category, the first all-women team to do so. Galon, also part of the team, said she had not considered the AMS program until a campus tour. "I wanted to be a pilot, but I found myself bored flying," she said. "I always liked fixing things, so it was perfect."
There are thousands more young women like Daren and Galon out there. Young men, too. It's time for the aviation world to find them.
P. Barry Butler is president of Embry-Riddle Aeronautical University.
Posted In: Aviation