Embry-Riddle All-Women Team Makes History at Aerospace Maintenance Competition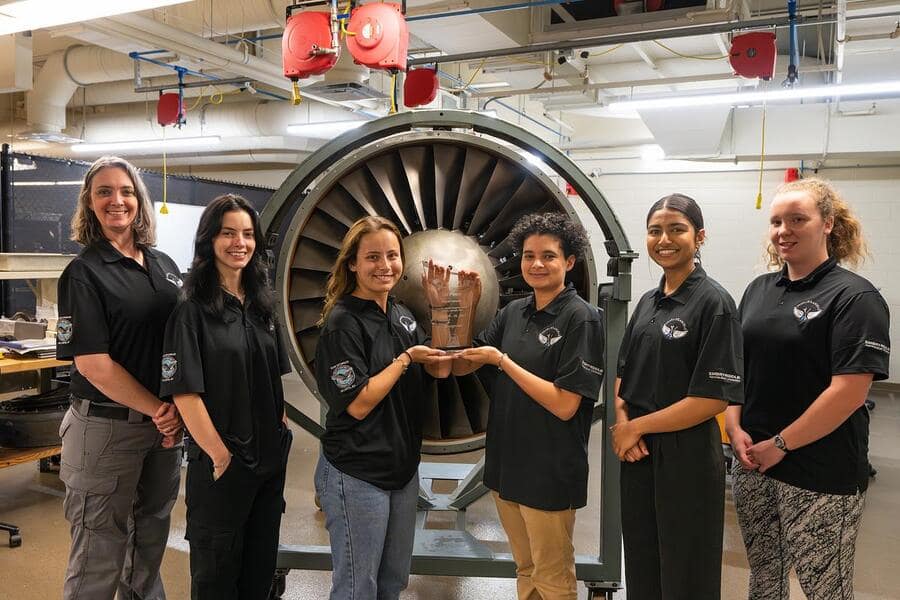 Hannah Daren and Shelby Quillinan gripped hands as they listened to the winners being called at the global Aerospace Maintenance Competition.
They had been in this position before, with teammates Tea Galon and Iram Rai. Last year, the four Aviation Maintenance Science (AMS) undergraduates performed as part of Embry-Riddle Aeronautical University's first all-women team at the event. Now, they were joined by Aerospace Engineering undergraduate Cassie Savukinas in the annual competition, in which professional, military and student maintenance technicians engage in more than two dozen events.
"I was pretty confident going in," said Daren, a junior and the team's captain.
The team not only brought home first place in the Education Category but made history at the competition, becoming the first all-women team to take the top spot in that division.
"As soon as they said Embry-Riddle, you can hear all of us just start screaming together," Daren said. "Because we, as a team, went through a lot."
The team — sponsored by Pratt & Whitney — had been training since October, sometimes practicing three days a week. Rai, a senior, said they knew what to expect after last year's competition, which allowed them to recreate some of the events. Much of the training focused on cutting down their times, said Galon, a senior who also serves as the president of the campus's Society of Aerospace Technicians.
For events they couldn't practice, they pored over manuals. Galon and Rai also traveled to Indianapolis to train with the Fed-Ex team, focusing specifically on the Cargo Lock and Safety Wire events.
The Safety Wire event — otherwise known as the "box of blood," according to Galon, because of how easily "you can cut yourself" — is rarely finished by student teams. Galon and Savukinas, however, finished it in 13 minutes at the competition.
More than 80 teams participated in the tournament, organized by the Aviation Maintenance Council and held April 17-20. The team divisions included commercial aviation, general aviation, space, education, military, aviation maintenance repair overhaul and original equipment manufacturing companies. Among the 32 competing university teams, two came from Embry-Riddle.
"I'm very proud of both of our teams that competed," said College of Aviation Dean Alan Stolzer. Of the all-women team, he said, that "they knocked it out of the park."
In the 26 events, all the teams competed against each other, no matter their division.
The Embry Riddle women took first place in the Barfield Air Data Test and the 8Tree & Alaska Airlines Airframe Damage Inspection events, surpassing even the professional teams. Galon and Rai performed a leak test of the Pilot-Static system during the air data test.
"We had no practice at all, just walked in there and asked the questions," Galon said.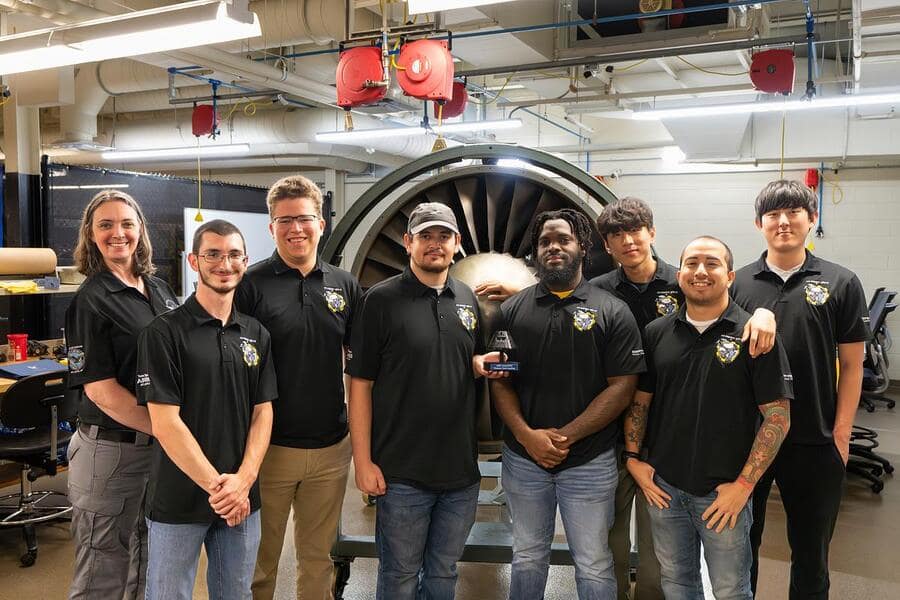 A second team of Embry-Riddle students, who called themselves the Smokin' Rivets, earned 10th
place among the 32 teams competing in the Education Category at the 2023 Aerospace Maintenance Competition.
Of the 84 teams that competed, Embry-Riddle's all-women team ranked 15th overall. They also took home the Dream Team award.
Aviation Maintenance Science assistant professor Cristin Klaus, the faculty advisor to Embry-Riddle's two teams, said that "it was emotional" for her to watch the women win. Klaus recalled her trajectory as the only female in her Army unit, where she was training to become a Black Hawk helicopter technician.
"For my entire career, until I came to Embry-Riddle, I was either the only female or one of the only females," she said. "I'm very proud to have been there to watch them work hard and to see them accomplish their goals."
Galon, who will be working for United Airlines upon graduating, said she is already looking to join the airline's all-women team, Chix Fix, for next year's competition.
"Taking home first place means a lot," she said. "This is my last year (as a student)."
Rai said a significant benefit of the competition is the recognition it provides when applying for jobs — especially since aviation maintenance technicians are in such high demand.
The Boeing Company forecasts the need for 610,000 maintenance technicians globally over the next 20 years, according to its 2022 Pilot and Technician Outlook. The consulting firm Oliver Wyman estimates that the aviation industry is likely to face a shortfall of more than 40,000 technicians by 2027. Drawing more women into the profession is one way to fill the gap, the authors of the firm's report wrote.
Women currently make up just 2.6% of the maintenance technician labor force, according to a 2022 Women in Aviation Advisory Board report. That is the lowest percentage of women in any aviation profession, which has long struggled with a lack of women in specific roles.
"You can't fly a plane unless the planes are properly fixed," Galon said. "So you really need technicians, but no one is preaching about it. I just wish there was more of a drive to get technicians out there, and even more so, girls."
"People are always saying we need more females in STEM (science, technology, engineering, and mathematics)," added Savukinas, who is a freshman. "But everyone always forgets about AMS. I think that this (win) really is going to highlight maintenance a little bit more in the school and overall."
Klaus called the victory a critical steppingstone for future generations.
"We have high schoolers come through and students who do tours," she said. "Somebody walking through the atrium will see the wall for the Society of Aerospace Technicians club, and they'll see a group of girls right there."
Posted In: Aviation