Army ROTC Honors Record Six Cadets with National Distinction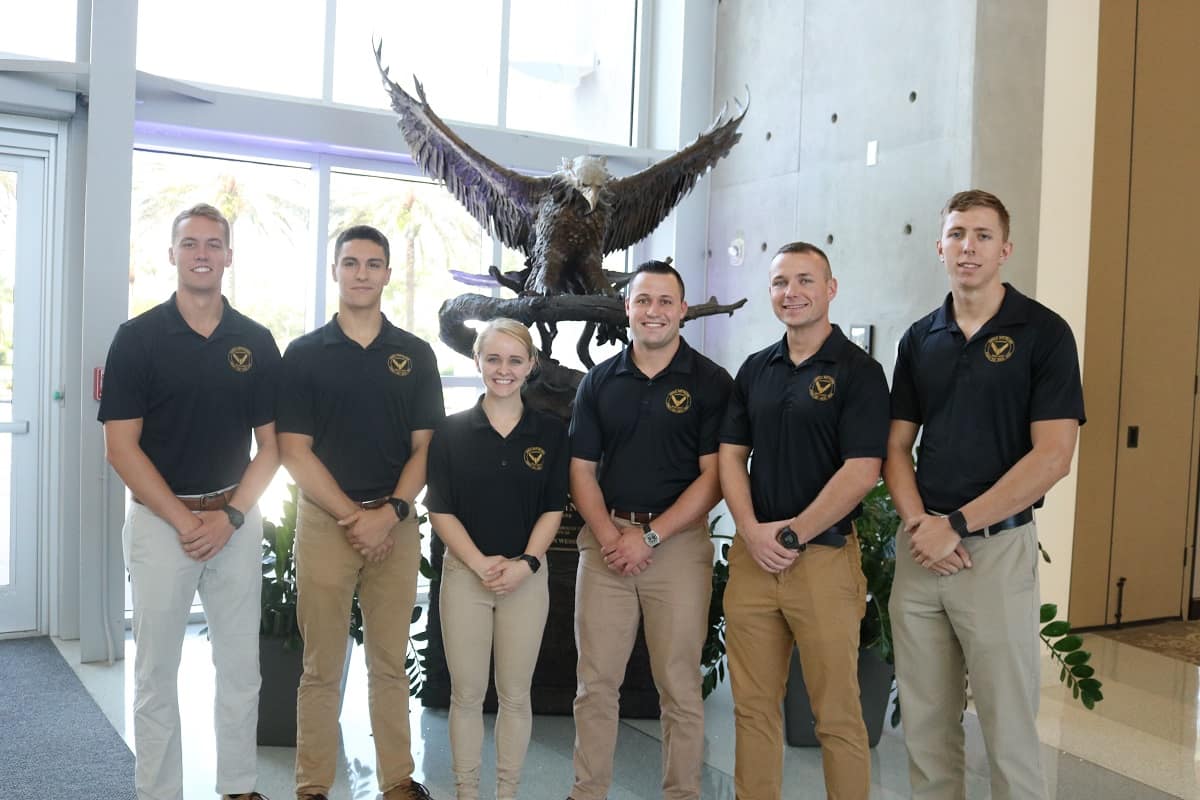 For the first time ever, Embry-Riddle Aeronautical University's Army Reserve Officer Training Corps (ROTC), on the Daytona Beach Campus, had six cadets recognized in the top 10 percent of Distinguished Military Graduates in Cadet Command's Order of Merit List, which honors the most well-rounded cadets in the nation based on physical fitness and academic tests, grade point average, advanced camp rating and participation in internships/extracurricular activities.
"This speaks to the quality of leaders we have in the organization," said Lt. Col. Robert Moyer, professor of Military Science. "It's really a telling sign that the cadets are taking ownership of the program."
The Eagle Battalion's 2019 class of Distinguished Military Graduates includes Cadet Lt. Col. Keenan Kost, an Aerospace Engineering major from Mount Jewett, Penn.; Cadet Maj. Jacob Lamar, an Aeronautics student from Atlanta, Ga.; Cadet 1st Lt. Vincent Adelizzio, an Aerospace Engineering student from Williamsville, NY; Cadet Capt. Andrew Lane, a Homeland Security major from Winter Park, Fla.; Cadet Capt. Austin Haven, an Aviation Business Administration major from Virginia Beach, Va.; and Cadet 1st Sgt. Alyssa Dunstone, a Human Factors Psychology student from Sarasota, Fla. All six cadets are set to graduate in May 2020. The battalion's 2018 class featured eight graduates who earned this distinction — all ranked in the top 20 percent in the nation.
"I think where the Eagle Battalion excels is in the positive culture that we have created and in the high standards that the cadets have continually met or exceeded," said Capt. David Hendricks, Military Science III instructor. "We create opportunities but it is up to the individual to put in the work. The six Distinguished Military Graduates have demonstrated that they have done the work and taken advantage of every opportunity provided them."
Earning this distinction is additionally important to cadets because it helps in securing their top choices in regards to branch (aviation, engineering, infantry, cyber, etc.) and component (Active Duty, U.S. Army Reserve, Army National Guard) once they commission into the military after graduation.
"Getting top 10 percent was a big deal to me because now I know I am guaranteed my branch," said Eagle Battalion Commanding Officer Cadet Lt. Col. Kost.
Cadet Lt. Col. Adelizzio, who hopes to commission Active Duty aviation next May, agreed. The road hasn't been easy, he noted, "but I'm happy because I worked a long time to do as best as I could."
Eagle Battalion is comprised of cadets from Embry-Riddle, Stetson University and Bethune-Cookman University.
Duty. Discipline. Excellence.
In addition to this most recent honor, Embry-Riddle's ROTC programs have accumulated a variety of other recent distinctions. The Naval Reserve Officer Training Corps (NRTOC) at the Daytona Beach Campus took home top finishes at the Mardi Gras National Drill Competition in March and, most recently, Retired Lt. Col. Oakland McCulloch, recruiting operations officer, was named the National Army ROTC Recruiter of the Year.
The Air Force ROTC at the Prescott Campus also produced the No. 1 "Outstanding ROTC Cadet of the Year" — student Austin Fischer — as named by the 2018 Air Force Association. The Prescott Campus's Strike Eagle Club, consisting of the Air Force ROTC Honor Guard, Rifle Drill Team and Sabre Drill Team, was ranked among the "best in world" in the 54th-annual Southern California Invitational Drill Meet, as well.
Additionally, Embry-Riddle's two Air Force ROTC detachments, from the Daytona Beach and Prescott campuses, form the largest university-based Air Force commissioning source in the nation. AFROTC Detachment 157, founded at Embry-Riddle in 1972, now produces the most rated (pilot, UAS, combat systems, etc.) officer candidates for the Air Force outside of the Air Force Academy.
*Pamela Torrez, cadet/senior, contributed to this report
Posted In: Institutional News