Students Direct Hands-On Engineering Fun for Children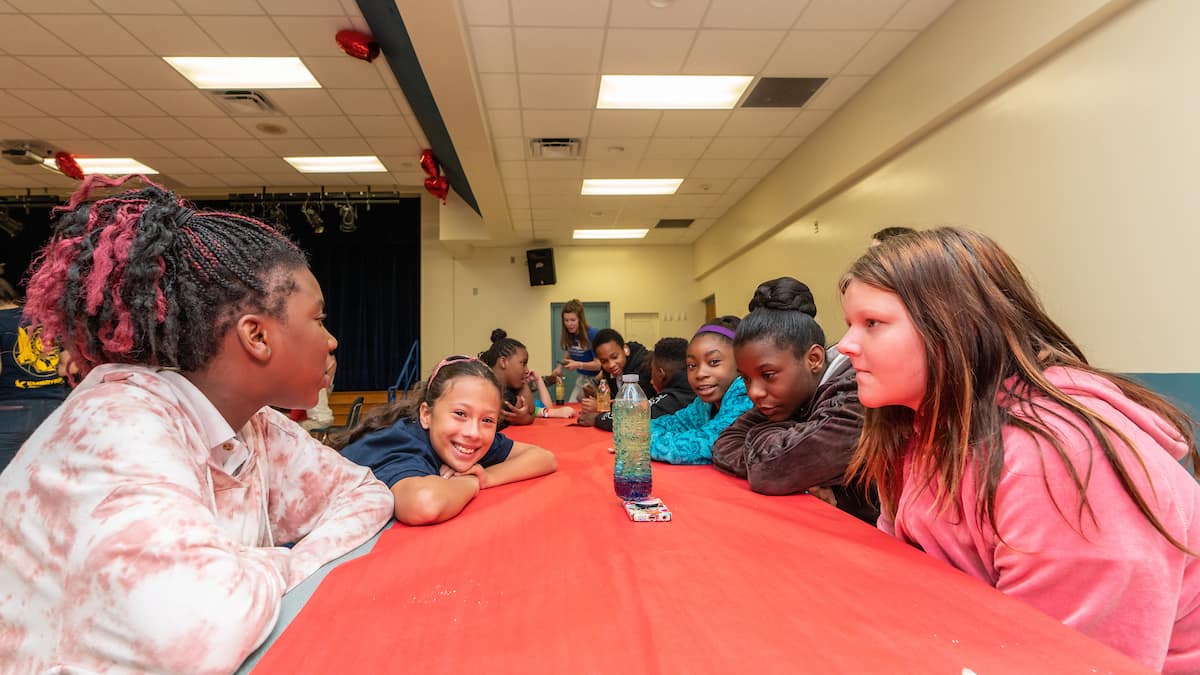 Bubbly, colorful lava lamps and miniature clay boats were the focus of hands-on engineering activities this week when Embry-Riddle Aeronautical University students visited three Volusia County, Fla., elementary schools.
The activities, developed by student Natalie Hahn, president of the Society of Women Engineers on Embry-Riddle's Daytona Beach Campus, introduced children to core concepts during National Engineers Week.
For example, lava lamps containing water, oil, food coloring, and an antacid tablet demonstrated the release of carbon dioxide – a chemical reaction – as well as the density of the different substances. Similarly, a game in which children were asked to dance after arranging themselves shoulder-to-shoulder, or slightly apart, or at arm's length illustrated the behavior of molecules in solids, liquids and gases.
Mechanical Engineering student Megan McDede, a member of Embry-Riddle's STEM Outreach club who helped lead the activities with fourth- and fifth-graders, said that raising children's awareness of engineering is key to expanding the talent pipeline.
Gesturing to a half-dozen other Embry-Riddle students at Turie T. Small Elementary School, McDede said: "All of us have a background where we either didn't have opportunities to get involved with STEM as kids, or we did and we want to pass that baton forward, to let kids know about all the great careers in STEM."
During their school visits, Embry-Riddle students introduced themselves based on their career goals. Hahn said she wants to "get a job building planes for the military," for instance. Others shared their goals to build or fly spaceships and aircraft.
"STEM outreach activities are a wonderful way to de-mystify engineering and build children's confidence by showing them they have what it takes to become engineers," said Dr. Maj Mirmirani, dean of Embry-Riddle's College of Engineering on the Daytona Beach Campus.
"As a nation," he added, "we need to build a robust, diverse engineering workforce to drive innovation and find solutions for critical 21st Century problems that impact quality of life for everyone – from producing clean and affordable energy to providing access to clean water, restoring and improving urban infrastructure, securing cyberspace, and advancing personalized medicine."
In addition to Turie T. Small Elementary, Embry-Riddle students this week visited South Daytona Elementary and Palm Terrace Elementary schools.
Carol A. Faller, who managed the outreach effort and serves as administrative assistant to associate deans in Embry-Riddle's College of Engineering, said: "We're very grateful to our local school partners for the opportunity to show children that engineering is both fun and accessible to them."
School liaisons who provided enthusiastic support for the effort included Dr. Yoder Milton, intermediate teacher at Turie T. Small Elementary; Ms. Debbie Reiblich, science intervention & technology teacher at South Daytona Elementary; and Mr. Paul Struska, assistant principal at Palm Terrace Elementary.
Members of many different Embry-Riddle student clubs took part in organizing the elementary school visits. These included the following groups:
SWE – Society of Women Engineers
STEM Outreach – Science, Technology, Engineering and Mathematics Outreach
ERPL – Engineering Rocket Propulsion Lab Club
AIAA – American Institute of Aeronautics and Astronautics
ASCE – American Society of Civil Engineers
SHPE – Society of Hispanic Professional Engineers
NSBE – National Society of Black Engineers
ITE – Institute of Transportation Engineers
Sigma Gamma Tau
BMSE – Biomedical Systems Engineering Club
WIE – Woman in Engineering
SGA – Student Government Organization
Men's Ice Hockey Team