Professor Awarded Educator of the Year by ACFE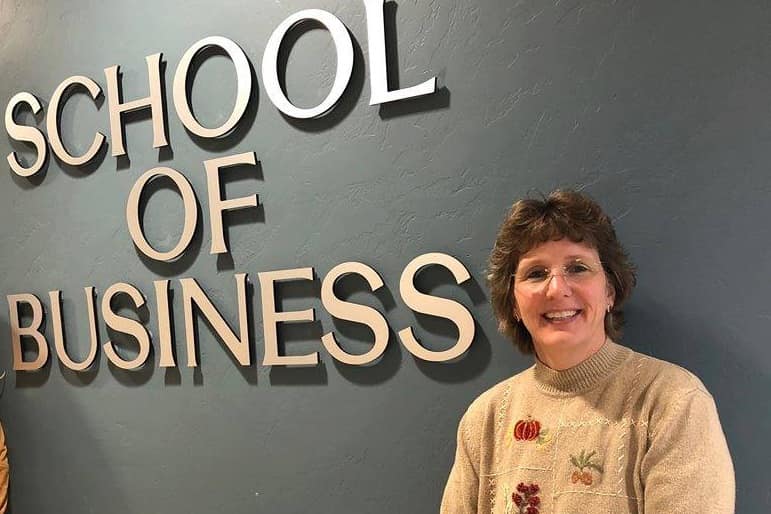 The Association of Certified Fraud Examiners (ACFE), the world's largest anti-fraud organization, has named Embry-Riddle Aeronautical University accounting professor, Dr. Cindy Greenman, Educator of the Year. The prestigious ACFE Outstanding Achievement Awards recognize the contributions of professionals worldwide. There are more than 85,000 ACFE members representing a wide range of industries and a variety of job functions.
The Educator of the Year Award is presented to an ACFE member teaching in a college or university who has made an outstanding contribution in anti-fraud education. Factors that were considered in selecting the recipient are:
Anti-fraud curriculum development efforts at his/her college or university;
Anti-fraud education guidance for students and impact on guiding students toward the anti-fraud profession;
Influence in encouraging anti-fraud educational growth, training and classroom offerings at his/her college or university; and
Publications and professional accomplishments
"I was excited to be nominated -- I never dreamed I'd actually win," said Greenman. "If you look at the list of the past winners – they are the top educators in this field. They are the people writing the textbooks and the people I learned from. To be recognized alongside their names, is something very special to me."
Greenman has been a professor at Embry-Riddle's Prescott campus since 2011 and is currently the program chair for the university's Forensic Accounting and Fraud Examination (FAFE) program. Prior to Embry-Riddle, she spent 15 years in managerial and public accounting in Michigan. She has been a member of the ACFE since 2004 and a Certified Fraud Examiner since 2012. Her goal is to help students find their niche.
"I want FAFE students to be prepared for any and all job opportunities related to accounting," said Greenman. "Our program has a 100 percent placement rate. I have graduates working for three-letter agencies, as compliance officers at major corporations, as bank auditors and in CPA firms."
"This is a well-deserved award and recognition for Dr. Greenman who is focused on building a world-class Forensic Accounting and Fraud Examination Program," said Dr. Thomas Drape, Director of Embry-Riddle's School of Business. "Her dedication and commitment to the success of each and every one of her students is inspiring and sets a standard for our School of Business."
For more information about Embry-Riddle's FAFE program, visit:
https://erau.edu/degrees/bachelor/forensic-accounting-fraud-examination