Human Resources Dept. and TIAA Take First Place in the "Special Projects" category at the 2019 Eddy Awards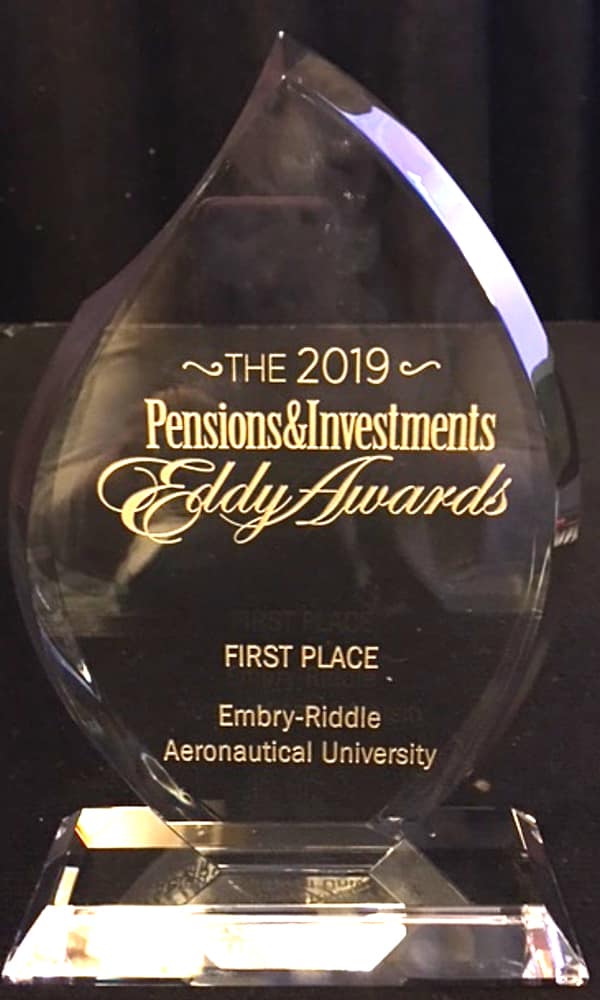 At the Pensions & Investments' Eddy Awards ceremony at the East Coast Defined Contribution Conference, Embry-Riddle's joint awards submission with TIAA, the university's benefits management partner, won first place in the "Special Projects" category for special investment education and communication programs for plans with 1,000 to 5,000 employees.
"We worked with TIAA to create a custom savings and match email outreach campaign entitled Set a Course for Success, with the goal of ensuring that each employee was taking advantage of the retirement savings match provided by the university as much as possible," said Kenny Corbin, Embry-Riddle director of HR operations.
The submission of the campaign to the Eddy Awards contest was encouraged by TIAA, who said they were impressed with the insight and knowledge the Embry-Riddle benefits team shared with participants and noted that this added to the success of the communications campaign that saw an increase in employee investments as well as many first time contributors joining the savings matching plan.
"The campaign was very effective and the Eddy Award emphasizes how the Human Resources benefits team and TIAA work together for the continuing financial success of our employees."
For more information, contact the Human Resources Department at (386) 226-6145 (Daytona Beach, Worldwide) or (928) 777-3700 (Prescott).