How to Make the Most of Your Tour to the Daytona Beach Campus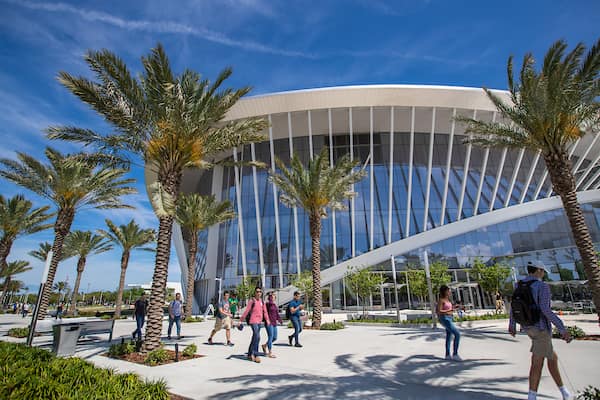 If you are considering becoming an Eagle, the best way to make your decision is to take a trip to Embry-Riddle's residential campus in Daytona Beach, Florida. Campus tours are available Monday through Friday in the spring and fall and start at 9 a.m., 11 a.m. and 2 p.m. During Preview Day in the spring, accepted students can experience student life first hand; during Open House in the fall, high school students have the opportunity to tour campus.
All student tours start with a presentation and include a tour of the residence hall and the impressive Mori Hosseini Student Union, home to several eateries, student organizations and the Hunt Memorial Library. Visitors can customize their tour based on interest in a specific degree program or area of research.
"We suggest that students set aside at least three hours to tour the campus, but the more time they can allot the better," said Rita Burmester, Daytona campus visit coordinator. "There's so much to see and do that you could easily spend a whole day here."
Customize your tour
You have the freedom to choose the academic tour that best matches your interests. An engineering and technology tour allows visitors to explore Embry-Riddle's top-notch engineering labs at Lehman Building of Engineering and Technology. Other colleges you can tour include the David B. O'Maley College of Business, College of Arts and Sciences, College of Aviation and Aviation Maintenance Sciences. If you're interested in ROTC, you can add an Air Force, Army, or Naval ROTC briefing when you schedule your tour.
Take time to connect
Visitors have the opportunity to experience life as a student in Daytona and can work with the admissions and campus tour staff to attend classes or meet with professors and students while visiting. You can also learn more about student activities, Greek life and clubs, residential halls and campus services. "Take any opportunity you can to have a well-rounded experience," said Embry-Riddle senior Kristen Chadwell. "There are so many great clubs and activities on campus that can help prepare you for life after college."
If your schedule allows, consider attending a game to support the Eagles Athletics teams, or visit during one of the Observatory Open House events to spend the evening star gazing from the rooftop of the College of Arts & Sciences. There are also lots of fun activities around town that your family may enjoy.
Get your questions answered
Take time to get any questions answered about the admissions process, program requirements, financial aid and scholarships. You will have the opportunity to meet with admissions staff to get detailed information about their academic opportunities. "It's never too early to visit or start meeting with admissions," said Katelin Comer, Embry-Riddle Admissions Visit Office Counselor for the Daytona campus. "We have such great faculty and passion on campus that everyone gets to experience this first-hand when they come."
For more information about visiting Embry-Riddle, schedule a tour here.