Graduates of the Practicing Leaders Program Demonstrate Leadership through Giving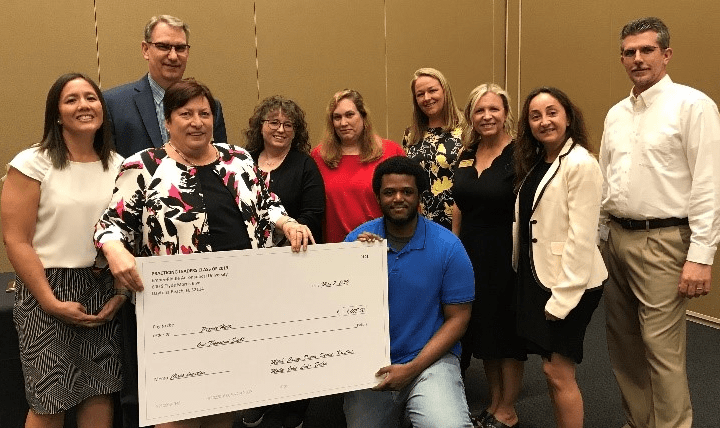 The inaugural Embry-Riddle Leadership Institute's Practicing Leaders cohort demonstrated leadership through philanthropy as the seven-month program concluded May 7 with a gift to the Project Haiti clean water outreach effort.
Since the devastating 2010 Haitian earthquake, Embry-Riddle students and faculty from engineering, human factors and business disciplines have traveled to Haiti at the end of the spring semester to help bring clean water to local Haitian communities in desperate need by building and installing solar-powered water purification systems while helping residents start micro-businesses selling clean water to others.
"As the inaugural class for this professional development program, we wanted to set a meaningful precedent for future classes by choosing such an important project to partner with," said Denise Lind, Practicing Leaders graduate and director of financial projects in the University Finance and Budget Office.
Lind was one of nine faculty and staff who graduated from the Practicing Leaders Program. Other graduates are:
Mitch Aten, University IT
Dr. Debra Bourdeau, Worldwide College of Arts and Sciences
Casey Brown, University IT
Dr. John Griffith, Worldwide College of Arts and Sciences
Dr. Leila Halawi, Worldwide College of Business
Molly Justice, University Marketing and Communications
Kristina Morton, Daytona Beach Office of the Registrar
Dr. Donna Roberts, Worldwide College of Arts and Sciences
The model and design of the Practicing Leaders program focuses on research-based curriculum, taught by university faculty and campus leaders. Participants completed several assessments and discussion topics over the course of the program such as leading in a changing environment, diversity in the workplace and business acumen.
For more information regarding the Practicing Leaders Program, contact Organizational Development at
OD@erau.edu
or visit
Leadership Institute's webpage
.