Daytona State College, Embry-Riddle Solar Home for International Competition Breaks Ground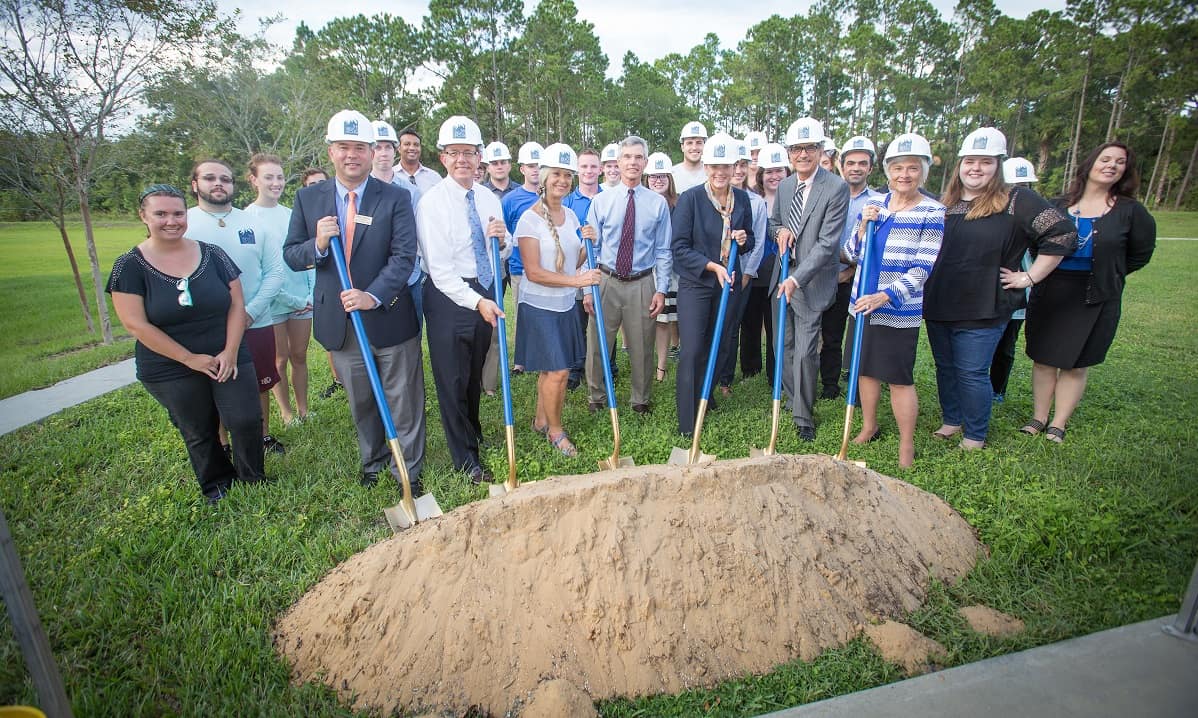 Team Daytona Beach broke ground on The BEACH House Tuesday afternoon with the Presidents of Embry-Riddle and Daytona State College (DSC), sponsor FPL and colleagues scooping their shovels full of dirt to begin the construction of a 1,000 sq. ft., solar-powered, energy self-sustaining home. The BEACH House, which stands for Building Efficient, Affordable and Comfortable Homes, will be built and entered into the Solar Decathlon 2017 international competition sponsored by the U.S. Department of Energy.
DSC students majoring in architectural and building technology and interior design, in collaboration with Embry-Riddle mechanical and civil engineering students designed the home. The ERAU students will apply their engineering skills to construct it as an innovative solar-operated building. The entire team will pitch in to build the home over the next year.
"It's gratifying for Team Daytona Beach to receive an invitation to this prestigious contest," said Daytona State President Tom Lobasso. "We are among just 14 teams selected from elite universities around the world to compete in the Solar Decathlon and we are the only team to partner a college with a university."
Team Daytona Beach will be working together over the next year to construct, operate and assess the zero-energy house before shipping and reassembling it at the Solar Decathlon 2017 competition site in Denver, Colorado in fall 2017. The 14 teams will be judged on criteria that include architecture, market appeal, engineering, affordability, and energy balance. Solar Decathlon teams will be competing for $2 million in prize money to be divided among the highest-placing teams.
"Our partnership with Daytona State College combines our unique strengths and provides our students the invaluable hands-on experience that comes with an international competition of this size and scope," said Embry-Riddle Interim President Karen Holbrook. "I look forward to collaborating on more groundbreaking projects and programs with DSC."
The 1,000 square-foot BEACH House is a forever home, designed for a small family with the desire to live sustainably, without sacrificing comfort. It features an open floor plan that will provide the energy-saving ability of a high-technology house at an affordable price and is designed to perform in central Florida's hot and humid climate. Shading, daylighting and natural ventilation are some of the zero-energy methods used in The BEACH House to decrease energy costs and increase living comfort.
"We are not just building a house for a competition," said Natalie Hahn, student communications lead for Team Daytona Beach. "We are demonstrating to the public that comfort does not have to be sacrificed to live sustainably and that the innovative technologies we will use in The BEACH House are here today to make life simpler and more affordable as a homeowner."
The home's blueprints feature an open floor plan with cross ventilation throughout, strategic window placement to draw in natural lighting and reduce energy consumption, nano-door technology and other features designed for aging in place, sustainability and compliance with the Americans with Disabilities Act. The 14 teams will be judged on criteria that include architecture, market appeal, engineering, affordability, and energy balance as they gain hands-on experience in clean-energy design.
Watch a video on the Solar Decathlon and Team Daytona Beach.
Go online to learn more about The BEACH House  and how you can support Team Daytona Beach.
BEACH House sponsors include Florida Power and Light, Society of American Military Engineers, Rockwell Collins, and the American Society of Heating, Refrigerating and Air-Conditioning Engineers Spacecoast Chapter.
Learn more about the U.S. Department of Energy Solar Decathlon 2017 at www.solardecathlon.gov.
---
ABOUT DAYTONA STATE COLLEGE
Offering more than 100 certificate, associate and bachelor's degree programs, Daytona State College has responded to the education and workforce training needs of Volusia and Flagler counties and beyond for more than 50 years. The college enrolls nearly 28,000 students a year at its seven instructional sites, with graduates serving in critical fields including health care, emergency services, business, education, hospitality, engineering, technology and more.
Daytona State has been recognized as a leader in higher education numerous times, most recently by U.S. News & World Report, which ranked the college among the Top 10 Best Online Bachelor's Programs in the nation in 2016, for the fourth year running. The U.S. Department of Education's College Affordability and Transparency Center has ranked DSC among the top 50 most affordable public four-year institutions in the country, with less than half the tuition of the national average. Community College Week, a leading publication in higher education, annually continues to feature the college in its list of Top 100 Associate Degree Producers. In 2015 and 2016, U.S. News & World Report ranked DSC among Top Online Bachelor's Programs for Veterans.
DSC MEDIA CONTACT:
Laurie White, Laurie.White@DaytonaState.edu, (386) 506-4499
Marketing & Communications, Marketing@DaytonaState.edu, (386) 506-4588
http://www.DaytonaState.edu/news.html – A Member of the Florida College System