Embry-Riddle Becomes First School to Receive Comprehensive Certification for Uncrewed Flight Instruction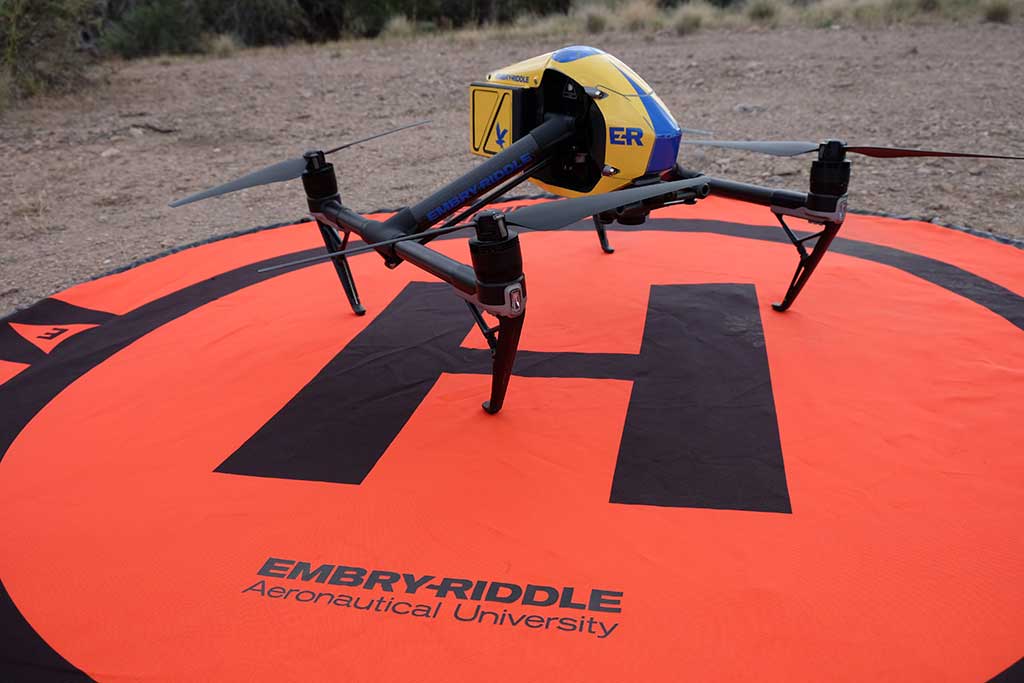 Embry-Riddle Aeronautical University on Nov. 1 became the first academic institution to receive the Trusted Operator Program certification from the Association for Uncrewed Vehicle Systems International (AUVSI).
The brand new Trusted Operator Program (TOP) was designed to maximize safety, reliability and professionalism in the commercial use of Unmanned Aircraft Systems (UAS) by coordinating the most important applicable standards. Such standards include federal aviation regulations, local and state protocols, and consensus-based industry standards.
"The TOP certification program communicates a common understanding of demonstrated level of reliability, safety, professionalism and trust to customers and end-users of UAS services and data products," said Joseph Cerreta, Embry-Riddle Worldwide assistant professor.
The TOP certification will first go to Embry-Riddle's Worldwide campus and then it will be implemented by the university's Daytona Beach, Fla., and Prescott, Ariz., campuses.
"We leveraged existing UAS core curriculum to meet the learning objectives necessary for TOP certification," Cerreta said. Because Embry-Riddle will be certified as a TOP Level 3 training provider, the highest level, Embry-Riddle students who complete the required courses can be certified as TOP Remote Pilots or TOP Remote Pilot Instructors.
"Receiving this high-level comprehensive certification adds significant value to what we are able to offer our students," said Dr. Kenneth Witcher, dean of the College of Aeronautics for the ERAU Worldwide.
By achieving Level 3 TOP certification, Embry-Riddle Worldwide Chancellor John R. Watret noted, "The AUVSI has determined that our UAS curriculum is rigorous enough to prepare students for safe flights even in the most challenging environments such as near chemical, oil, gas, nuclear or mining facilities. We are tremendously pleased and honored to receive Level 3 TOP certification."
Cerreta added: "We became an early adopter of this program because we believe it will have such a positive influence on the UAS industry and flight safety. Embry-Riddle students with TOP certification will stand out compared to graduates from other academic institutions and have an increased opportunity for getting jobs."
Tracy Lamb, AUVSI's vice president of regulatory and safety affairs and chief pilot, told Unmanned Systems Technology that the certification program allows operators to demonstrate proficiency, while helping customers identify responsible drone operators.
"This affects the end users of drone-enabled services, as there was no clear mechanism to ensure that the customer is going to receive what they believe they are paying for," Lamb said. For example, she added, "Public safety agencies had no way of knowing the level of knowledge or experience of the volunteer remote pilots that offered to help in natural disaster and for search and rescue operations."
The Trusted Operator Program "reflects levels of safety and competency protocols that are appropriate for everything from wedding photography to oil flare stack inspections," said Brian Wynne, president and CEO of AUVSI. "By providing UAS operators and those they enable with a standard way to demonstrate proficiency, TOP will help ensure the safe and sustainable advancement of the unmanned systems industry."